NHL player Logan Couture took to Twitter today to apologize for appearing to support the Republican party on Twitter Tuesday night. His comments apparently got him sucker-punched in the face.
While in Toronto on Tuesday night, Couture, who is the captain of San Jose Sharks, made references to the Republican party.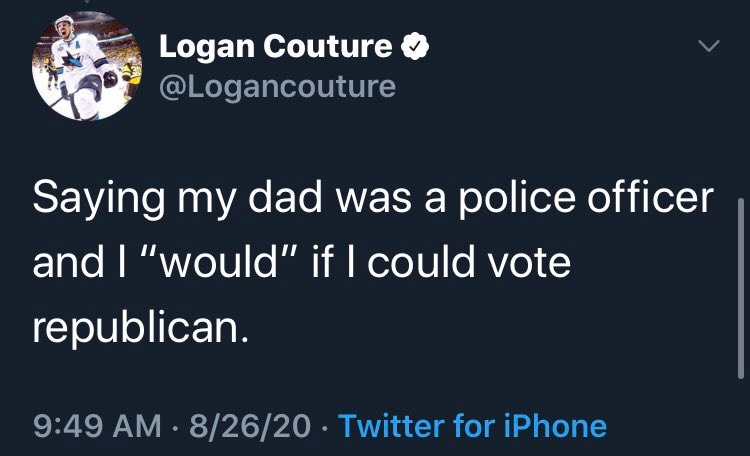 On Wednesday, in a tweet which is now unavailable, Couture wrote:
"I spent last night in Toronto, Ontario. I talked about voting for the Republican Party, and I mentioned Donald Trump by name. I was sucker punched. Is this really what we are coming to? If you vote you are a villain? Man, this world is so wrong."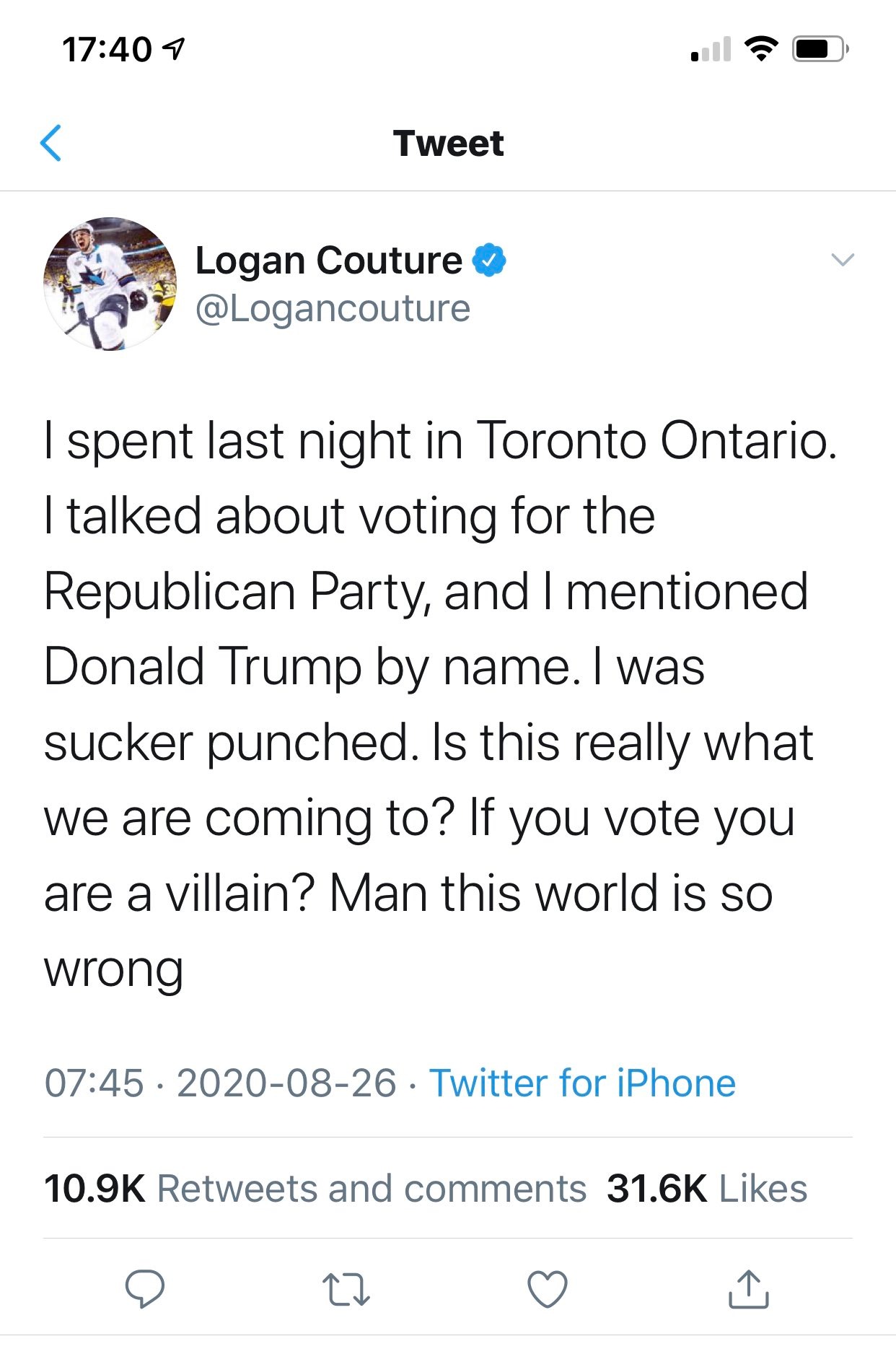 The professional hockey player, being a Canadian native, cannot vote in the November polls but was sharing his opinion with his fans. However, that didn't stop the backlash against him for saying that he would vote Republican and the fact he says he was physically assaulted for his views didn't stop the criticism.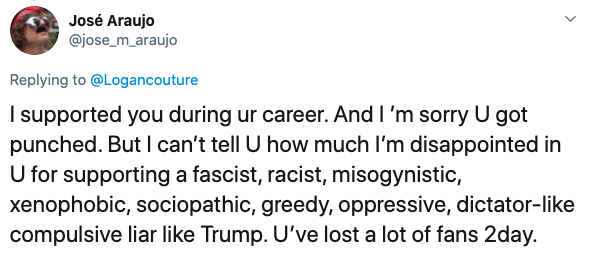 When the criticism didn't stop, today, he apologized for the political commentary and for sharing the story about the assault.
He started by saying:
"I have been debating whether or not to speak further on this matter. However, because much of what I tweeted earlier today has been taken out of context I want to elaborate. Bringing politics to my platform is wrong."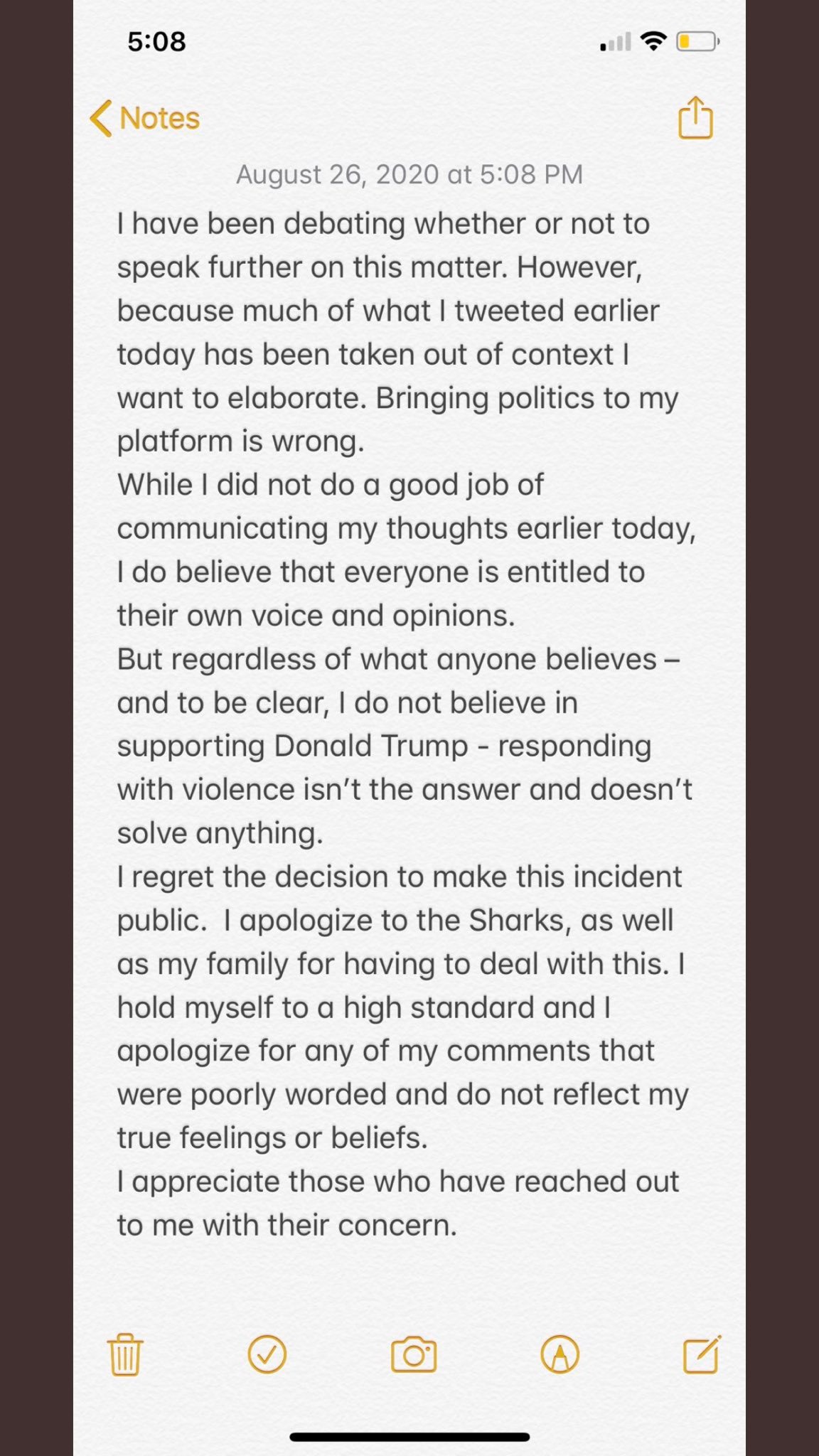 He argued for free speech by saying, "While I did not do a good job communicating my thoughts earlier today, I do believe that everyone is entitled to their own voices and opinions."
Couture also re-emphasized that he does not support President Trump. However, he reminded people that "responding with violence isn't the answer and doesn't solve anything."
The Sharks captain noted that he regretted the decision to publicize the incident and apologized to his team and family.
He signed off the long tweet by saying, "appreciate those who have reached out to me with their concern."
His team expressed support for their captain, according to a tweet by Kevin Kurz, a writer for The Athletic.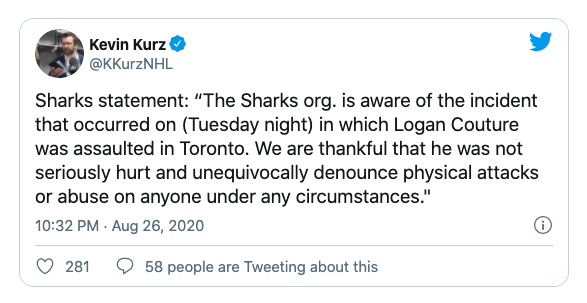 "The Sharks org. is aware of the incident that occurred on (Tuesday night) in which Logan Couture was assaulted in Toronto. We are thankful that he was not seriously hurt and unequivocally denounce physical attacks or abuse on anyone under any circumstances."