Top marketer Tom Goodwin, an executive at the Publicis Groupe agency had to part ways with the organization after his opinion on COVID-19 lockdowns he posted on Twitter.
Pointing out that several thousand Americans die every single day regardless of the pandemic, Goodwin was accused of undermining the severity of the pandemic, leading to online backlash and the end of his job.
"I find the total obsession with COVID deaths over all other deaths entirely gruesome. 7500 Americans die every day but only the ones with this precise new Virus matter," he tweeted, while also saying that the excess mortality is now nearly zero.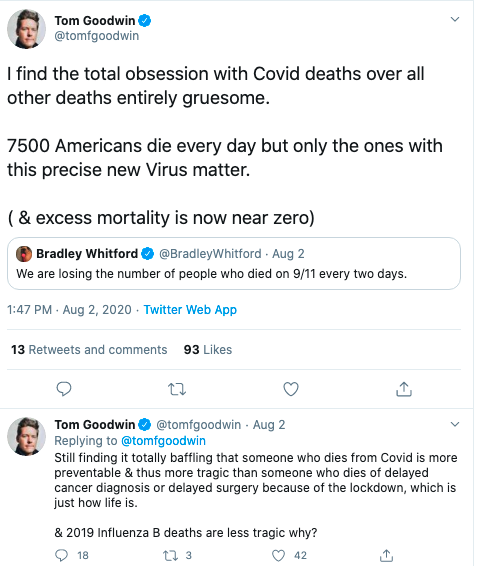 As a response to the tweet, Tom Morton, the R/GA US chief strategy officer, declared that Goodwin's controversial comments marked the end of their professional relationship.
Goodwin was also axed from his current role at Publicis he was appointed at earlier this year. The organization's spokesperson made it clear that they were parting ways with him due to his controversial comments.
"Since the beginning of this pandemic, Publicis Groupe has taken decisions and actions led by the principles of unity, empathy and humanity despite the collective hardships. These posts and exchanges by Tom Goodwin this week on social media do not meet the standard of conduct we expect of our company's employees and were not aligned with our values. Publicis and Tom have parted ways," the agency said to Ad Age magazine.
Goodwin, before serving in his role of head of futures and insight at Publicis, served at Zenith Media, an organization owned by Publicis, for more than three years as the head of innovation.
Responding to the situation, Goodwin tweeted, "Apologies for caring about the thousands dying from suicide, delayed cancer treatment, delayed 'elective' surgery etc, its not f_cking contrarianism, is basic morality. Get off your lofty perch & give a shit about the vulnerable- Your sourdough baking homeschooling works well for YOU."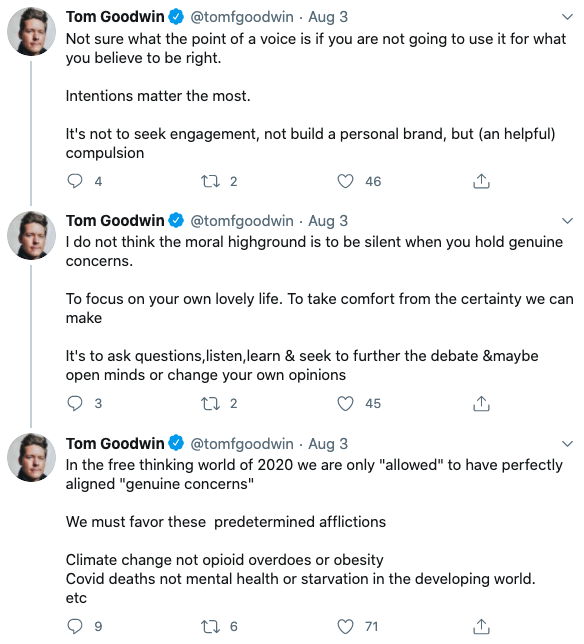 Currently working as a speaker, consultant, and an author, Goodwin is not the only one to be discredited and fired from his current position due to remarks posted online.
Countless professionals, including artists, professors, and authors, among others, have been subjected to intense online backlash, persecution, and termination from their current occupation due to the opinions they have posted online. With the COVID-19 saga and Black Lives Matter movement both in full swing across the US, social media comments are now being put under a microscope and are greatly impacting the prospects of many.