Cancel culture is a real phenomenon. We have seen it happen to vastly influential people on the other side of the spectrum. Online mobs are generally quick to judge and can attack anyone. In this particular case, John and Heather Hackleman, owners of a fitness center in Arroyo Grande, California, faced backlash online due to a self-made meme, which led to online threats, harassment, and negative reviews on Yelp and their Facebook page.
The meme consisted of a picture of the couple standing next to each other, with John making a particular hands gesture (that looks like he is choking someone) while Heather is looking at him. The picture was captioned with a brief conversation that works as the punchline. According to John, the meme was supposed to be empowering to women to advertise a self-defense class for women.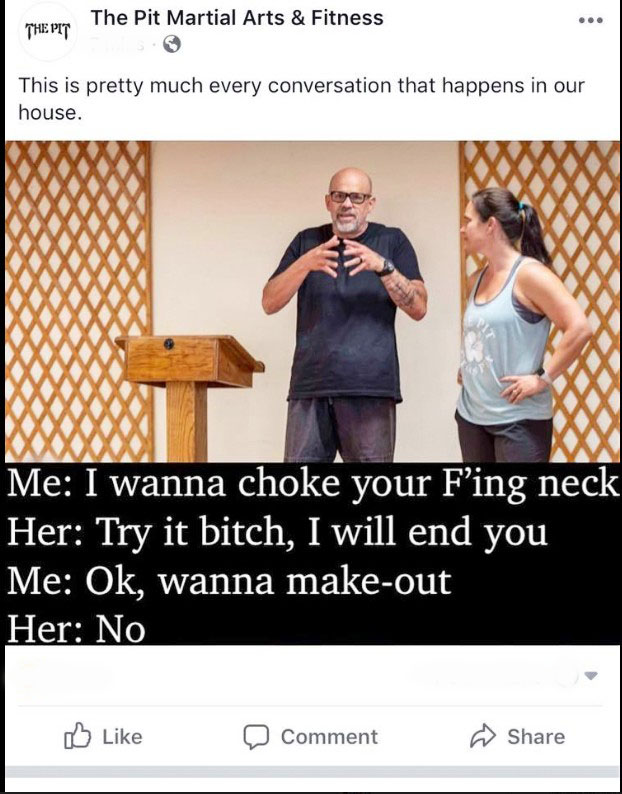 The post itself didn't get much attention as it is a Facebook page with little over 5,500 followers. But, as always, it was enough to cause online outrage and gather the first negative reviews for The Pit Martial Arts and Fitness gym. Everything started after someone commented that this meme was making fun of domestic violence, ("This sounds like domestic violence, but ok.") which was answered by The Pit, disregarding the concerns.
"If this meme honestly sounds like domestic violence to you," The Pit responded in a comment, "and not the self-deprecating humor it was intended to … you have way too thin skin and seriously need to lighten up … hopefully you were joking," The Pit answered.
One thing led to another. Then a discussion began and the post started getting negative comments, which is the reason why it was removed. Shortly after, the author of the first accusatory comment made a separate post criticizing the fact that a martial art center could be endorsing domestic violence saying she was appalled that the studio would promote domestic violence.
Many followers of the complained also responded with outrage to the meme, throwing out insults about both John, Heather, and their business – calling on people to leave negative reviews of the business.
The internet, being the internet, didn't need anything else to a start a crusade and, soon after, The Pit Martial Arts and Fitness profile was bombarded with 1-star reviews on Yelp and Facebook – most of them pointing out the meme, and a lot of them coming from people who have never visited the gym. According to the New Times, the reviews were from people that hadn't even been to their gym, adding that one was even written by someone 2,000 miles away in Tennessee.
The couple was eventually able to remove the malicious reviews using Yelp's platform.