Dan Slott, Marvel Comics writer, recently went on a Twitter tirade against citizens that support President Donald Trump.
While the hatred and opposition expressed against Trump is commonly observed across social media platforms in general, Slott's exaggerated claims and harsh criticism caused some pushback.
On Twitter, Slott said, "This administration is NOT on top of this emergency. They're ignoring or contradicting their OWN experts. People are dying," adding – "And he's golfing at his resort AGAIN and profiting off it."
Slott then said, "I'm NOT saying f__k you for voting for him. I AM saying f__k you if you vote for him AGAIN."
Slott's criticism and insults towards his followers and Americans who support the President ended up attracting a lot of pushback and was criticized in a Bounding Into Comics article that detailed the incident.
After the article was written and Slott's comments were documented, his echo chamber was broken, and he began to get comments that were arguing against his statements.
Slott went on the defense and used a "blockchain" to block all Twitter users who follow the Bounding Into Comics account.
(In this instance a "blockchain" is a service that allows users to automatically block users based on specific rules.)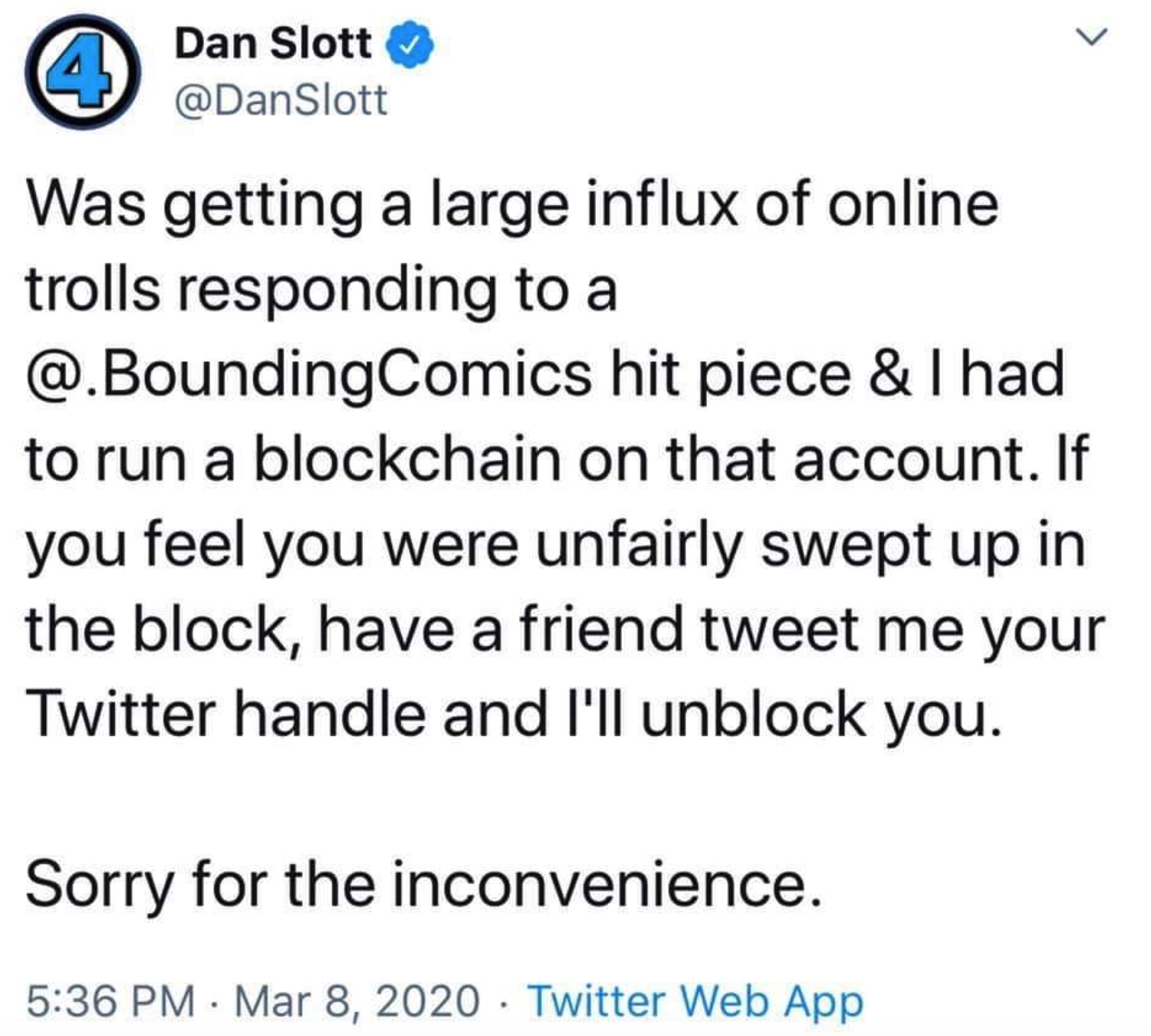 "Was getting a large influx of online trolls responding to a @.BoundingComics hit piece & I had to run a blockchain on that account," Slott posted on Twitter.
He then added that if someone was "unfairly" blocked they would have to ask another Twitter user to request access to his tweets on their behalf.
"Sorry for the inconvenience," Slott wrote.
It's common for many Twitter users who are often putting out statements unopposed that they get shocked when their statements receive wider attention and they are finally challenged and called out on their inaccuracies and harsh comments.
The phenomenon, known as a self-created "echo chamber," where a Twitter user goes to extra lengths to avoid any challenges to their opinions in the name of avoiding "harassment" and "trolls" could be worsened with upcoming Twitter changes that allows Twitter users to lockdown who is allowed to respond to their tweets.