Elon Musk announced that Twitter files on censorship of free speech will soon be published by Twitter.
"The Twitter Files on free speech suppression soon to be published on Twitter itself. The public deserves to know what really happened," Musk tweeted.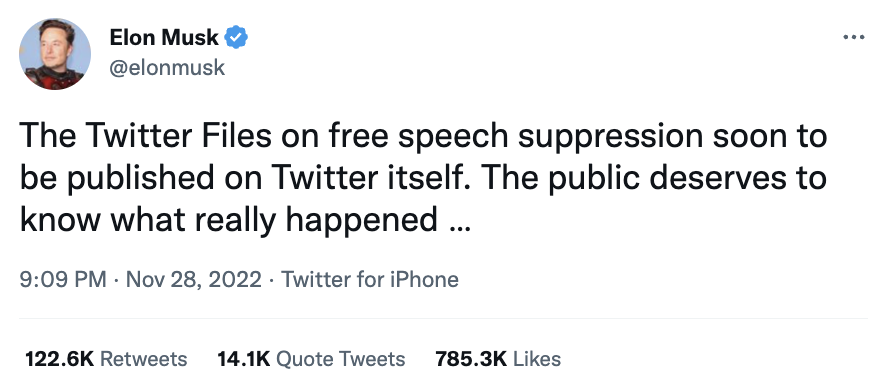 Last week, Twitter user ALX called on Musk to "make public all internal discussions about the decision to censor the @NYPost's story on Hunter Biden's laptop before the 2020 Election in the interest of Transparency."
Musk responded, "This is necessary to restore public trust." The tweet about publishing files on Twitter's history of free speech suppression suggests that Musk is keen on trying to be more transparent with how Twitter works.
After taking over, Musk issued a statement to advertisers that hinted he was going to allow more free speech on the platform.
"The reason I acquired Twitter is that it is important to the future of civilization to have a common digital town square, where a wide range of beliefs can be debated in a healthy manner, without resorting to violence," he said at the time.
Since then, Musk has fired some of the members of the teams responsible for content censorship. He has also restored some of the accounts that had been permanently banned, including Donald Trump, Rep. Marjorie Taylor Greene,  The Babylon Bee, and Project Veritas. Last week, he said he was going to restore all accounts that had been banned, provided they had not broken the law or spammed.