An independent photographer who has been covering Houston Rockets games for several years has been fired after he posted a meme about Joe Biden and Kamala Harris online.
After Democratic Presidential candidate Biden recently announced that Harris was going to be his running mate, there was all kinds of reaction across social media networks. Bill Baptist, much like any other Facebook user, shared a popular meme related to Biden and Harris online. But Baptist's "JOE AND THE HOE" meme drew some criticism.
His post caught the ire of Sheryl Swoopes, a former WNBA star, who ended up discussing the post on her Facebook page and urged the NBA as well as the Houston Rockets to fire him for posting the meme.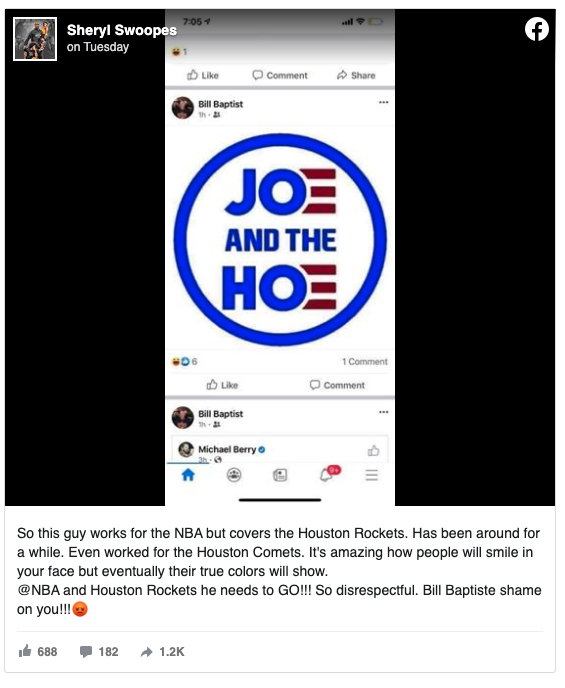 "So this guy works for the NBA but covers the Houston Rockets. Has been around for a while. Even worked for the Houston Comets. It's amazing how people will smile in your face but eventually their true colors will show. @NBA and Houston Rockets he needs to GO!!! So disrespectful. Bill Baptiste shame on you!!!" she wrote.
Baptist, in a statement he released to KPRC 2, a local TV station, said that he deeply regretted his actions and that he simply "copied" the post from others. "The phrase I posted does not reflect my personal views at all. I should not have been so insensitive to post the statements by others. I sincerely apologize to all of those who have rightfully been offended and I have taken the post down from my FB page. It was a horrible mistake on my part," he said.
KPRC 2 reported that Baptist was working in the universal hub for NBA games, "The Bubble," due to the COVID-19 situation. As of this weekend though, it was stated that his "services were no longer being used."
Related: Florida real estate company fires employee and ex-commissioner over Facebook memes