Social network Gab has launched a new version – based on a fork of Mastodon, the open-source self-hosted social networking service.
The launch coincided with July 4, a US holiday, and Gab made the announcement by wishing its users "a happy digital independence day."
The significance of this version is that the technology it implements means that the social network, which has so far only been available on the web, can now be used in mobile apps found on both Google's Play Store and Apple's App Store.
What this means is that the grip Apple and Google have on what smartphone users are allowed to use on their phones has been loosened.
CEO Andrew Torba made the announcement on Gab.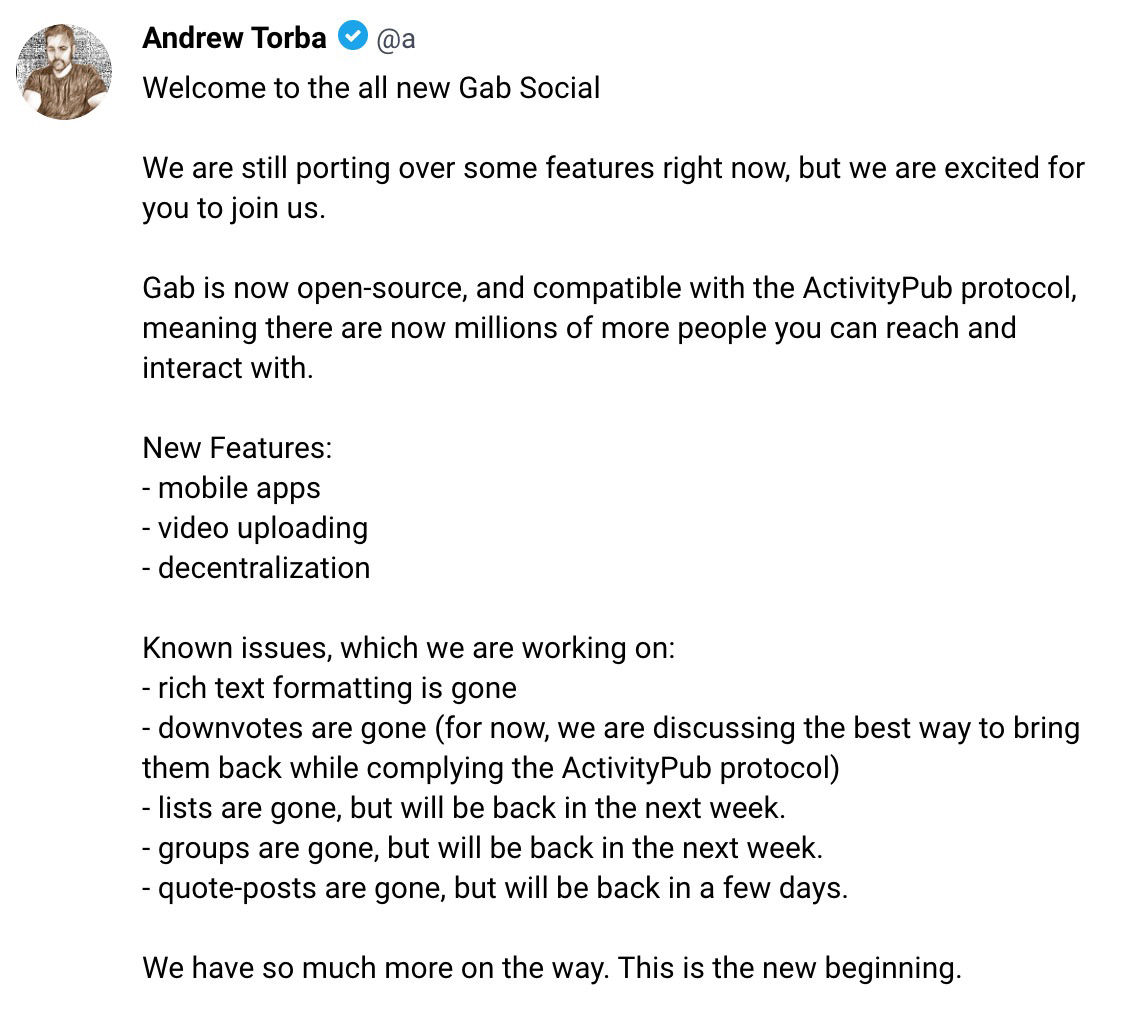 According to Gab, the new version also offers video uploading and is decentralized. But users have also been warned that features were still being ported to the new version and that they were working on resolving the resulting issues.
According to earlier statements from the social network, thanks to being compatible with the ActivityPub protocol – which is implemented in Mastodon – Gab users cab now log into their accounts using any of the dozens of apps that are already in the two stores.
In a post on Twitter today, Gab said that some of these apps' developers have decided to block it – but that "most apps will work."
https://twitter.com/getongab/status/1146698264453898243
With the new version, Gab – which bills itself as a champion of free speech and liberty, and as allowing speech protected by the First Amendment while being an alternative to social media giants like Twitter and Facebook – is looking to solve a problem it has been facing for a while.
Namely, the social network has had its app rejected by Apple in the past on what seemed to be flimsy grounds.
Breitbart reported in December 2016 that Apple decided to reject the app because of adult content shared by a user, which the company said was unacceptable in its store.
But Gab CEO Andrew Torba at the time accused Apple of looking for any reason to keep the app out of the store, and of demonstrating double standards. Torba supported this by saying that apps that contain pornographic content in large quantities, such as Twitter and Reddit, are still allowed on the App Store.
He also remarked that his social network gives users better ways of filtering and muting this kind of content and those who share it – but that all this way not enough to convince Apple.
Torba, who has been in trouble in the Silicon Valley for his support of President Donald Trump, explained that the inability to be approved in app stores was the reason why the service decided to go for the web version first.
He also vowed to "keep fighting to get our app on the App Store" – and it seems that with the new version, Gab has found a workaround that will finally allow its users – many of whom have either left or have been banned by the likes of Twitter for their political views – to access the social network via an app.
Gab, whose latest version is open source with the code available on GitLab, launched in 2016 and has since come across a series of obstacles as major tech companies refused to accept its products.
In May, Apple rejected Gab's Dissenter iOS browser. This decision prompted Gab to report the giant to the US Department of Justice, adding to the criticism of Apple's App Store policies that are frequently made by other developers.
Apple's move was yet another case of a tech giant finding its own terms of service lacking, and arbitrarily banning or rejecting content and users even though they did not breach any stated rules.
The browser itself is a fork of Brave and was released after both Chrome and Firefox banned a comments extensions by the same name, whose purpose was to bypass censorship.
However, Apple said the browser and the service contained content the company disapproved of – and rejected the app which had not violated any of its rules.
The new Gab is now available at Gab.com