The New Hanover County, North Carolina, Republican Party has accused Facebook of censorship for flagging its political ads as "misinformation."
The Republican Party in New Hanover, recognizing the importance of digital campaigning amid the lockdowns, decided to launch Facebook campaigns. According to party chair Will Knecht, the party went ahead and hired two firms to help with the digital campaigns. But their plan to use Facebook as an avenue to boost local candidates' profiles did not work.
Trouble started after Facebook's fact-checkers claimed that The New Hanover Republican Party page violated its misinformation policies.
The punishment was the demonetization of the page and limiting the page's ability to share content.
"As a 30 plus year Deputy Sheriff, Charlie Miller knows what it takes to protect both our citizens and officers in our community. Vote for Charlie Miller in State House District 19!" read an ad that was not taken down.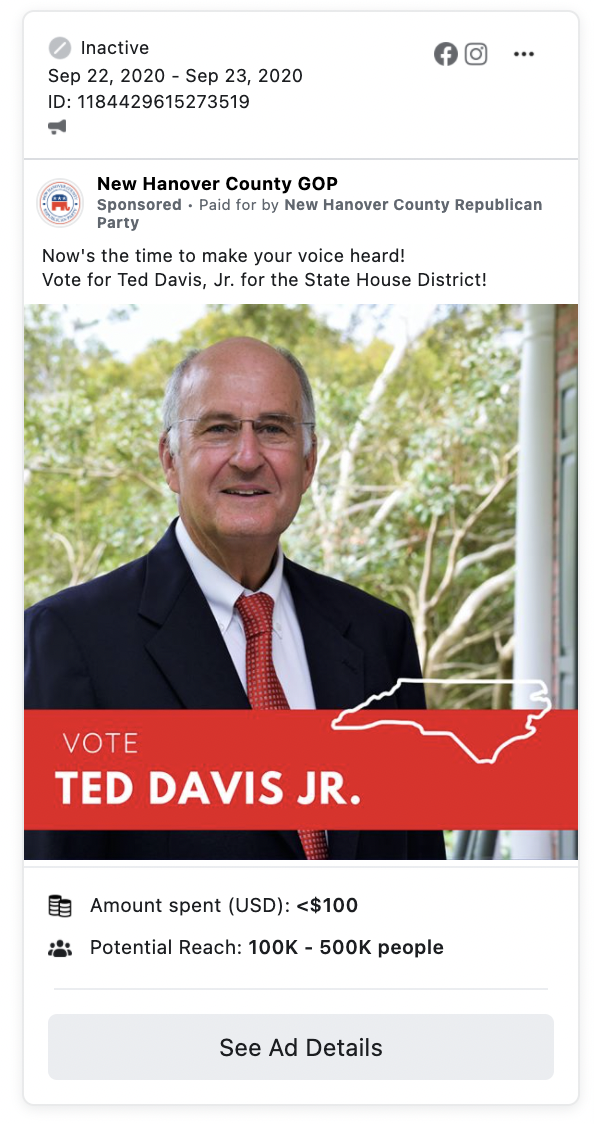 "Now is the time to make your voice heard! Vote for Ted Davis, Jr. in State House District 20!" read an ad that was removed for breaking the rules.
Like most other political ads, Davis' ad was accompanied by a photo of the candidate dressed officially. Why some ads, like Davis' were removed and similar ones like Miller's were not is not clear.
A Facebook rep said that independent fact-checkers flagged the page as having violated misinformation policies repeatedly.
However, the spokesperson would not specify what posts by the New Hanover GOP were flagged as falsehoods.
According to Knecht, the trouble with Facebook began after the platform flagged two videos the party's page shared. After that, Facebook increased its scrutiny of the page, which led to a limit of the page's reach. He said that the page had already posted over one thousand posts, noting that the posts that started the whole thing were not political ads.
"It is unbelievable that two out of a thousand are labeled as not true by their all-wise, all-knowing fact-checkers, and we as a party are shut down from advertising, limited in sharing, and limited in posting as well," Knecht said. "It's incredible," he added.
According to Knecht, Facebook went as far as threatening to shut down Renegade, the New York City-based digital marketing firm that helped with the digital campaigns. The firm was able to resolve its issues with Facebook. However, the request to fully restore the New Hanover County GOP page was denied.
As a result of Facebook's censorship, New Hanover's GOP was forced to rely on YouTube and Google.
"And we had to pivot immediately, we had to reduce our spend, and we had to move to YouTube and Google, somewhat successfully. But, again, if that's not censorship, I don't know what is," Knecht said.