China has blocked the popular Notepad alternative called Notepad ++ after the developer has openly criticized the Chinese regime and supported the Free Hong Kong movement.
Notepad ++ is a free-to-use text editor created in 2003 by Don Ho. The app is available on Windows and available in 90 languages.
On August 16, through Twitter, he suggested that the Chinese government was blocking their website because of articles they published.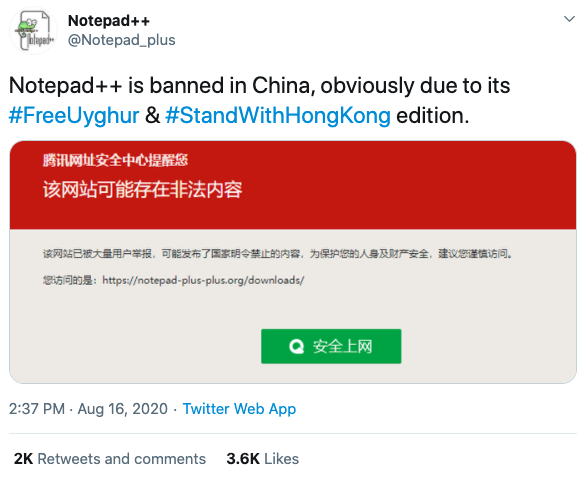 "Notepad++ is banned in China, obviously due to its #FreeUyghur & #StandWithHongKong edition," the tweet read.
In the Free Uyghur article, the Notepad developer talks about the extrajudicial re-education camps for Uyghur people.
"After the recent Xinjiang conflict, Beijing has recast the Uyghur ethnic group as a terrorist collective. This has allowed Beijing to justify its transformation of Xinjiang into a surveillance state," part of the article read.
In the more recent Stand With Hong Kong article, he talks about the protests and how the new national security law is being used to remove the freedom and human rights Hongkongers enjoyed. The article reminds people that they should care since it affects everyone.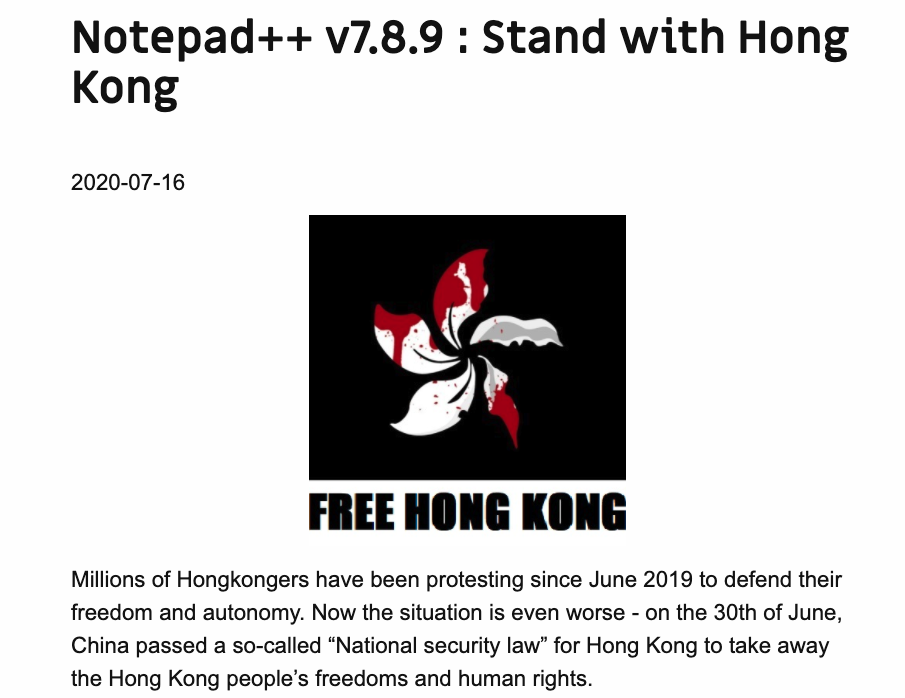 "Any American or European who stands up for Hong Kong in the USA or in Europe and violates this law can be arrested in Hong Kong, even in the stop-over flight in HK."
He concluded the article by saying, "I reject the idea that our given free speech rights are restrained by an authoritarian country. Notepad++ stands with the people of Hong Kong."
Chinese residents cannot download Notepad ++ through Chinese browsers such as QQ, UC, Sogou, and 360. Opening the downloads page displays an error message, which basically says the state has prohibited the website.
The 360 Chrome Browser said: "The website you are currently visiting contains illegal information, please close the page."
On Tencent-owned QQ Browser the error message translated to:
"Tencent Web Site Security Center reminds you that this website may contain illegal content.

"This website has been reported by a large number of users and may have published content that is banned by the state. To protect your personal and property safety, it is recommended that you visit with caution."
Ho said that the Chinese government did not contact him about the ban. He also noted that he was not surprised.