One America News (OAN) Network has announced switching from YouTube to the censorship-free alternative Rumble. The shift follows YouTube suspending the conservative news outlet from uploading new videos for a week towards the end of last month and demonetized the increasingly-popular outlet.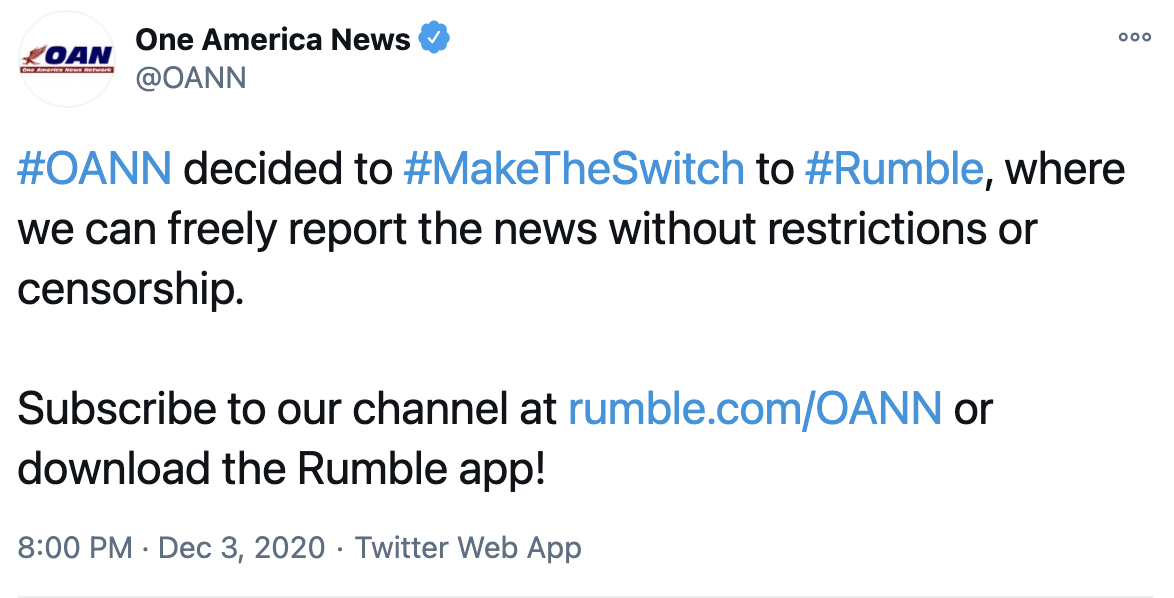 Many have been seeking censorship-free alternatives to Big Tech so that they can express their views freely and Rumble is a rapidly-growing alternative.
Other factors that have helped boost Rumble's popularity among conservatives include promotion by popular conservative commentator Dan Bongino, who has an ownership stake in both Rumble and the Twitter alternative Parler.
According to Bongino, Rumble "is a place where conservative views won't be discriminated against."
On November 24, YouTube suspended OAN for a week for violating its policy on COVID-19 "misinformation." OAN was not only temporarily suspended but also had its videos demonetized.
The network could have specifically been motivated to switch to Rumble because of YouTube's actions.
The suspension of OAN from YouTube came around the same time a group of Democratic senators sent a letter to the video-sharing platform, demanding more action against the spread of election fraud allegations.
"We urge you to immediately remove all election outcome misinformation and take aggressive steps to implement prohibitions, as other social media companies have done, regarding outcomes in future elections," the senators, led by Bob Mendez of New Jersey, wrote in the letter addressed to YouTube's CEO Susan Wojcicki.