The BBC has taken a controversial decision to drop Rule, Britannia! And Land of Hope and Glory from its "Proms" program. The BBC Proms is an eight-week set of orchestral classical music concerts and other events held annually, mostly at the Royal Albert Hall in central London. Over 40,000 online have already signed a petition asking the BBC to reinstate the songs, which many fear have been dropped in today's cancel culture world for alleged cultural sensitivities and ties to colonialism.
"The singing of two rousing patriotic anthems, Rule, Britannia! and Land of Hope and Glory, has been part of the programme of The Last Night of the Proms for many years. But their performance is now threatened with cancellation by the forces of political correctness," said the petition.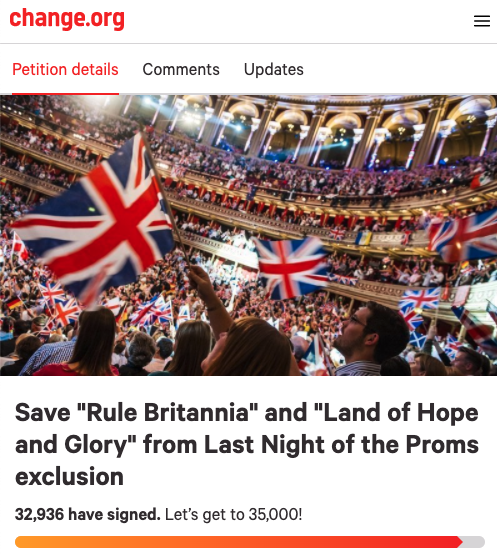 Highlighting that the song simply acts as a home to classic self-mockery and British humor, the petition said that censoring the song would simply disturb a long-standing ritual.
"The annual singing of these songs on The Last Night of the Proms, which is broadcast on BBC Television, has become a much-cherished ritual. They are sung with pride and sentiment, but also with a degree of joshing humour and wry self-mockery that is characteristically British," the petition said.
The Culture Secretary Oliver Dowden and Prime Minister Boris Johnson have also spoken out against the decision and strongly advised the BBC to reconsider. The BBC, however, decided to play orchestral versions of the song without the lyrics.
The Conservative MP Michael Fabricant said that it was "all very sad" and highlighted why the song Rule, Britannia! was special.
"There are some lovely words to Rule, Britannia! You start to talk about 'Rule, Britannia! And Britain shouldn't be slaves', but you've got 'other nations not so blessed as thee must in the turn to tyrants fall. While thou shalt flourish great and free'. I mean, isn't that lovely?" he said.
Boris Johnson has called out the BBC for its decision, and commented on the season of cancel culture more generally by saying, "I think it's time we stopped our cringing embarrassment about our history" and told people to "stop the wetness."
Britons are fighting back by writing to the BBC, signing the petitions and also campaigning to get the songs to the top of the UK music charts – something that seems to be working.