Image sharing site Pinterest has banned many categories of content that challenge the official climate change narrative from its platform.
Under its new far-reaching "climate misinformation policy," Pinterest has banned:
"Content that denies the existence or impacts of climate change, the human influence on climate change, or that climate change is backed by scientific consensus"
"False or misleading content about climate change solutions that contradict well-established scientific consensus"
Content that "misrepresents scientific data, including by omission or cherry-picking, in order to erode trust in climate science and experts"
"Harmful false or misleading content about public safety emergencies including natural disasters and extreme weather events"
"Conspiracy theories" about climate change
Climate change content that "originates from disinformation campaigns"
Pinterest has also partnered with two groups (one that supports de-platforming and one that pressures advertisers to pull their ads from some categories of content) to develop its policy based on "common misinformation themes they're seeing across media platforms."
The first of these groups, the Climate Disinformation Coalition, is co-chaired by the international environmental campaigning network Friends of the Earth. This coalition regularly demands that social media platforms censor what it deems to be climate misinformation and disinformation and has expressed support for Big Tech's deplatforming of former President Donald Trump and QAnon.
The second of these groups, Conscious Advertising Network, pushes advertisers to pull their ads from content that it deems to be "hate speech" or "mis/disinformation."
In its announcement about this new censorship policy, Pinterest noted searches related to green living have skyrocketed on its platform. Over the last year, searches for "zero waste tips" increased by 6x, searches for "recycling clothes ideas" increased by 4x, searches for "recycled home decor" increased by 95%, and searches for "zero waste lifestyle" increased by 64%.
"The expanded climate misinformation policy is yet another step in Pinterest's journey to combat misinformation and create a safe space online," Sarah Bromma, Pinterest's Head of Policy, said.
This new climate misinformation policy is the latest of several misinformation policies Pinterest has introduced since 2017. These policies have been used to censor numerous categories of content including "anti-vaccination content" and "misinformation related to elections."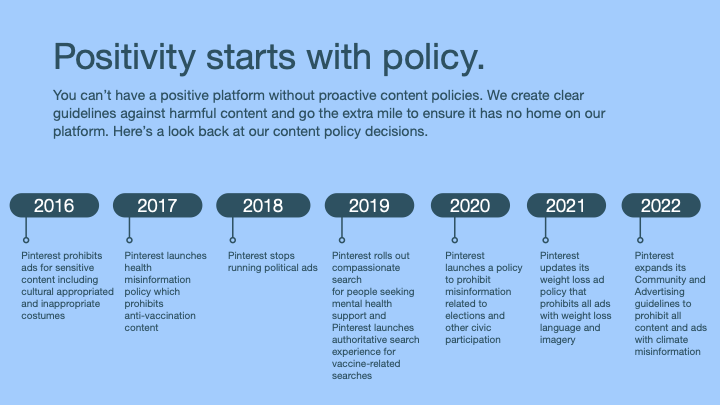 While Pinterest is the first large social media platform to explicitly ban content that it deems to be climate change misinformation, other Big Tech platforms are disincentivizing and suppressing the views of climate change skeptics. Facebook "fact-checks" opinions of climate change skeptics and YouTube demonetizes climate change skeptics. Facebook and Twitter also steer users towards so-called "authoritative" information about climate change by boosting its visibility on their platforms.