Pinterest has announced that it will start displaying information from public health organizations whenever users search for vaccines and vaccine-related terms.
Whenever a visitor conducts a search using vaccine and related search terms, either on the web or through the Pinterest Android and iPhone apps, results will now show Pinterest-approved information.
This information will come from various health and health-related organizations including the World Health Organization (WHO), the Center for Disease Control and Prevention (CDC), the American Academy of Pediatrics (AAP), and the WHO-established Vaccine Safety Net (VSN).
"As we continue to tackle health misinformation, we remove it and the accounts that spread it from our service. But we also want to bring expert content onto Pinterest. We know we aren't medical experts, which is why we're working with professionals to inspire Pinners with reliable information about health," Pinterest said.
With regular criticism from the media, researchers, and politicians, of the the "anti-vaccine" information propagating online, Pinterest decided to end displaying search results for vaccine-related searches.
Now, when users search for vaccine related information they're showed a series of infographics saying how infographics that say things such as "Vaccines work" and "Vaccines are safe and effective".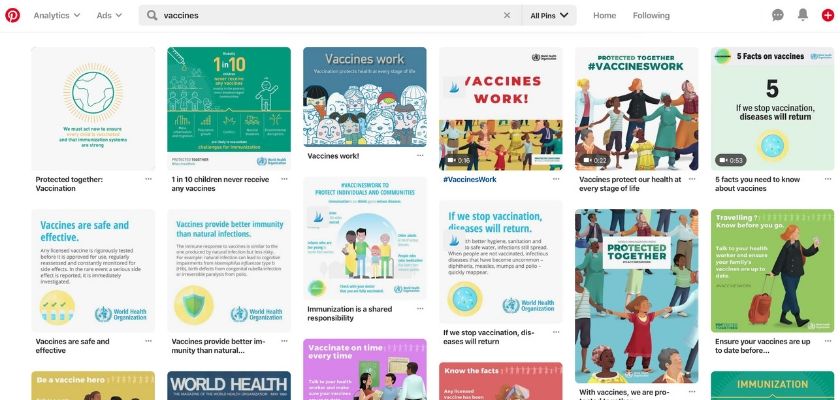 It should be noted that earlier this year, Pinterest had already stopped returning results for vaccine search terms as they said that most of the results were "misinformation" and content that proposed the side effects or supposed dangers of vaccines.
The same thing happened with YouTube when it stopped running ads on anti-vaccine content. Similarly, Facebook started removing groups and pages that share information about vaccines that aren't from what it thinks are credible sources.
Twitter, on the other hand, recently started displaying information coming from the United States Department of Health and Human Services. This is similar to what Pinterest implemented this week.
This is not the first time that Pinterest implemented drastic measures to intervene in displaying results to searches conducted on its site. The Pinterest team makes sure that whenever users enter search terms that signal that something that Pinterest thinks is odd with the user behavior, Pinterest display information that aims to help the users. As an example, when the search terms "suicide," "bulimia," "cutting," among other similar terms were used, Pinterest will display special messages that direct users to a respective helpline.
This kind of search engine modification will now apply to vaccine searches.
"We're taking this approach because we believe that showing vaccine misinformation alongside resources from public health experts isn't responsible," Pinterest said.
The update has already been rolled out for English-speaking searches on the web and mobile apps of Pinterest. Pinterest aims to expand the coverage of the update to other searches and in more languages.
Earlier this year, it was also revealed that Pinterest were blocking pro-life and Christian autosuggests from its platform without announcing this to the public.