New Hampshire Selectman Regina Barnes is now under fire for a Facebook post, which she says was intended in pure humor. But someone didn't tell Barnes that jokes aren't allowed these days.
Barnes posted a meme on September 11 on the Facebook page "Friends of Regina Barnes," which states: "If you can pretend Bruce Jenner is a woman & Kamala Harris is black, then you can definitely pretend I am wearing a mask."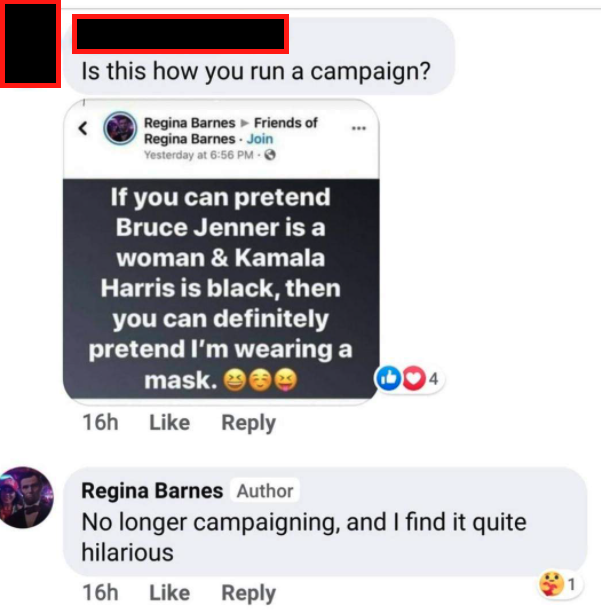 Barnes is one among the many to publicly speak against the mandate of face masks. Her post, however, resulted in intense backlash online with the executive director of the Seacoast chapter of the Black Lives Matter organization taking it upon themselves to call for Barnes to step down from her position.
"I thought the post was very nasty and disgusting. I think mocking trans people, mocking Black people just to prove your point as an elected person is disgusting and, personally, I think she should be removed from the select board," said Clifton West Jr, the co-founder of Black Lives Matter Seacoast.
Jennifer Glynn, a resident of Hampton who also attended school with Barnes, wrote an email to the town manager demanding Barnes' resignation over the joke. What's more, she also said that Barnes did not seem to be bothered when she was attacked for the post.
"Regina is clearly unwilling to simply acknowledge the lives of Black and trans people, let alone represent them. This is completely unacceptable, especially from an individual who has elected to serve, all of the people of Hampton…. I would like for her to resign. I don't think she will," said Glynn.
Defending herself, Barnes said that whatever she said was implied humorously and that people should "get over it."
"If Black Lives Matter is going to get upset about this then, guess what, they better do some research on the type of person I am and the person I have been my whole life," she said.