An exchange on Twitter between Ricky Gervais and a satire account of "trans woman" Jarvis Dupont caught the attention of the Advocate, a magazine dedicated to LGBT issues, who published an article strongly critical of the comedian and wanted to know what the Hollywood Foreign Press Association – who manages The Golden Globes (of which Gervais is scheduled to host) – thought about Gervais' tweets.
The original version of the article shows that the author did not realize "Jarvis Dupont" was not actually a trans woman, but somebody using satire to underline the absurdity of the rhetoric used by some woke activists.
In an updated version, the Advocate's article acknowledges that Jarvis Dupont is "a troll account" – but the magazine's verdict against Gervais stands. He is denounced for posting "hateful" transphobic tweets "dripping with anti-trans sarcasm" in response to the Dupont account and in conversation with several other Twitter users.
It all started when Jarvis Dupont reacted to the controversy involving author J.K. Rowling coming out in support of Maya Forstater, a UK woman who lost her job for tweeting that people cannot change their biological sex.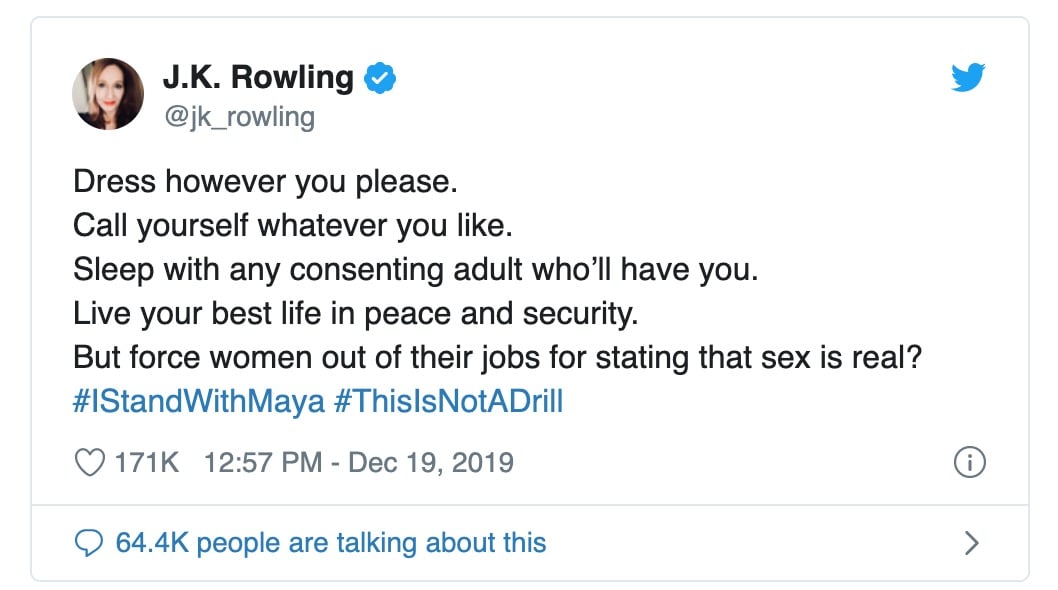 For this, Rowling is described as anti-trans, while the Dupont account tweeted, "J.K. Rowling is a TERF!" – i.e., what activists call a "trans-exclusionary radical feminist."
Gervais responded in the same tone, referencing "those awful biological women" who are unable to understand what it's like for a man to become "a lovely lady so late in life."
But the Advocate was not amused, accusing the comedian of "veiling" his transphobia in satire. The article further argues that Gervais perpetuates hateful stereotypes against trans women used by trans-exclusionary feminists, criticizes him for playing the victim card, and for "invoking" his right to free speech.
In one of the tweets Gervais denies that his statements are transphobic at all, and urges those who think otherwise to report him to Twitter and get him banned – another statement that the Advocate took issue with.
The article's heated rhetoric looks like it proves one of the points Gervais was making when he tweeted that "social justice zealots" don't actually want to engage in conversation.
"They don't want to argue. They can't afford to have their propositions questioned. They want to create a dogma with its own blasphemy laws and the 'fatwah' of labelling people bigots to shut them down, ostracise them and even have them fired."

Considering that Gervais is the host of the Golden Globes, the purpose of the article might have been to put him out of a job, too, as the article was quick to point out that Kevin Hart stepped down from hosting the Academy Awards after his years-old controversial tweets were surfaced by media. But the Hollywood Foreign Press Association was in no mood to "immediately" offer any comment on an exchange on Twitter between a comedian and a satire account when the outlet contacted them for their thoughts on Gervais' "hateful" tweets.