Online censorship supported by certain politicians, lawmakers, and media outlets in the US has set both moving and expanding targets before itself, as evidenced in a Washington Post op-ed published last week.
Quick to pick up on the article and share it was Congressman Ro Khanna, who was recently in the news himself because, despite his ardent criticism of major social platforms like Facebook, members of his family at the same time hold stock in it.
Related: Open letter asks Big Tech to collude to censor climate change "misinformation"
Now, Khanna, who chairs the House Oversight Environment Subcommittee, announced yet another hearing aimed at "holding social media companies accountable" – this time for allegedly being used to spread "misinformation" that is undermining climate change policies.
The Washington Post piece Khanna refers to was published on January 6, the anniversary of the Capitol Hill protest/riot, and makes a link between those events with what the author sees as yet another threat born out of misinformation – this time not merely to "democracy" but the the whole planet: and that is "rampant climate change misinformation."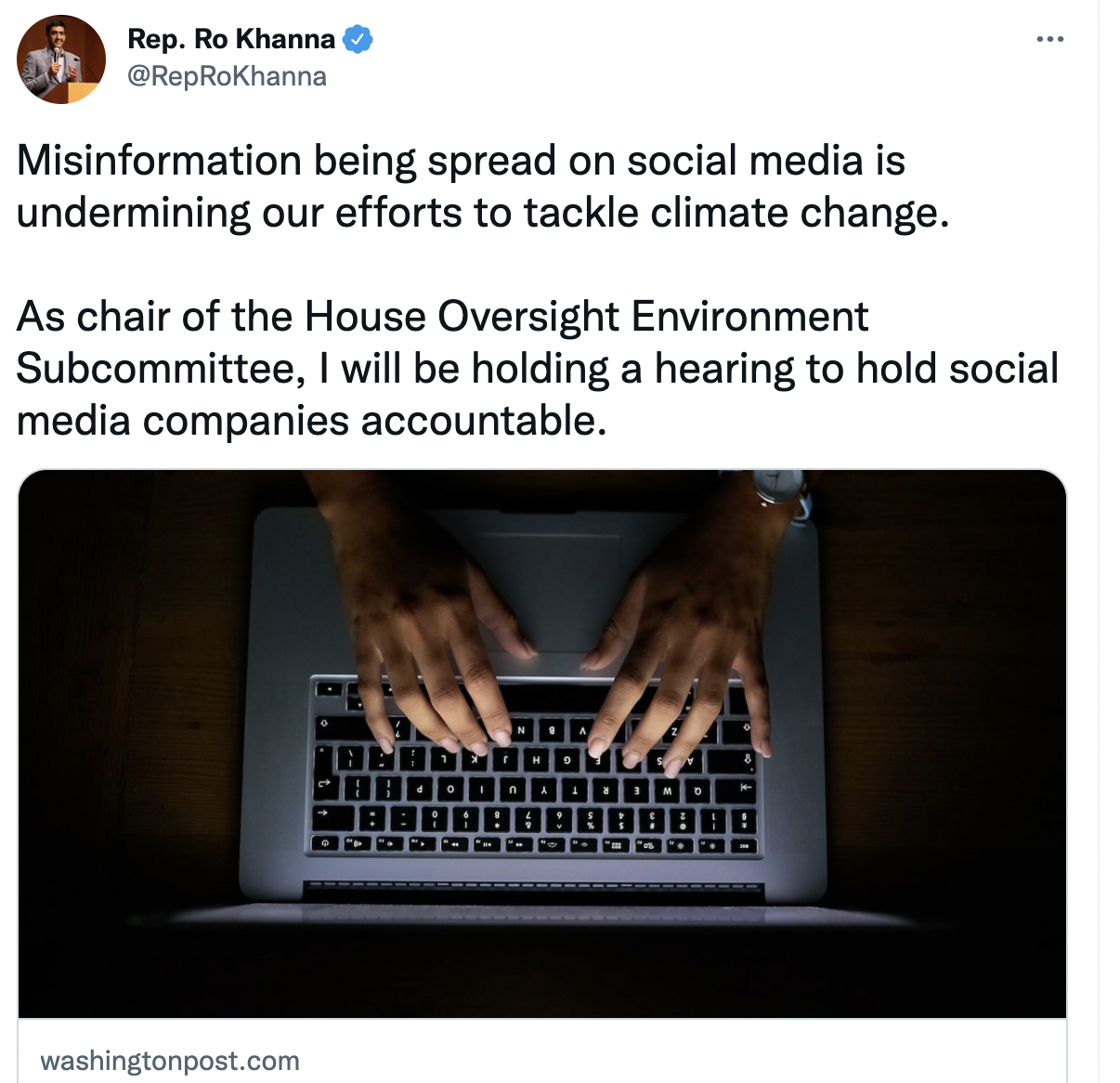 Keeping firmly to the narrative of misinformation as so widespread and powerful that it is swaying societies and democracies, the newspaper sees moves to focus away from Covid and elections and says that 2022 could turn out to be "the year of climate crisis misinformation."
Once again, the right-leaning side of the political discourse is effectively delegitimized as being behind all of these "big crises" that legacy corporate media have been identifying, or, as critics sometimes accuse them, fabricating.
Various "experts" including analysts and researchers from non-profit groups and university students are cited in support of the premise that what are seen as conspiracy theorists, far right and anti-Covid vaccine activists are coming together to resist another narrative – that of a climate change crisis.
Twitter and Facebook's announced strategies to counter this – either an actual climate crisis, or the anticipated onslaught of politically motivated criticism saying they are "not doing enough" to censor fast enough – is also mentioned. However, the Washington Post is not happy with the results so far, and urges more blacklisting, i.e., removing from discussion those accounts they disapprove of in this context.