Robinhood CEO Vlad Tenev is incorporating the popular notion of online "misinformation" into his narrative as he is trying to explain and defend the controversial decision to suspend trading of GameStop, AMC, and several other stocks on Thursday.
Some of the individual traders who this last week rallied the companies' price via social media and forums made tens of thousands of dollars using apps like Robinhood, but hedge funds and institutional investors who had been betting against them lost billions.
Pressure then started to mount from many sides to "correct" this situation and allow big players to recuperate some of those losses. Now some unhappy Robinhood customers suspect that preventing users from buying stocks from 13 companies for one day on Thursday was a play to help just that happen.
Tenev, however, said that the decision was made in order to protect his company and its customers. In a series of tweets, he seemed to suggest that the company had liquidity issues in a volatile market and had to protect investors and the market.
He then rejected accusations that the restrictions introduced on Thursday were made on the orders of "any market maker we route to or other market participants."
Promising to allow limited buying of the stocks in question on Friday, Tenev did not reassure his customers that similar situations, or "adjustments," would not repeat going forward.
But he was not so happy with the fact traders have a right to speak online. "We cannot control, however, the lightning-fast spread of information and misinformation that takes place on social media," Tenev tweeted, and apologized to "customers and staff" for this lack of control.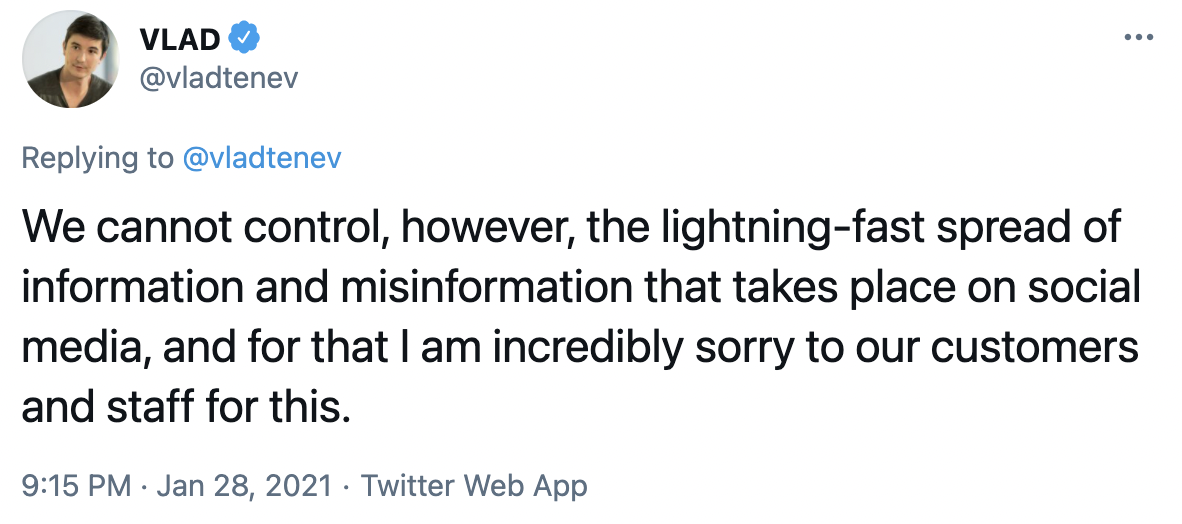 This appears to be a reference to the huge options and stock volume, for which Tenev blamed in part social media when he spoke for CNBC.
There have already been calls to introduce more strict government, specifically US Securities Commission (SEC) regulation of speech on the internet to prevent what is referred to as misinformation and market manipulation, allegedly happening when online communities of individual traders come together and raise the price of their favorite "meme stocks."
There are now also those who accuse Robinhood of colluding with big players to help them get back some of the money they lost in the previous weeks.