Independent news network Right Side Broadcasting Network (RSBN), which has become a go-to destination for live streams of former President Donald Trump's rallies, will be bringing exclusive featured coverage of these rallies to neutral video sharing platform Rumble.
The live streaming agreement is part of an exclusive partnership where RSBN will stream featured portions of its live political coverage on Rumble until the end of 2022. RSBN will begin coverage of live events on other platforms and then switch to exclusive streaming on Rumble for the featured or main portion of the event.
The partnership also includes an ad management agreement where Rumble will manage RSBNs ads, including host-read live ads, until the end of 2022.
Before announcing this partnership, RSBN had been live streaming its full coverage on multiple platforms.
RSBN was founded in 2015 and quickly became known for its live coverage of Trump rallies which regularly racked up more than a million views. However, as its YouTube channel has grown, RSBN's live streams have been consistently censored by the tech giant. RSBN responded to this censorship by live streaming on Rumble – a platform that has pushed back against Big Tech censorship and committed to allowing its creators to speak freely.
After RSBN started live streaming on Rumble, one of its Trump rally live streams helped Rumble break its live streaming record. RSBN's Rumble channel has also grown rapidly. Since joining the platform in December 2020, RSBN has racked up over 300,000 subscribers and the channel has millions of total views.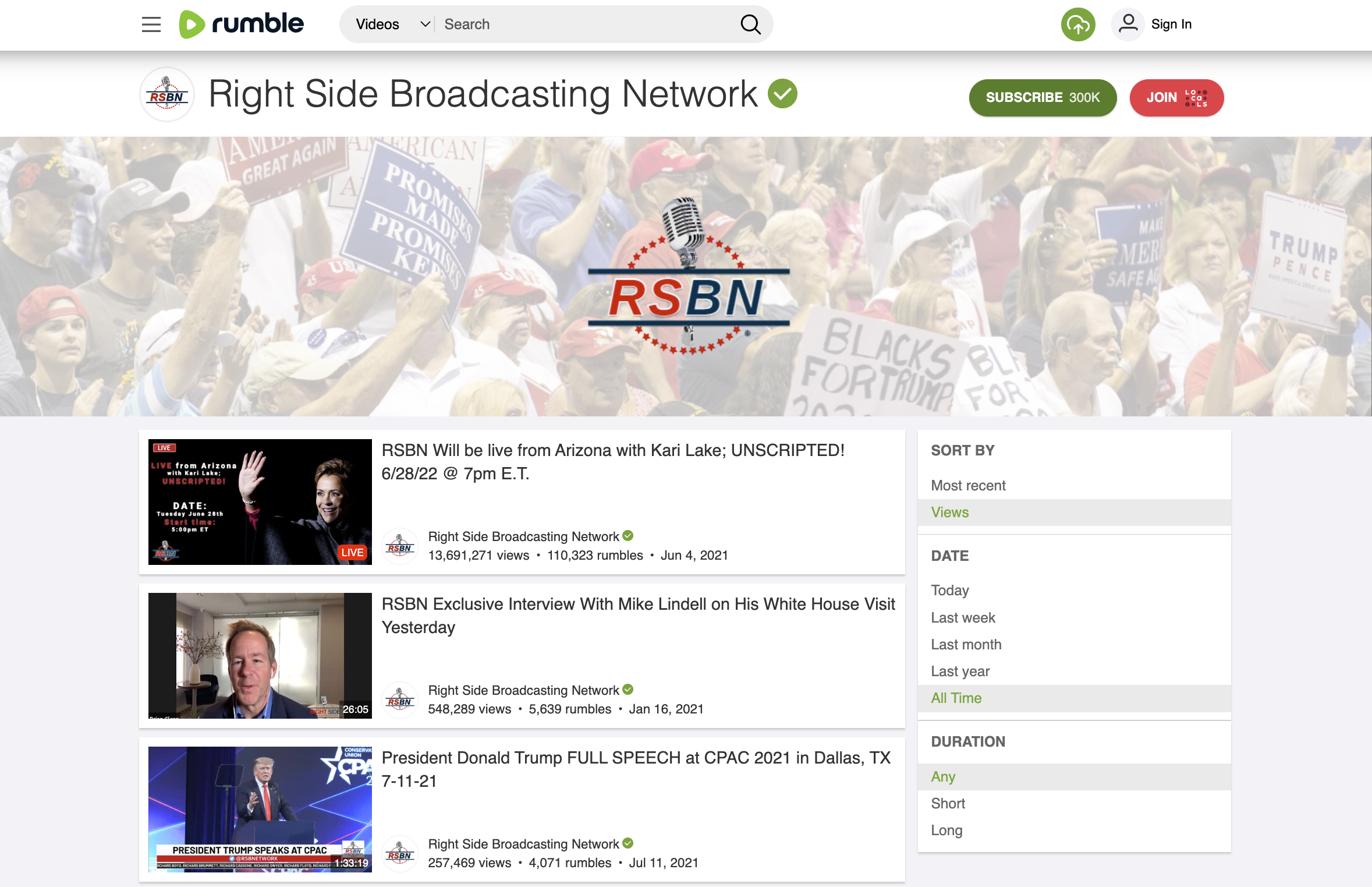 "Rumble's partnership with RSBN is one more victory against Big Tech's cancel culture," said Rumble CEO Chris Pavlovski. "This partnership is just the most recent example of Rumble's first-in-class services and capabilities, providing creators and viewers with a one-of-a-kind free and open platform."
"Rumble has been integral in helping RSBN continue to have a voice amid Big Tech censorship," RSBN's Editor-in-Chief Grace Saldana said. "Platforms like Vimeo, Twitch, and others have issued strikes on our channels, suspended us, and banned us. Rumble's free speech policy was unflinchingly consistent in allowing us to livestream and bring the truth to the American people. That is why we could not be more thrilled to share with our viewers that our live events will be streamed exclusively on Rumble. We urge all of our viewers to help us pave the way for freedom of speech in digital media and join us on Rumble."