Rumble, the growing video platform, has snagged cultural commentator TheQuartering to host a live show. Rumble is making an effort to diversify its content pool of exclusives, pulling in commentary on movies, TV, media, gaming, and other cultural topics.
Jeremy Hambly, the commentator and entrepreneur behind TheQuartering, has built a large following on YouTube over the years.
TheQuartering boasts a 1.55 million YouTube subscribers, amassing over one billion total views, and has also racked up 124,000 subscribers on Rumble. TheQuartering fanbase predominantly enjoys his content that features a gamut of subjects ranging from video games to a no-holds-barred analysis of today's culture and headline news.
The addition of TheQuartering to Rumble's armory is anticipated to catalyze its user base which is already on an upward trajectory. With this move, Rumble is poised to further push the envelope in challenging the long-standing duopoly of YouTube and Twitch in the live content creation space.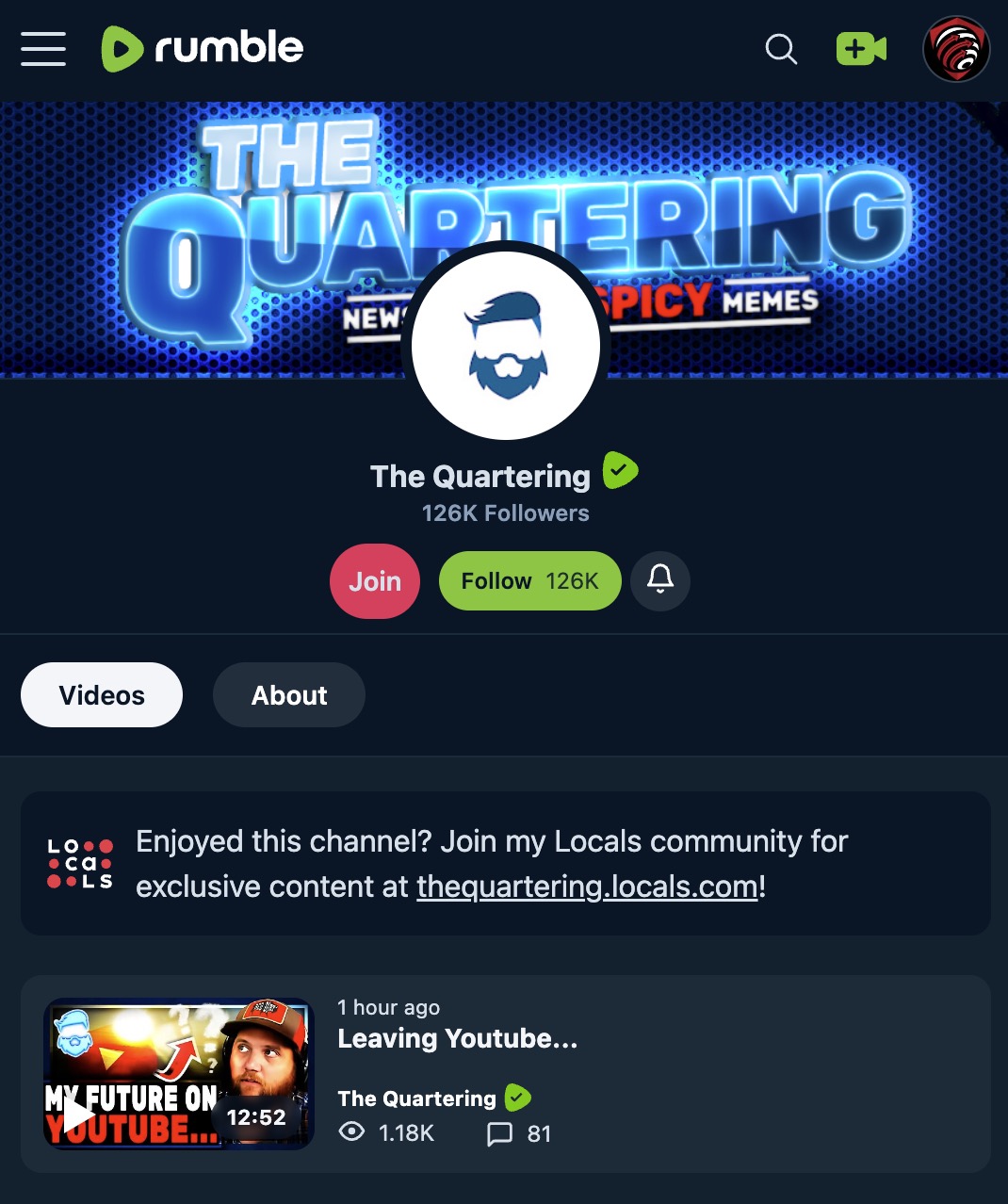 Jeremy Hambly voiced his rationale behind the alliance: "I have long supported free speech online and new tech that challenges the monopolistic hold of YouTube and Twitch on the online content world, so naturally I have been a huge supporter of Rumble since the start. With the current climate of censorship and suppression online, it was time to put my money where my mouth was and make a bold move, one that I hope will inspire my peers to do the same because together we truly can make a difference."
This deal has also been championed from the top brass at Rumble. Chris Pavlovski, Rumble's Chairman and CEO, stated, "Along with 'The Kai N' Speed Show,' we are excited to also welcome the unique and offbeat social commentary of 'TheQuartering' to our growing lineup of gaming and cultural content. There's a reason 'TheQuartering' has a loyal fan base, and we're excited to see our number of users continue to grow as more and more people come to Rumble for his bold and unfiltered content."
In a video announcing the Rumble exclusive, Hambly said, "I'm always trying to be genuine – like, you know, my opinions can change over time but this is who I am. One thing that's been ingrained in me since the beginning is my support of new tech alternatives."
Hambly went on to criticize the current Big Tech landscape: "With the election coming up, 2024, with all sorts of shenanigans going on, with even comedians can't post their content without getting struck down on certain platforms, it's getting scary."
Rumble is working to chart a path as a video platform that champions freedom. It seeks to build an ecosystem that is resilient against the censorship and cancel culture that have become all too common today.
The first live show starts on July 3rd.