Slack has deleted a blog post that announced that a police department was using the platform and documented how they used it.
The removal of the post is in support of George Floyd.
On Jun 2, Slack tweeted a series of tweets suggesting solidarity with the Black community. One of the tweets read:
"We commit to following up publicly with the actions we will be taking. And in the meantime, we hope you all stay safe, that the current violence ends quickly, and that this crisis can be the start of structural change, finally, after hundreds of years. #BlackLivesMatter"
A former employee at Slack replied:
"Is one of those actions going to include taking down the blog post about working with the police that I and other black employees diplomatically asked to have removed three years ago that's still up?"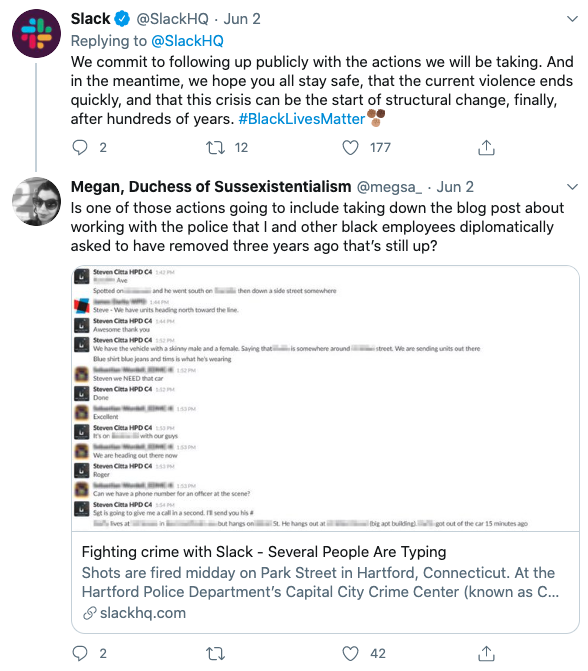 Slack's CEO, Stewart Butterfield said removing the post was one of those actions, and even mentioned another employee who had raised the issue.
The article explained how the Hartford Police Department, in Connecticut, successfully used Slack to fight crime. According to the post, the department created several channels, including a department-wide channel, and other smaller channels such as narcotics and crimes, to communicate. The article is archived here.
"These days, the Hartford Police Department's intelligence sharing is primarily coordinated over Slack with more than 450 investigators and officers from all over the state," read part of the article.
The article has now been removed.