Stockton University is considering disciplinary action against a student for using a photo of President Trump as his Zoom background and writing a political post on Facebook. He was charged by the school with cyberbullying, harassment, and four other charges – and, if found guilty, the punishment includes suspension.
In an online class on July 1, Robert Dailyda, a doctoral student at Stockton University, used a photo of President Trump as a background in group chat app Zoom. His choice of background did not sit well with some of his fellow students. They aired their "discomfort" in a private chat on GroupMe after class.
In the incident report of this issue, the university's administrators said that the photo made some of the students feel "offended, disrespected, and taunted". They also said that his comments in the GroupMe chat offended many and that the subsequent post on Facebook was perceived to be "offensive, threatening, and concerning.
Part of the "concerning" Facebook post read: "We are a diverse, yet assimilated population from all backgrounds. I believe all must have the same opportunities, and I commit to make that a priority. Beyond that, I am done with the leftist agenda of BLM and the white self-haters."
Dailyda was charged with six offences by the school; creating a hostile environment, cyberbullying, causing harm, harassment, discrimination, and violating the code of conduct for disruptive behavior. In the pre-hearing held on July 31, the university said, if found guilty, the consequences could include a decision-making workshop, a social justice workshop, community service, a $50 fine, or even suspension.
But Stockton seems to be forgetting that it's a public university and is therefore bound by the First Amendment.
Dailyda challenged the charges with the help of FIRE (Foundation for Individual Rights in Education)."Stockton's organizational leadership program claims to focus on the integrity of leadership; however, from my experience, they do not associate integrity with free speech and open debate. They have created a deeply embedded and systematic environment that squelches the free speech of those who disagree with their radical agenda. I never thought I would see this from a public university that should be facilitating a marketplace for the full spectrum of ideas, not a monopoly," said Dailyda.
FIRE is a non-profit politically neutral organization committed to defending the rights of students and faculty members in tertiary institutions.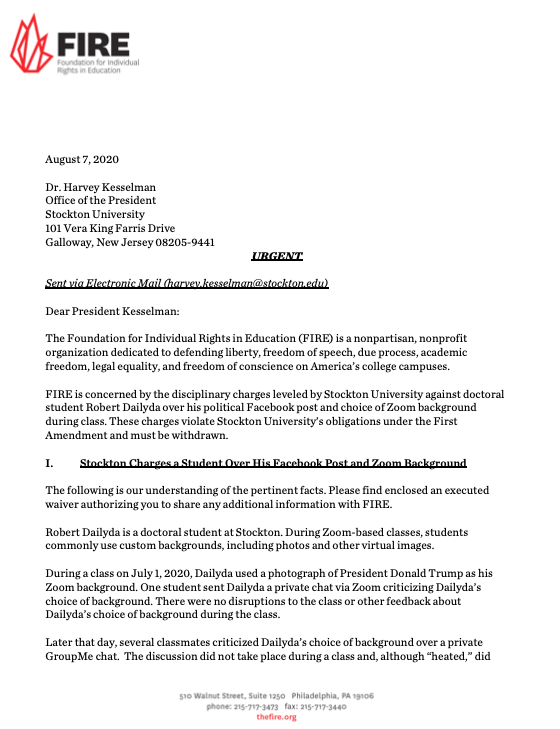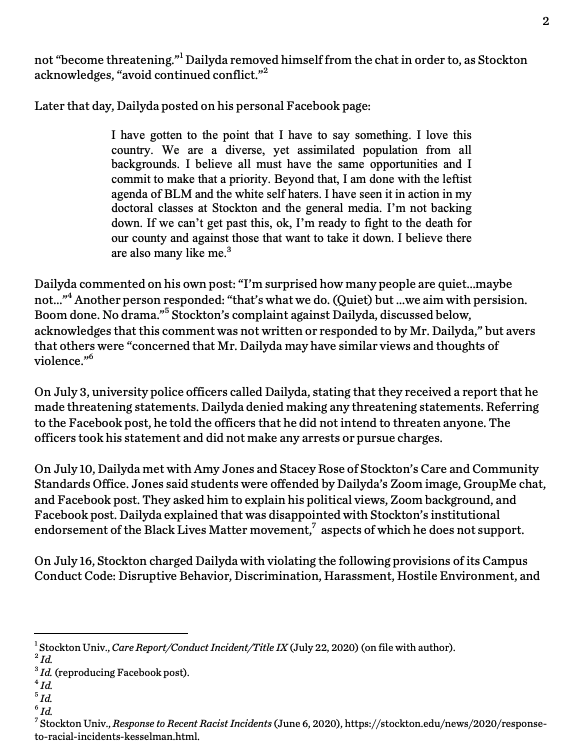 "Like its Atlantic City neighbor, Stockton is doubling down and gambling with students' constitutional rights — a risky bet when FIRE is involved," said Zach Greenberg, a member of FIRE's Individual Rights Defense Program.
FIRE wrote the letter to Stockton University's president, Harvey Kesselman. The letter says that the university has a responsibility to respect student's individual rights, specifically the First Amendment.
"FIRE is concerned by the disciplinary charges leveled by Stockton University against doctoral student Robert Dailyda over his political Facebook post and choice of Zoom background during class. These charges violate Stockton University's obligations under the First Amendment and must be withdrawn," reads part of the letter.