The current Miss Swimsuit of UK, 23-year-old Jasmine Archer-Jones, has been stripped of her title after she posted in support of the idea of "All Lives Matter".
The beauty pageant has removed all the data concerning Archer-Jones and has wiped off every trace of her from their digital presence. They even made her remove a link to their competition website that she put up on her Instagram profile.
"If you look deeply into statistics, more UNARMED WHITE people DIED than BLACK last year," read an excerpt from Archer-Jones' Facebook post.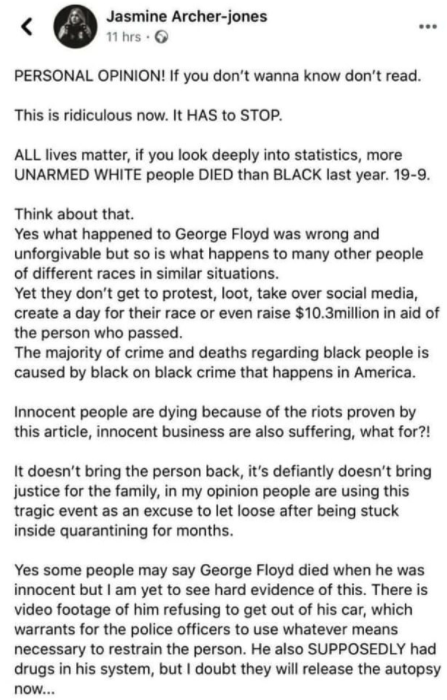 Archer-Jones was also accused of suggesting that reaction to George Floyd's death was unwarranted, pointing out his criminal history and that he may have had drugs in his system during the whole incident. "He also SUPPOSEDLY had drugs in his system, but I doubt they will release the autopsy now… Oh and let's not forget that George Floyd also has a criminal record dating back to the 90s."
The post, which is now deleted, also added that it was her personal opinion only and people who weren't interested in reading her thoughts should not do so.
It's worth mentioning that Archer-Jones did say that what happened to George Floyd was "wrong and unforgivable."
Archer-Jones is the latest in a long line of those who have lost positions or jobs for choosing to post "All Lives Matter" or who have criticism with aspects of the Black Lives Matter movement.