Abigail Shrier's book that documents instances of transgender individuals who have come to regret their transition and warns against long-lasting effects in kids, was temporarily unavailable on Target.com after a campaign by Twitter activists.
"In 2016, @Target, you released a statement affirming your support for transgender customers. @AskTarget why you're selling a book notorious for its harmful rhetoric against us? Historically, harmful products have been pulled from the shelf, and this should be, too," read a tweet from an account with about 2.6k followers.
"I think the trans community deserves a response from @AskTarget @Target as to why they are selling this book about the "transgender epidemic sweeping the country" Trigger Warning: Transphobia," another user wrote.
"Thank you so much for bringing this to our attention. We have removed the book from our assortment," Target replied, confirming censorship.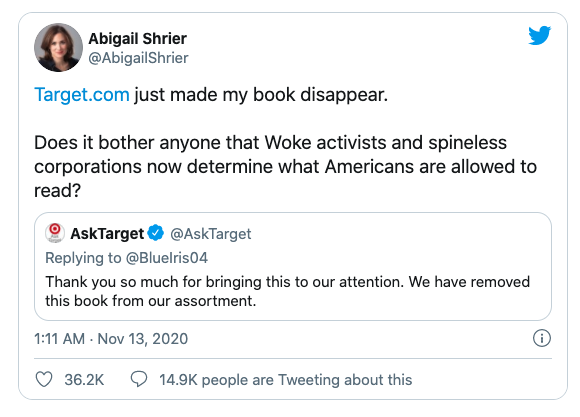 "Target.com just made my book disappear.
"Does it bother anyone that Woke activists and spineless corporations now determine what Americans are allowed to read?" Shrier wrote on Twitter.
When Reclaim The Net inquired about the censorship, Target said they "apologize" for any confusion and reinstated the book shortly after, not adding any more details.
Target then confirmed the book was back, on Twitter.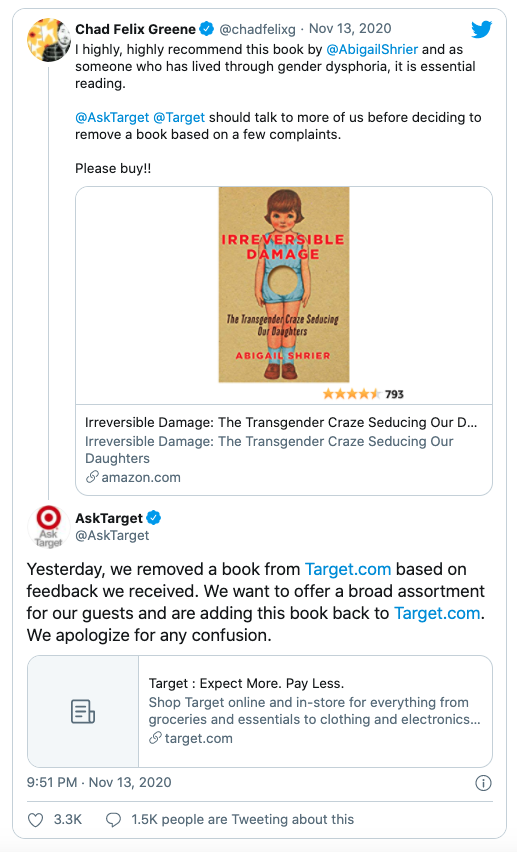 Shrier has already written about how activists have long been trying to get her book canceled.
"I wrote specifically about the sudden, severe spike in transgender identification among adolescent girls," Shrier wrote recently for Quillette, "I fully support medical transition for mature adults. And I have no desire to be a provocateur. … Nor do I have any prurient interest in others' social lives."
Shrier is no stranger to censorship. Shrier recently had a popular interview on the Joe Rogan Experience podcast and, following the interview, Spotify employees internally flagged the interview and wanted it removed.