This year we've reported on professors worried that students learning from home could lead to news outlets finding out what they're teaching students. We've also found incidences of professors threatening students not to share online recordings of lecture material.
But what are they so worried about? What have they got to hide?
Whatever it is, it hasn't gone away as online learning has increased in recent weeks.
Throw race, coronavirus lockdowns and resulting virtual classes, Twitter, "liberal" teachers and "conservative" parents into the mix, and to nobody's surprise, you may get this type of thread.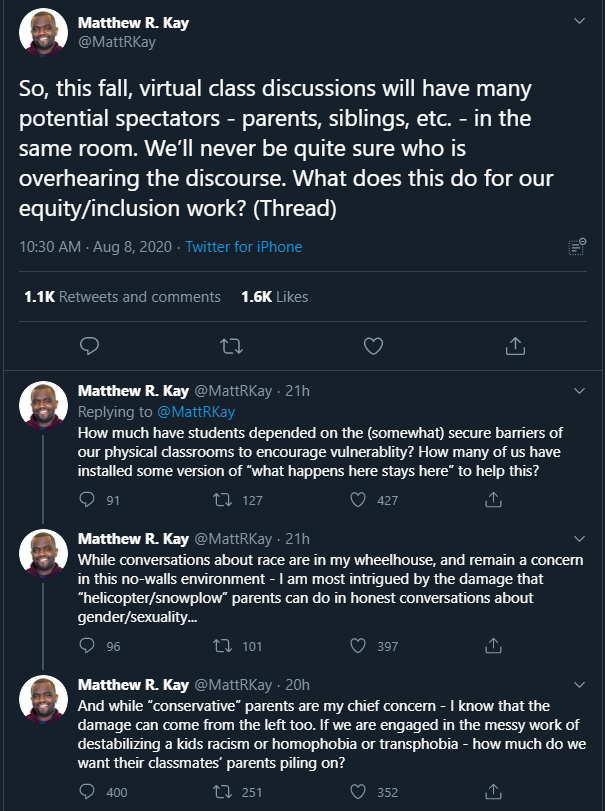 Educator Matthew R. Kay is the one who started the controversial thread (so controversial, it seems, that Kay has now made it private).
Kay's number one worry and problem regarding the necessity to hold online classes while schools are shut down is that parents, whom he calls "potential spectators" might actually pay attention to exactly what their kids are being taught.
And when it comes to "conservative" parents, Kay believes the situation is particularly precarious when children are supposed to learn about topics like race and gender theory, and other controversial topics.
Kay prefers physical classrooms as "secure barriers of our physical classrooms," and frames the whole thing as a weekend in Vegas, literally saying that many teachers may have "installed some version of 'what happens here stays here' to help this" – but what shall they do now?
Virtual classes make that secrecy difficult to maintain, especially around gender and sexuality, but also race topics. Parents showing interest in their kids' education or simply helping them out given the homeschooling circumstances are dismissed as "helicopter/snowplow (conservative) parents" who might be damaging the established process.
"If we are engaged in the messy work of destabilizing a kid's racism or homophobia or transphobia — how much do we want their classmates' parents piling on?," wonders Kay.
Some teachers chiming in on the thread strongly criticized this type of concern and attitude in general expressed by their colleague – but others were quick to jump in with their experiences and worries that full control over their students' activities and exclusion of parents is slipping away.
One teacher shared that a parent had filed a complaint against a recorded class for its inappropriateness and bias around race issues.
Another said that ninth graders reading and discussing news articles is no longer a teaching experience it once was, since now "outsiders (i.e., parents) are listening."
The crescendo of this type of logic that appears to object to a parent's involvement in their child's upbringing came in one comment in the thread that said, "Parents are dangerous."