State-controlled Russian media outlets such as RT (Russia Today) and Sputnik have started to be geo-blocked in European countries after the European Union (EU) announced an "unprecedented" ban on "the Kremlin's media machine."
The tech giants Facebook and TikTok are blocking RT and Sputnik accounts and posts in the EU while YouTube is blocking RT and Sputnik channels and videos across Europe, including in non-EU member states such as the UK.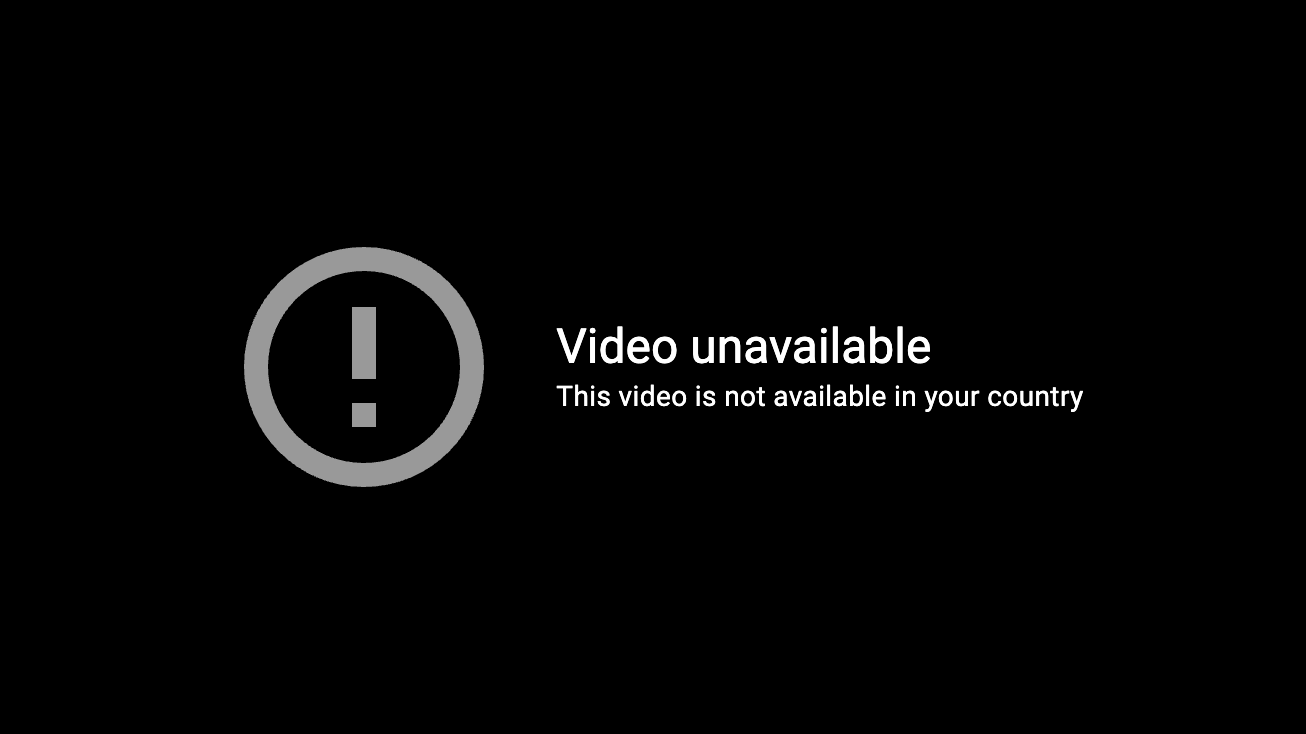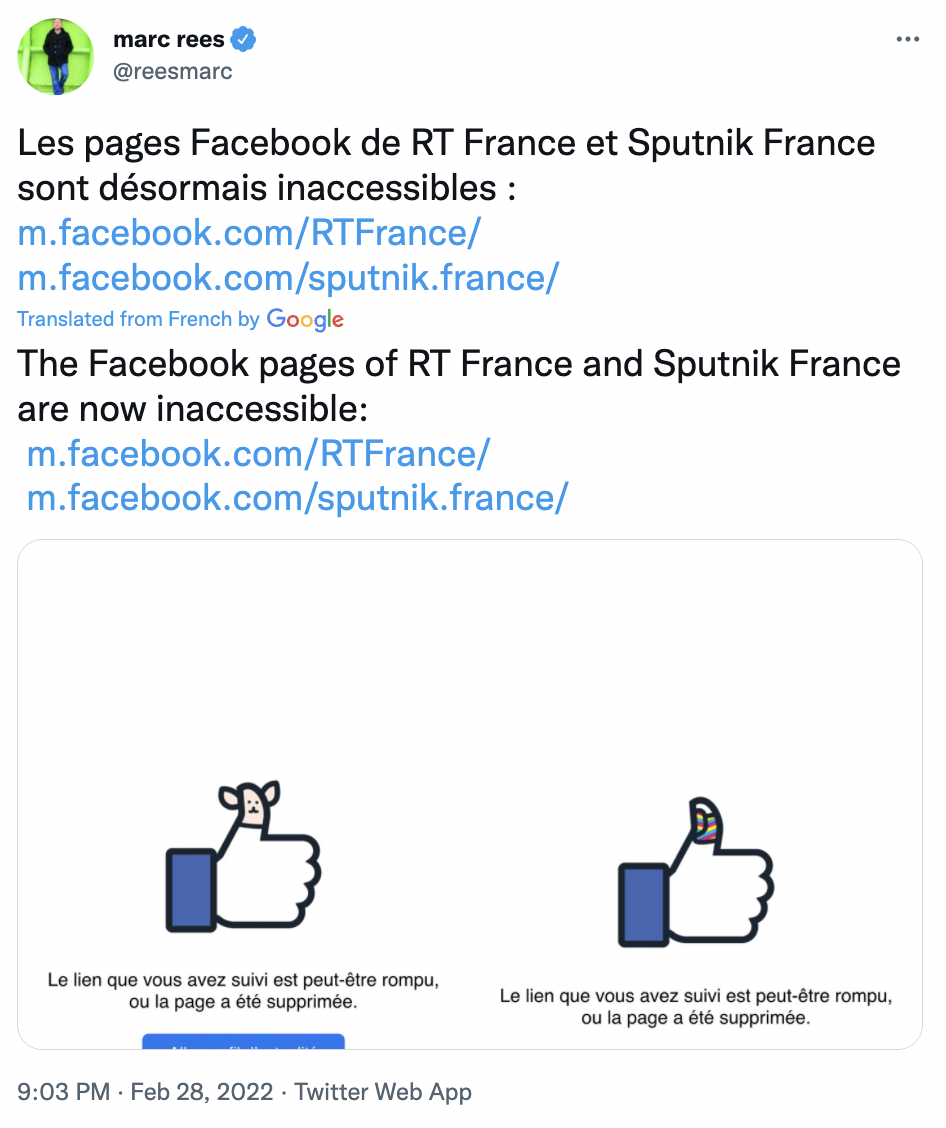 Microsoft has also removed RT and Sputnik content from its Microsoft Start platform (which includes MSN.com), removed RT news apps from its Windows app store, and will de-rank RT and Sputnik in its Bing search engine so that it will "only return RT and Sputnik links when a user clearly intends to navigate to those pages." Additionally, it has banned RT and Sputnik from its ad network and pulled its ad placements from their sites.
Telegram has started blocking RT France. According to Mark Scott, Chief Technology Correspondent at POLITICO, the ban only applies within France and other RT Telegram channels are still available.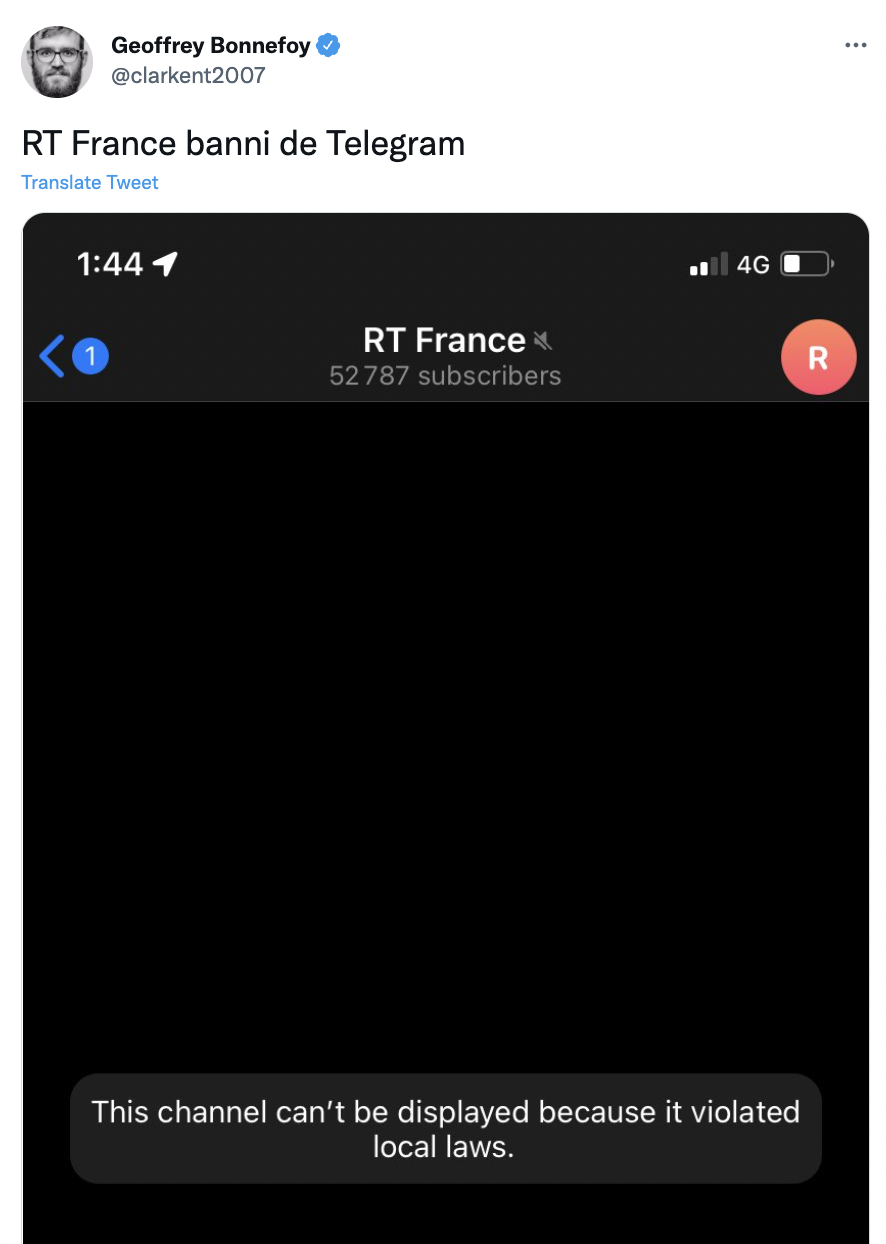 Twitter is currently reducing the reach of Russian state-affiliated media websites but isn't blocking their content or accounts. However, it is facing pressure from Cédric O, France's Secretary of State for the Digital Transition and Electronic Communications, who accused the platform of doing "almost nothing" and branded it as being "always the last to react and always the one who doesn't do enough when it comes to moderation."
The blocks follow Ursula von der Leyen, the President of the European Union's Commission (EC), announcing an "unprecedented" ban on state-controlled Russian media outlets on Sunday. During the announcement, von der Leyen specifically mentioned RT, Sputnik, and their subsidiaries and added that the EU is "developing tools to ban their toxic and harmful disinformation in Europe."
High-ranking officials from the EC and several European countries have also been pushing Big Tech platforms to ban Russian state media and Russian officials over the last few days.
Thierry Breton, European Commissioner for Internal Market, said today that these Europe-wide blocks on state-controlled Russian media outlets are "expected to cover all means of distribution or transmission, including internet video sharing platforms and applications".
Cédric O welcomed tech platforms blocking state-controlled Russian media outlets and urged other platforms to apply similar blocking measures.
"Russian propaganda does not come under freedom of information," O said. "We ask other social networks to apply the same decisions."
Věra Jourová, Vice-President for Values and Transparency said: "We stand for freedom of speech but it cannot be abused to spread war propaganda. Today's sanctions will target companies at the core of the Kremlin's propaganda machine."
In addition to these Europe-wide blocks on RT and Sputnik, Google has also blocked RT app downloads in Ukrainian territory, Lithuania has banned six Russian language channels, and the UK's communications regulator the Office of Communications (Ofcom) has opened 15 investigations into RT.
Outside of Europe, the Canadian communications and media companies Bell, Rogers, Shaw, and Telus have dropped RT. Canada's Heritage Minister Pablo Rodriguez has also said RT "has no place here" and that the Canadian government is "looking at all options."
As tech platforms and government increase their blocks on Russian state-controlled media, Russia has issued its own censorship requests. It has ordered Google to restrict access to information posted in Google Ads which it says contains inaccurate information about Russian and Ukrainian casualties and demanded that TikTok block recommendations of any "content of a military or political orientation" to minors.
Additionally, Russia has demanded that Google restore access to its YouTube channels in Ukraine.
RT France has responded to the Europe-wide block by vowing to "defend its rights against the decision to ban RT in Europe."
RT France's President Xenia Fedorova added: "The decision to ban our channel, in which 176 employees work, including more than 100 journalists, is a violation of the rule of law and goes against the very principles of freedom of expression. Nothing can justify this censorship."
"The basis for RT restriction should be grounded in Meta's content moderation policies, not acquiescence to EU demands," Emerson T. Brooking, a resident senior fellow at the Digital Forensic Research Lab of the Atlantic Council, said. "Authoritarian nations *routinely* demand the removal of content. They will cite this in future to charge Meta with Eurocentrism."
Free speech social network Gab and blockchain-based video sharing platform Odysee have both committed to viewpoint neutrality and have said they won't ban RT.
"Gab's platform position is viewpoint neutrality no matter what," Gab said. "We will not remove any content from the site unless a terms of service violation occurs or we are required by law to do so."
Odysee said it had been asked to remove RT but refused.
"We don't care about politics, and being a platform means we have to be a platform," Odysee said. "Whether it's CNN, Fox ?, RT, etc. It all has its place on Odysee."