Online censorship regarding dissemination of Covid information in the US at this point looks sure to have to get much worse, before it gets any better.
The latest "victim" in this raging online campaign is Martin Kulldorff, who participates in the coronavirus vaccine safety groups advising CDC, FIH, and FDA.
But now that Kulldorff has expressed his misgivings around the idea that children and youth must also be inoculated against Covid, this Harvard professor is facing Twitter censorship.
Kulldorff's real life credentials appear hard to beat: 25,000 academic citations to date on infectious diseases topics that are his expertise, in addition to his Harvard role, and the one as the Brigham and Women's Hospital epidemiologist and biostatistician.
But when this expert recently decided to use Twitter as the platform to express his professional opinion on Covid vaccination – stating that those thinking nobody should get it are as wrong as those believing everybody should – it ended up in Twitter (its algorithms, or by now the infamous third party "fact checkers") deciding to slap warning labels on his posts like the one stating, "COVID vaccines are important for older high-risk people, and their care-takers. Those with prior natural infection do not need it. Nor children."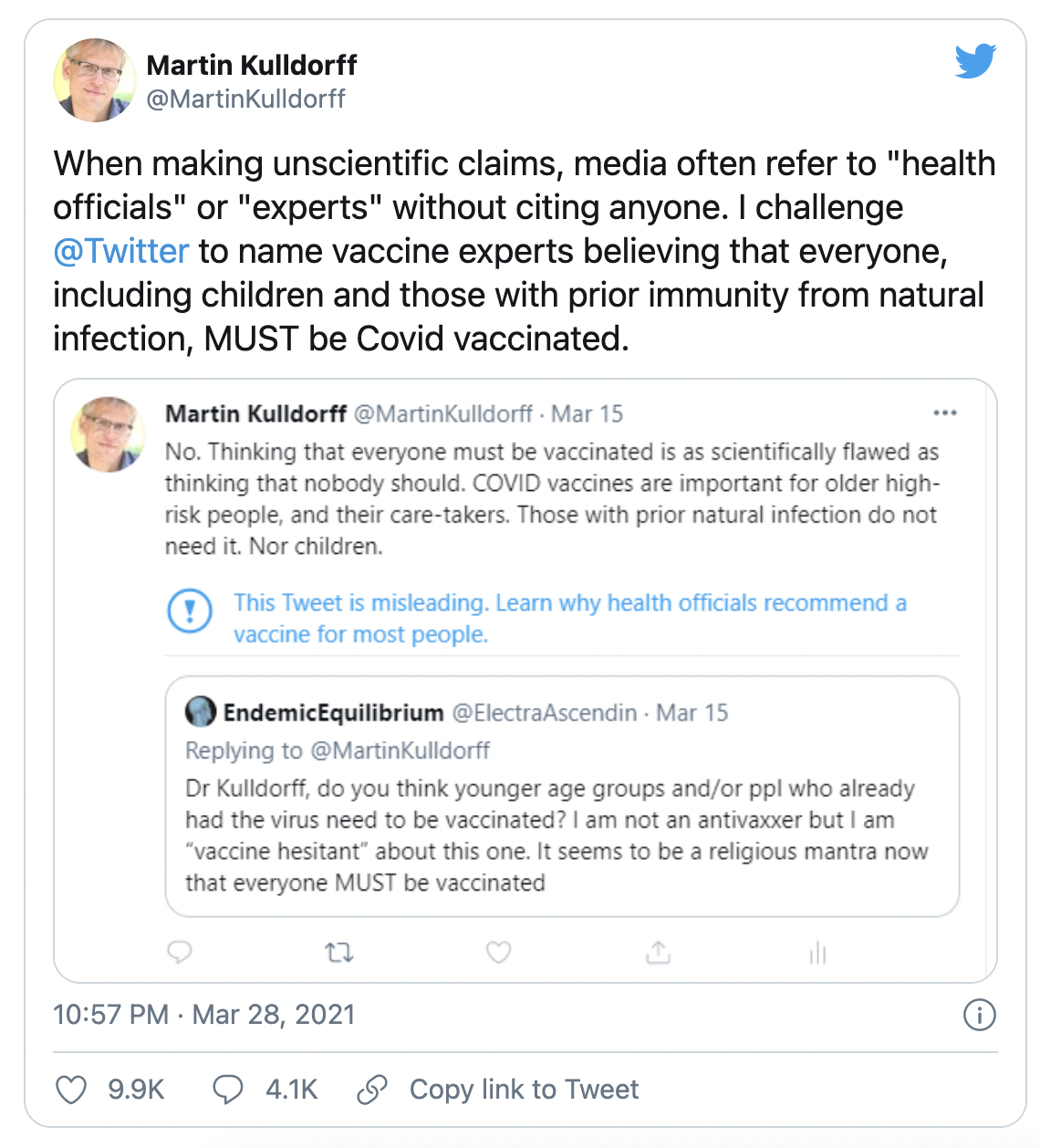 "I challenge Twitter to name vaccine experts believing that everyone, including children and those with prior immunity from natural infection, MUST be Covid vaccinated," he tweeted.
The censorship these posts met on Twitter means that other Twitter users can no longer like or retweet them. Why? Twitter's explanation has been as run-of-the-mill as it gets: these statements somehow violated "Covid misinformation."
Luckily, for now, this expert has not been banned from Twitter, so he has been able to react to the decision on the same platform – by wondering however social media works these days. And he observed that it's often – not his own words, but basically – a credibility scam, that mentions experts and health officials, without actually naming any.
This is especially true nowadays when media reports look to support their own narratives around everybody needing to get vaccinated – children and people who have already recovered from the infection included – Kulldorff said in one of his subsequent tweets.
It probably will not have helped this expert's credibility on a platform with by now little credibility of its own, like Twitter – where decisions on Covid information are these days ruled by outsourced and often out-of-control third party "fact-checkers."