Twitter insists that the posts about mailboxes that went viral do not violate the updated "civic integrity policy." The same policy deemed Trump's posts about mail-in ballots misleading back in May.
The viral tweets followed President Trump opposing the funding of USPS.
Rex Chapman, a former professional basketballer turned social media influencer, shared a photo of locked mailboxes in Burbank, CA, accompanied by the caption: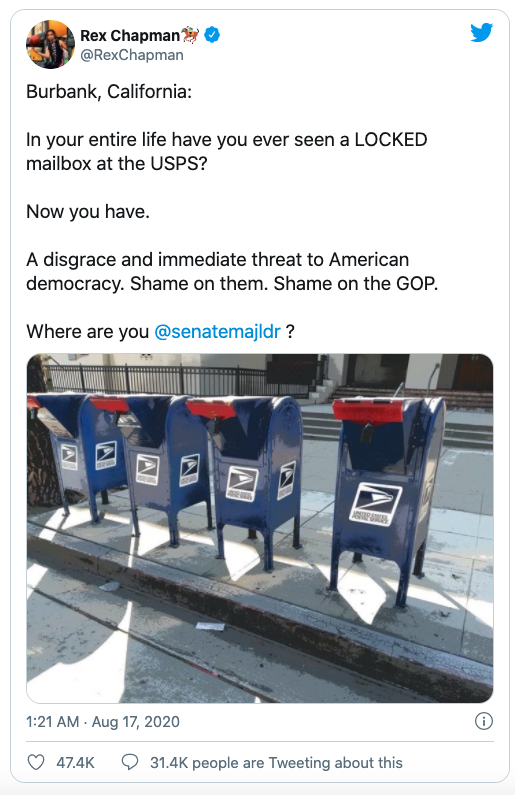 Thomas Kennedy, an immigration reform activist, working with Florida Immigration Coalition, posted a photo of mailboxes that appeared to be dumped. He wrote: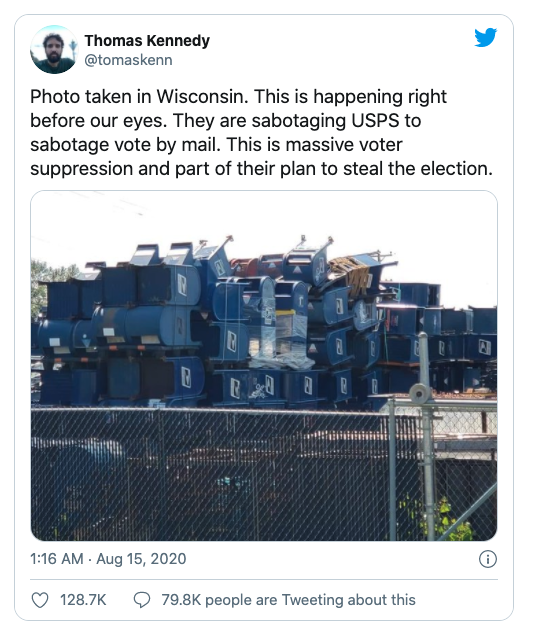 However, other Twitter users proved the claims false, revealing that the Burbank mailboxes have a slot on the rear side where people can slide their mail.
"Here is where people can mail their letters at the Burbank P.O. They lock the other side, and the lobby is locked when the Post Office is closed. It's very dangerous to post misinformation. It panics people, especially during this scary era," @zandywithaz tweeted with a photo of the rear side of the mailbox.
According to an article from 2016, the mailboxes are locked for security reasons. At the time, a USPS rep said, "We do this where we have had incidents, or there is a problem where the box may be out in a not very well-lit public place. The boxes have been retrofitted all over Southern California."
The social media posts have also been debunked by independent fact-checkers.
Journalist Gary He debunked the Wisconsin mailboxes photo shared by Thomas Kennedy in a very comprehensive thread. The lot where the mailboxes appear dumped is owned by Hartford Finishing Inc., which has a contract with the government to refurbish old mailboxes.
https://twitter.com/garyhe/status/1295360446795583491
While "fact-checking" on platforms has often been a major new way of introducing censorship and many have pushed back against social platforms getting started with the practice, others would support the practice if platforms actually implemented it fairly and fact-checked both sides of debate.
Despite Twitter's love of "fact-checking," the social media platform did not put a fact-check label on the misleading tweets. Apparently, those tweets did not violate the civic integrity policy, which clearly states that "misleading information relating to votes being counted" is prohibited.