Twitter has amped up its editorialization of President Trump by labeling one of his tweets because it contained what the company deemed to be a "potentially misleading" statement about mail-in voting.
Trump's tweet states:
"Because of the new and unprecedented massive amount of unsolicited ballots which will be sent to 'voters', or wherever, this year, the Nov 3rd Election result may NEVER BE ACCURATELY DETERMINED, which is what some want. Another election disaster yesterday. Stop Ballot Madness!"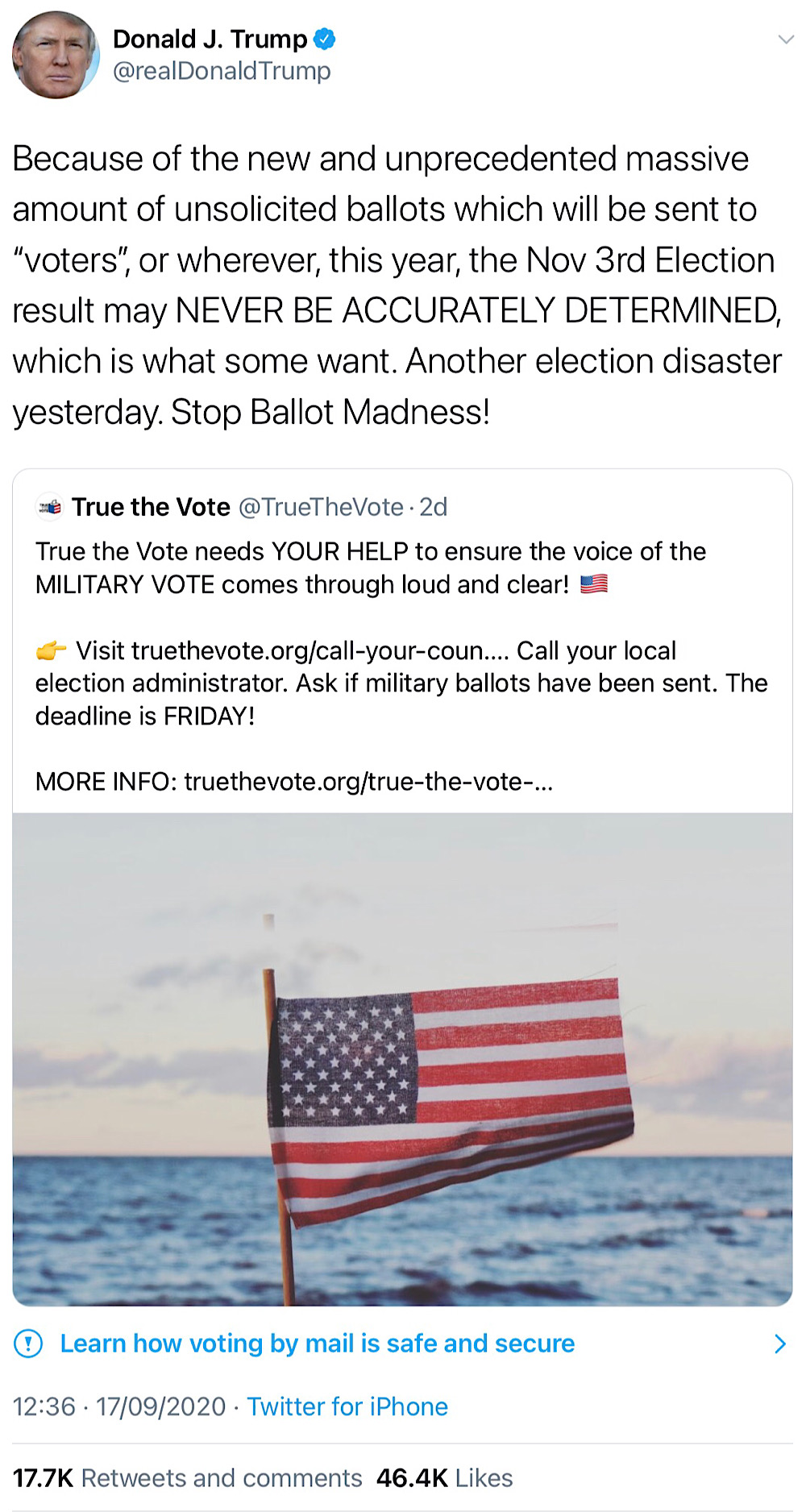 While the tweet is speculative in nature and discusses what "may" happen, under Twitter's new rules that came into force today, such tweets will now be labeled and editorialized.
Twitter wrote that Trump's tweet had been labeled for "making a potentially misleading statement regarding the process of mail-in voting" and pointed to the new rules which are part of its updated Civic Integrity Policy.
The label states, "Learn how voting by mail is safe and secure" and links to a series of tweets and articles that claim mail-in voting is secure and insist "claims that mail-in voting leads to fraud are unsubstantiated."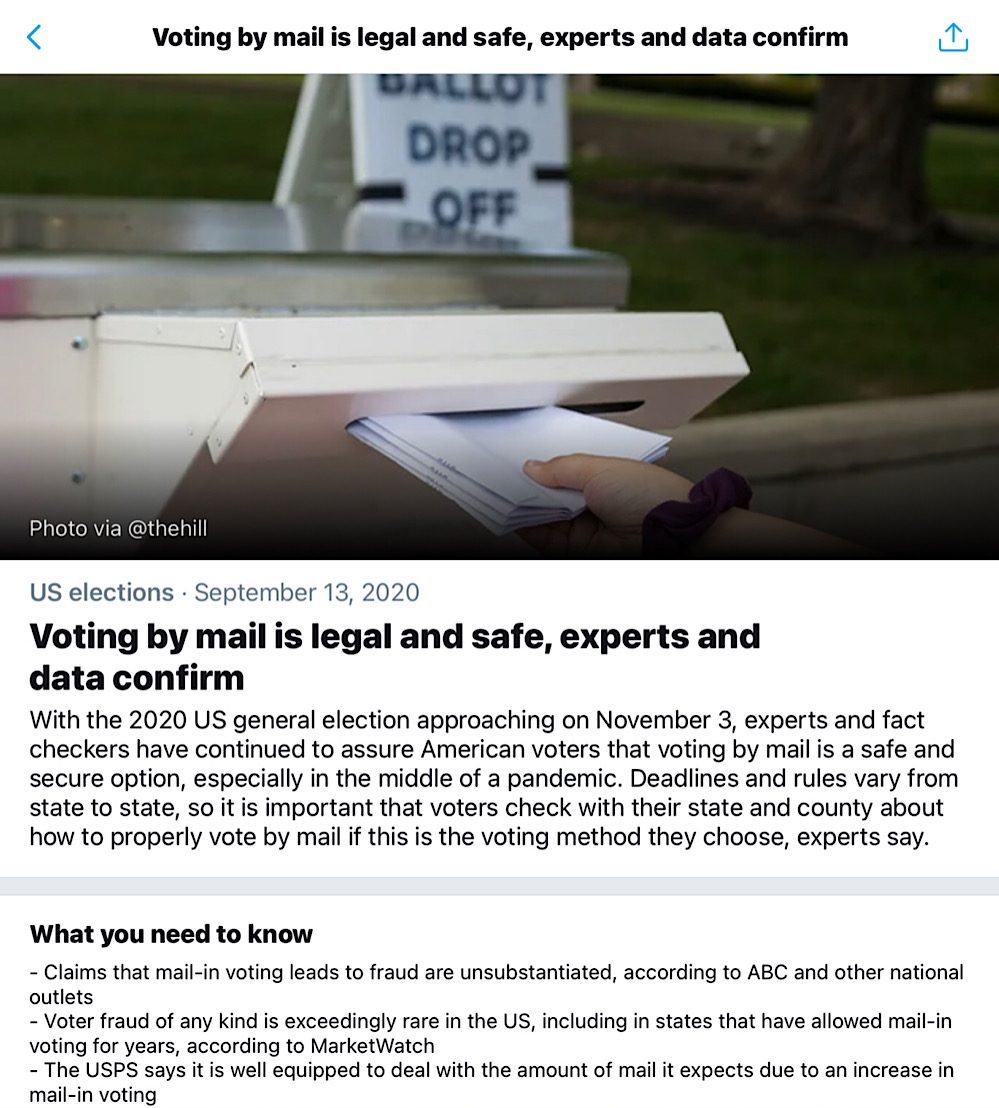 The labeling of Trump's tweet is reflective of how Twitter's new rules are casting a much wider net with the types of election-related statements that will now be editorialized and potentially censored as the 2020 US presidential election draws closer.
Under these new rules, even statements that aren't definitively deemed to be misleading or untrue by Twitter can still be labeled and suppressed if they're "disputed" or "could" undermine faith in the election process.
Related: ? Mark Zuckerberg is unelected, yet holds the election in his hands
It also demonstrates Twitter's escalating censorship and editorialization of the President's statements with his tweets now being labeled or hidden on an almost weekly basis.
Additionally, the labels that are being applied to Trump's tweets have become noticeably more opinionated since the first time they were used.
When Twitter fact-checked Trump for the first time in May after he tweeted about mail-in ballots, the label stated: "Get the facts about mail-in ballots."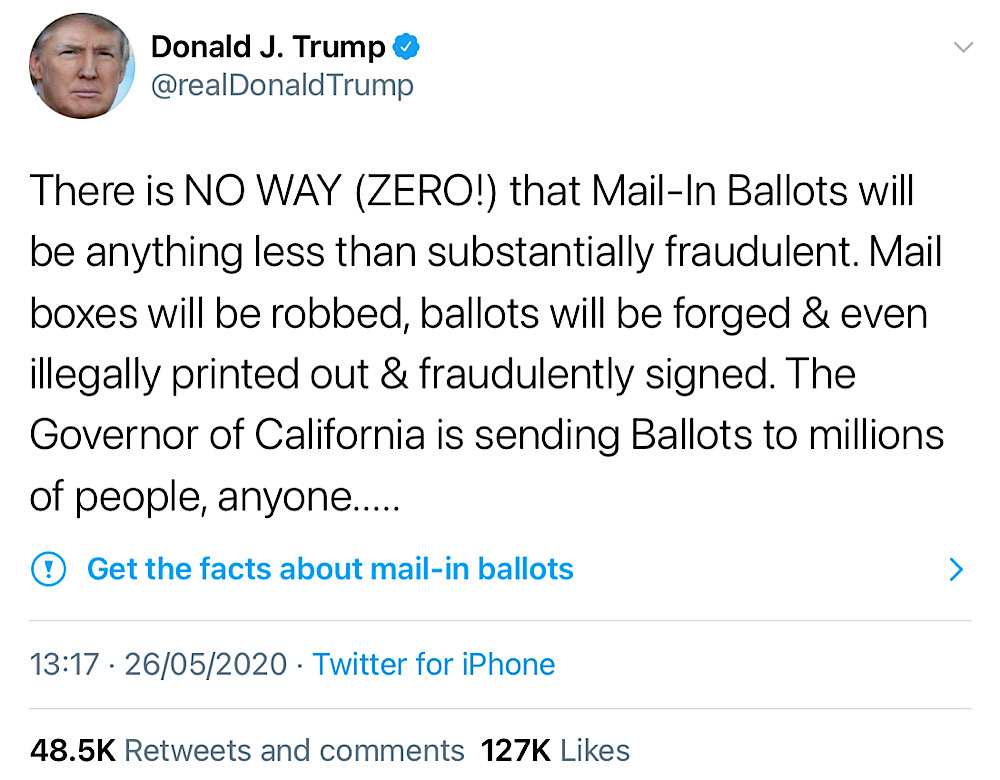 Now the label pushes a much more declarative, pro-mail-in voting stance by stating: "Learn how voting by mail is safe and secure."
Not only does the labeling of Trump's tweet highlight Twitter's escalating censorship and editorialization of the President's statements and the increased restrictions on election-related tweets in general but it also showcases Big Tech's increased censorship of posts that question the unprecedented processes that are being pushed in the run-up to the election.
For example, Facebook has introduced similar measures that restrict what users are allowed to say about the election which include labels being applied to posts that claim "lawful methods of voting will lead to fraud."
And Facebook CEO Mark Zuckerberg has stated in multiple interviews that his company is "preparing the American people that there's nothing illegitimate about this election taking additional days, or even weeks to make sure that all of the votes are counted."