The Daily Caller reporter Chuck Ross' Twitter account was suspended for 12 hours after posting "Learn to code." Twitter has been harsh with the "Learn to code" meme and has been banning and suspending users who were using it as a response to the layoffs of journalists at companies like Huffington Post.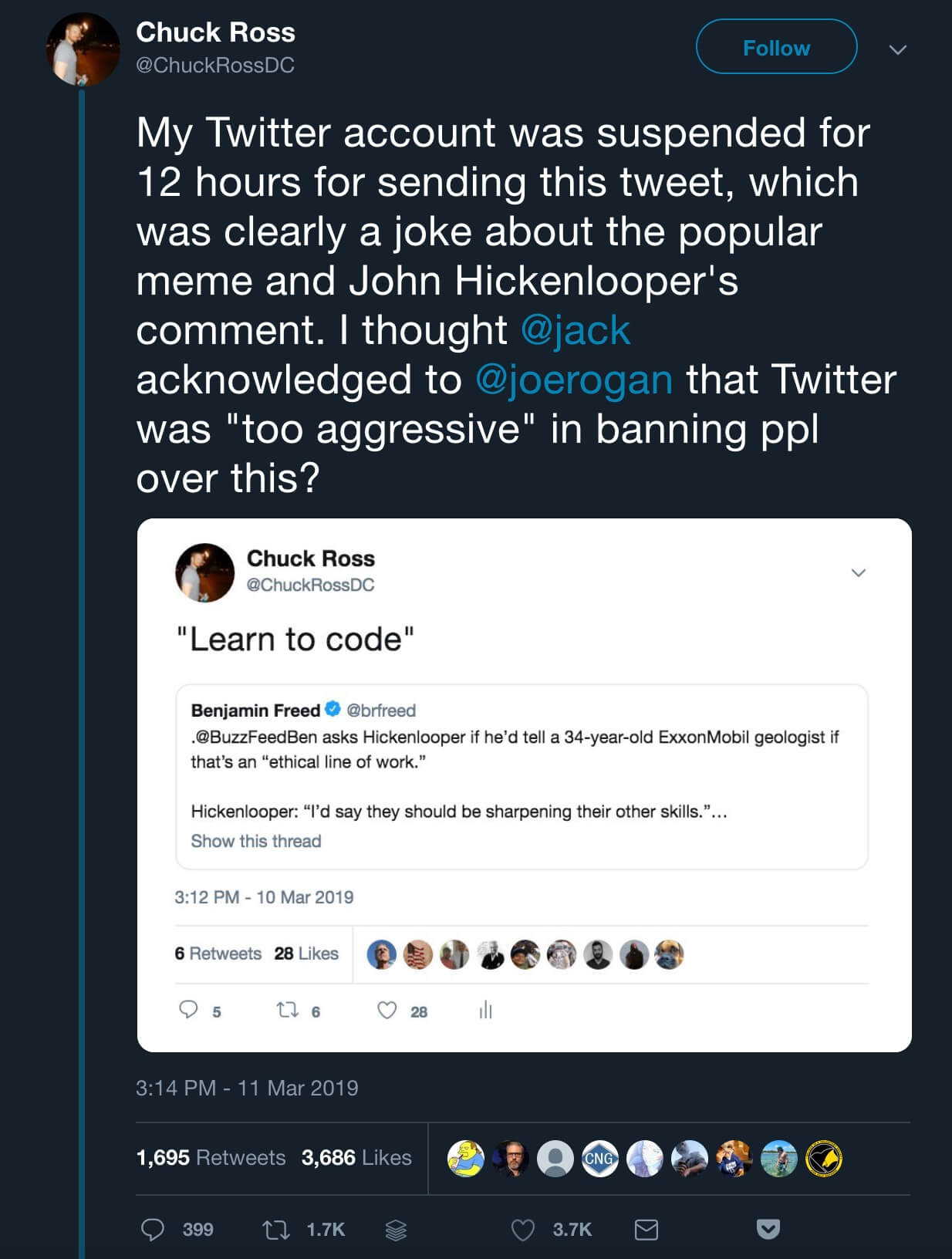 "My Twitter account was suspended for 12 hours for sending this tweet, which was clearly a joke about the popular meme and John Hickenlooper's comment," declared Ross after the temporary ban. "I thought @jack acknowledged to @joerogan that Twitter was 'too aggressive' in banning ppl over this?"
As a matter of fact, Chuck was not using this phrase to mock any individual. He used it purely in a debate about universal basic income. However, he was still suspended for 12 hours. In January, Twitter had made clear the using the phrase "Learn to code" as a response to journalist layoffs will be counted as "targeted harassment."
Jack Dorsey, the CEO of Twitter feels that banning users for posting "Learn to code" was rather harsh; he admitted so on the Joe Rogan Experience. Despite this, Twitter still bans people who reference it.
According to a previous report by Lucas Nolan, "Shortly after a number of left-wing journalists were laid off, Twitter users — many who were conservatives — tweeted at the journalists to 'learn to code,' the same advice that many left-wing publications gave to coal miners and laborers who found themselves out of jobs."
This phrase became a huge meme and had originated from BuzzFeed News. It happened when the BuzzFeed News published a "Should You Learn to Code?" Quiz through which recommended coding for people with various passions.
In summary, when left-wing journalists say "learn to code", it's fine. When it's conservative commentators that say it, the get banned from Twitter.
Back on the first wave of the meme, in a response to Mark Zuckerberg's comment about coal miners being laid off due to shifts in the energy industry, Michael Bloomberg, Ex-New York City mayor sarcastically said:
"You're not going to teach a coal miner to code. Mark Zuckerberg says you teach them [people] to code and everything will be great."