Twitter has long since banned users under its "misinformation" policy for making truthful statements – and legal challenges to this appear to be having an impact.
When journalist and commentator Alex Berenson settled with Twitter over his wrongful suspension from the platform, it was clear that it could open the way for more lawsuits.
Dr. Andrew Bostom threatened to sue Twitter after he got suspended for sharing a link to a peer-reviewed article published in a respected medical journal about a study that found that Covid vaccines lower sperm counts.
According to legal news outlet Legal Insurrection, he has retained the lawyer who helped journalist Alex Berenson get his account reinstated.
Boston said his account was suspended "for tweeting a link to a scientific article on COVID-19 vaccine lowering sperm counts."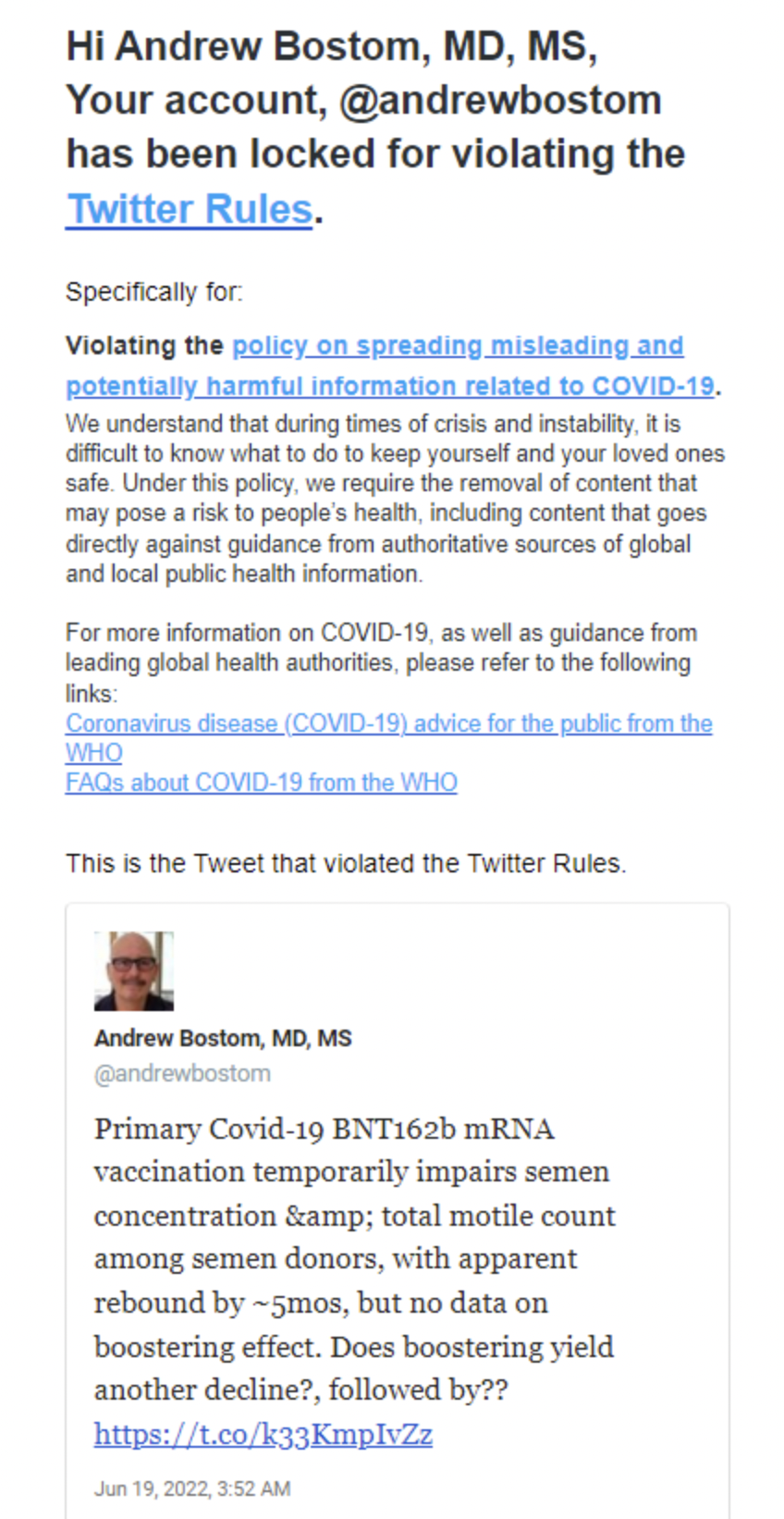 "Until this morning, I had a very active Twitter account with a large following through which I shared scientific information, as well as my personal views," he added.
"This morning (6/22/22) I awakened to learn that overnight Twitter had summarily and simultaneously locked, and then suspended my account for this 'offending' tweet from Father's Day, 6/19/22."
In the tweet that got him suspended, he shared the link to the article and wrote: "Primary COVID-19 BNT162b mRNA vaccination temporarily impairs semen concentration & total motile count among semen donors, with apparent rebound by ~5mos, but no data on boostering effect. Does boostering yield another decline?, followed by??"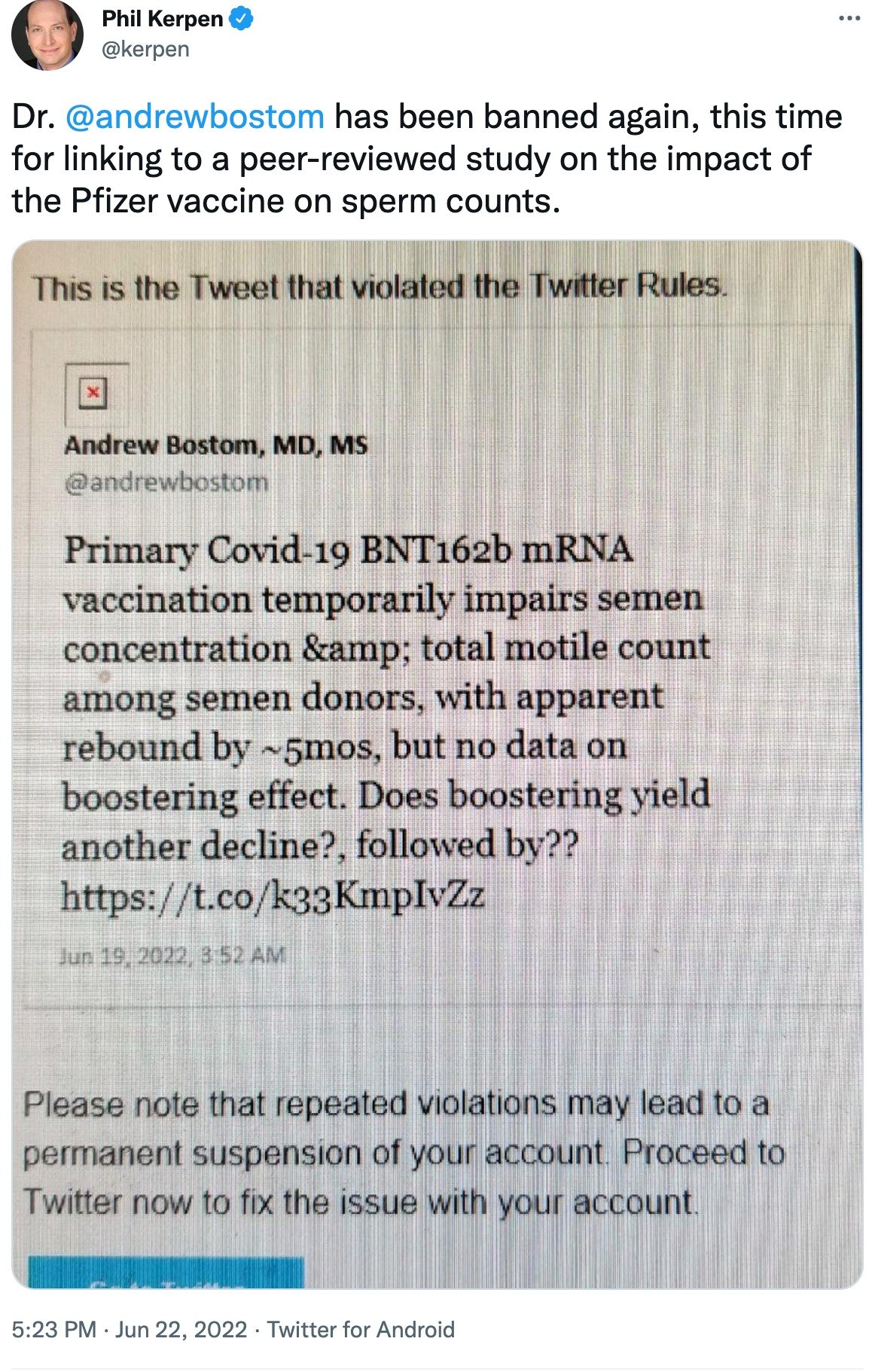 He shared a screenshot of the notice he received from Twitter, which claimed that he had been permanently suspended for violating Twitter's rules on spreading Covid misinformation. "My suspension is yet another example of Twitter's arbitrary, Lysenkoist breaches of informed public discourse on covid-19," Bostom told Legal Insurrection.
Commentator Alex Berenson, who sued Twitter for a permanent suspension and got reinstated, has taken an interest in Bostom's case. He shared the same article Bostom shared and dared Twitter to suspend him. The journalist is yet to get suspended for sharing the article.
Bostom has retained the same lawyer that represented Berenson in his case against Twitter. The lawyer, James Lawrence III, sent a letter to Twitter, demanding the reinstatement of Bostom's account and threatening a lawsuit if the account is not restored.
The letter accuses Twitter of violating its own rules by suspending the doctor:
"Dr. Bostom did not violate Twitter's policy. At a minimum, nothing in our client's tweet was "demonstrably false or misleading," nor was it "likely to impact public safety or cause serious harm."
Again, Dr. Bostom tweeted findings from a peer-reviewed study, and he summarized its content within the 280 character limit Twitter's platform allows. Dr. Bostom's questions about further research regarding the study are not only responsive to the authors themselves, but are also expressly protected by Twitter's own policy, which embraces "public debate . . . about the advance of COVID-19 science and research." Our client did not violate Twitter's stated five-strikes rule."
The letter concludes with a threat of a lawsuit: "While our client trusts that litigation will be unnecessary in this case, he is prepared to sue Twitter if necessary. If your company forces Dr. Bostom into that situation, he will seek to invalidate Twitter's one-sided waiver of consequential damages and the company's $100 cap on liability under Cal. Civ. Code § 2175. We trust that our client will not have to resort to the courts, and that Twitter will reinstate his account as requested."
On July 14, Twitter reinstated Bostom's account.