Twitter users are showing their support for a Target manager named "Tori" after reporter David Leavitt called the police and attempted to publicly shame her for refusing to sell him a toothbrush for $0.01.
Leavitt found the toothbrush in a Massachusetts Target store, snapped a photo of it next to a display model which had a $0.01 price tag, and attempted to get Tori to sell him the toothbrush for $0.01. When Tori refused, Leavitt posted her name and photo to his 200,000+ Twitter followers, accused Target of violating Massachusetts Item Pricing Law, and called the police.
I just had to call the police because @target Refused to sell me the toothbrush

— David Leavitt (@David_Leavitt) January 17, 2020
Leavitt then threatened to take Tori and Target to court over the incident and added that "he has not been able to afford to go to a dentist in over three years."
The police verified @target displayed the price of toothbrush for $0.01 The store manager Tori refused to sell me the toothbrush for displayed price. The police said I need to sue them and that they are making me a verified report take to court @BBBConnection @AskTarget

— David Leavitt (@David_Leavitt) January 17, 2020
I have not been able to afford to go to a dentist in over three years. So yes I wanted a good toothbrush and was thrilled to see such an amazing prize on an @OralB but @target refused to honor it and now I have to take them to court

— David Leavitt (@David_Leavitt) January 17, 2020
One Twitter user highlighted that the law Leavitt is citing appears to only apply to food and grocery stores, not general merchandise retailers like Target.
Journalist? ? You might want to revise your criteria …

Also, the law he is citing only applies to food retailers; Target is a general merchandise retailer. This will never make it to court. pic.twitter.com/1eEF6ZExnk

— Social✽Fly (Gov Cuomo's #StayAtHome Girlfriend) (@socflyny) January 18, 2020
Additionally, Target has responded to Leavitt and said that the $0.01 tag in his photograph shows display and is not for the item he is holding in the photograph.
Can we have you please DM us with your name, email, phone number, and the location of the store? Assuming you are referring to the 0.01 on the tag, that also shows display and not the item you are showing with the spider anti-theft device. Can you tell us what the police said?

— AskTarget (@AskTarget) January 17, 2020
Other Twitter users responded to Leavitt's toothbrush-related Twitter outburst by pointing to his history of attempting to shame retail employees on Twitter over price matches.
Of course this isn't the first time… https://t.co/FWF7uLgYUR

— Hayden (@haydengaspard) January 17, 2020
Twitter users also highlighted Leavitt's history of insensitive tweets after the Manchester Arena bombing and Anthony Bourdain's suicide.
— BernieBromo (@kamilumin) January 17, 2020
However, in addition to debunking Leavitt's arguments and bringing attention to Leavitt's questionable past tweets, the Twitterverse has also thrown its support behind Tori who has made it onto Twitter's Trending list.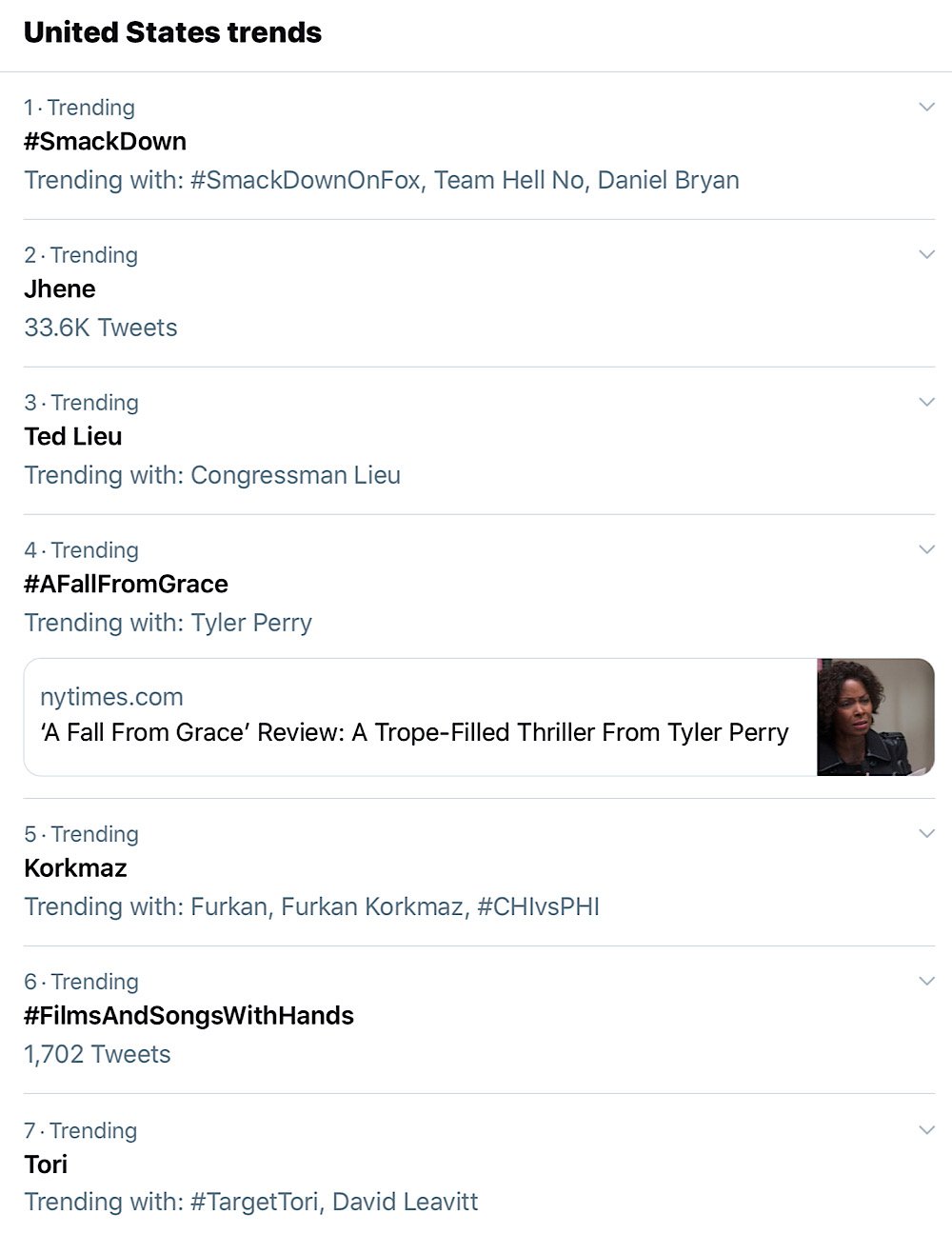 Tori if you see this I would love to send you beer money, you don't deserve this shit https://t.co/rsKP3hZ8vC

— Powermap your workplace from home (@UnionSaltBae) January 17, 2020
According to the Code of Massachusetts Regulations 940 3.13(f), Target does not have to honor the listed price if it is the result of a "gross error." So, you probably shamed Tori over the fact that she did her job correctly. #TeamTori https://t.co/oAdqskStwz

— Dave Brown (@ThatDaveBrown) January 17, 2020
.@Target Manager Tori, let me know your Venmo and I'll buy you a drink. pic.twitter.com/XgzAuATd30

— Jennifer Wright (@JenAshleyWright) January 17, 2020
https://twitter.com/modernistwitch/status/1218306030607781888
Meme maker Carpe Donktum also set up a GoFundMe to send Tori on vacation which passed its $5,000 target in just a few hours.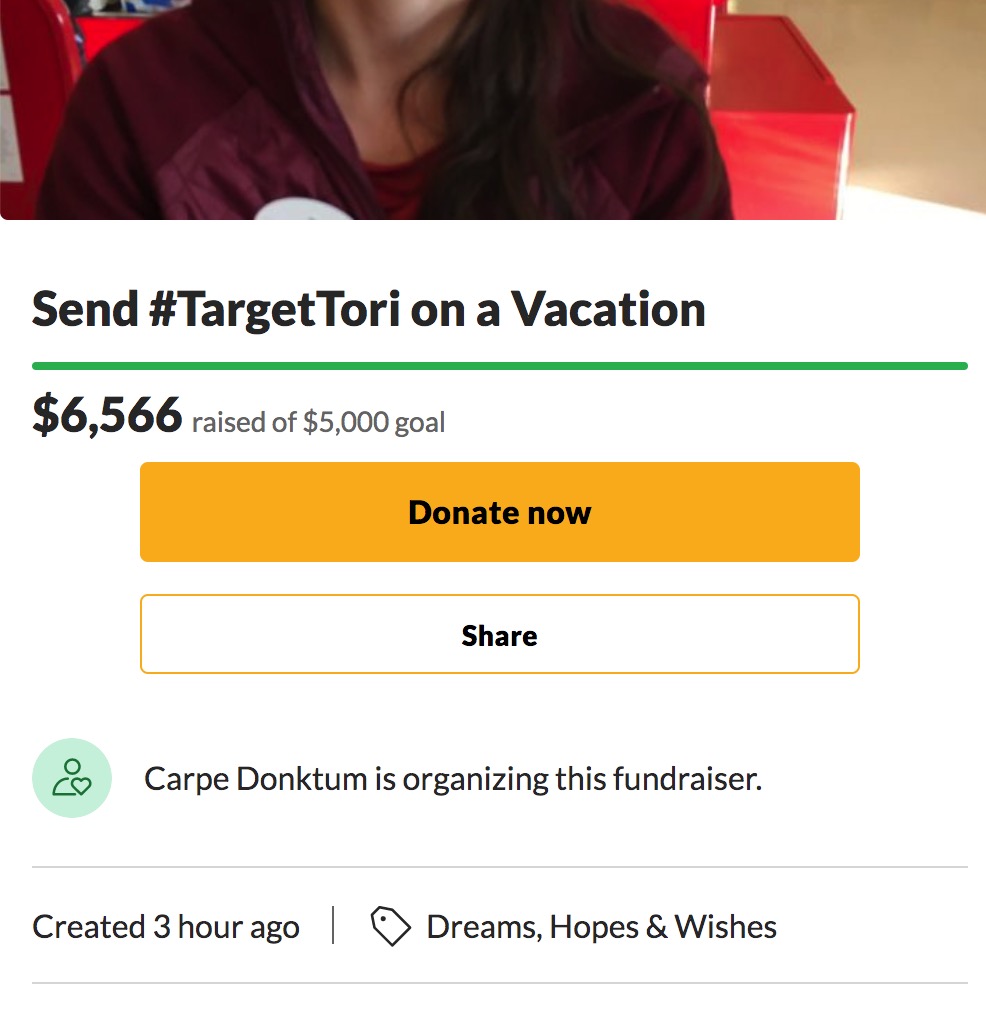 I have started a GoFundMe to send Tori on a vacation.

Anyone that has to deal with this twerp definitely deserves it. I'll start with a $50 donation.https://t.co/1ntqpiQngY https://t.co/X0bD1vZt5E

— Carpe Donktum? (@CarpeDonktum) January 17, 2020
Beyond being sympathetic towards Tori for having to deal with Leavitt, some Twitter users are suggesting she should sue while others are recommending that Target give her a raise and extra vacation time.