A conservative candidate for council in Long Eaton, a town in Derbyshire, England, was suspended over social media posts supporting Andrew Tate and Covid vaccine skepticism.
19-year-old Paris Coulson was suspended by the Conservative Party just a few days before the election.
On his social media accounts, he has liked posts by online personality Andrew Tate.
In December, he published a post suggesting that Covid vaccine had caused a series of "sudden deaths."
Conservative Vaccines Minister Maggie Throup, also Coulson's member of parliament, said the comments were "wholly unacceptable."
Chairman of the Erewash Conservatives, Councillor Tony King said: "Following a number of social media posts that were brought to the attention of our Association's executive committee…the decision has been taken to immediately suspend Mr Coulson as a member of the Conservative Party.
"The Association has now opened a full disciplinary investigation into the comments made by Mr. Coulson, which is the first step to expelling him from the party," The Mirror reported.
In a statement, Coulson said: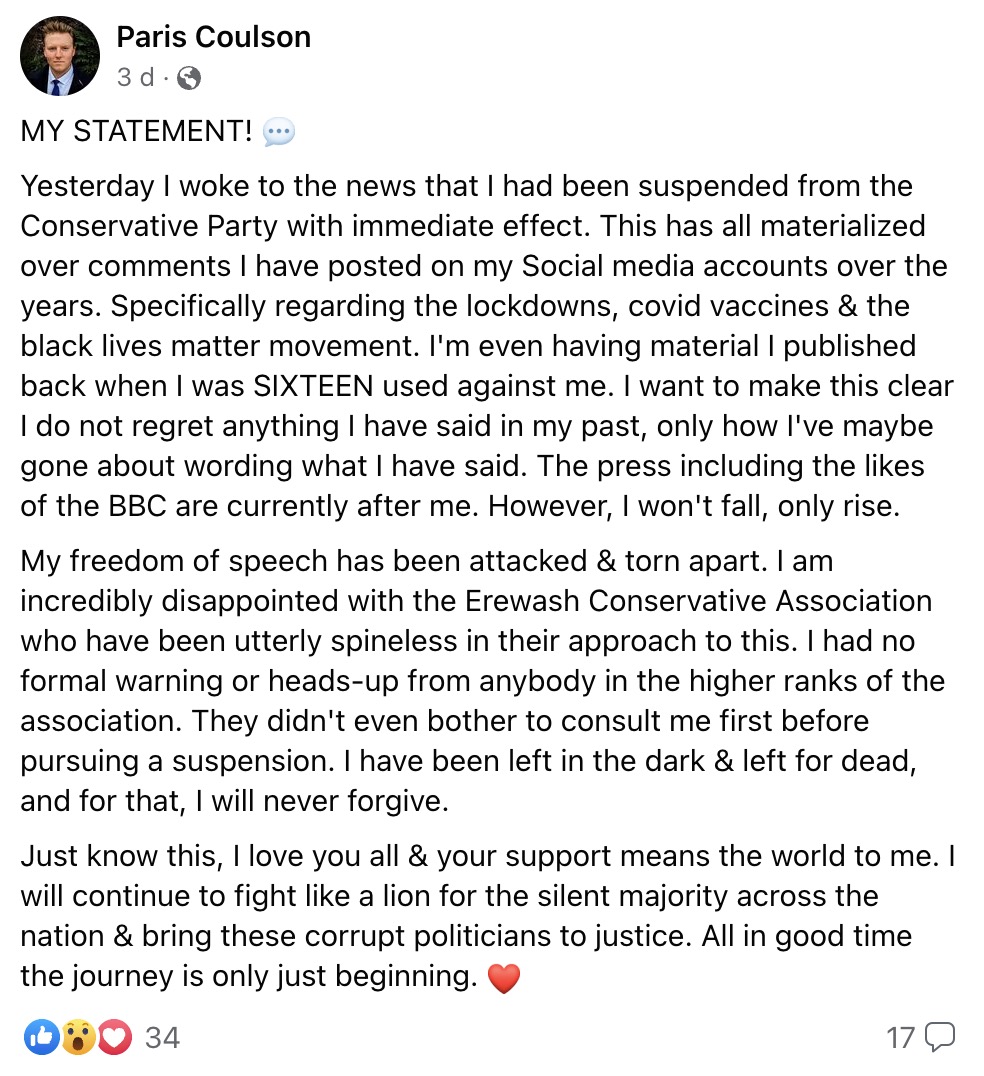 "Yesterday I woke to the news that I had been suspended from the Conservative Party with immediate effect. This has all materialized over comments I have posted on my Social media accounts over the years. Specifically regarding the lockdowns, covid vaccines & the black lives matter movement. I'm even having material I published back when I was SIXTEEN used against me. I want to make this clear I do not regret anything I have said in my past, only how I've maybe gone about wording what I have said. The press including the likes of the BBC are currently after me. However, I won't fall, only rise.
"My freedom of speech has been attacked & torn apart. I am incredibly disappointed with the Erewash Conservative Association who have been utterly spineless in their approach to this. I had no formal warning or heads-up from anybody in the higher ranks of the association. They didn't even bother to consult me first before pursuing a suspension. I have been left in the dark & left for dead, and for that, I will never forgive.
Just know this, I love you all & your support means the world to me. I will continue to fight like a lion for the silent majority across the nation & bring these corrupt politicians to justice. All in good time the journey is only just beginning."