The Washington Post reporters have been making their their anti-Trump bias glaringly evident on Twitter by posting a picture of them celebrating after the impeachment of President Trump.
The Post's Congressional reporter Rachael Bade posted a picture of herself and four other colleagues having alcoholic beverages and food with a caption: "Merry Impeachmas from the WaPo team!"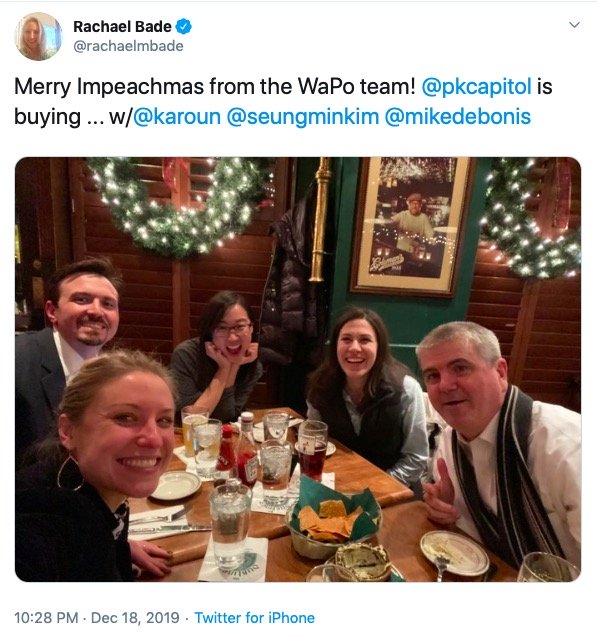 The picture, taken at the local Washington bar Dublinger featured reporters Paul Kane, Karoun Demirjian, Seung Min Kim, and Mike DeBonis; moreover, three of the aforementioned reporters were CNN analysts, according to Daily Caller staff.
After the aforementioned picture and tweet received backlash and speculation over anti-Trump media bias, Bade immediately took down the tweet and wrote another follow-up Tweet that read— "I'm deleting a tweeting tonight that is being misinterpreted by some as an endorsement of some kind. To be absolutely clear, we at the Post are merely glad we are getting a break for the holidays after a long 3 months. I will retweet the group photo w/a better caption!"
While the Post reporter took her tweet down, it ended up triggering a chain of Tweets from several notable individuals criticizing the biased nature of her tweet.
Trump's 2020 campaign manager Brad Parscale wrote saying, "Ladies & gentlemen, your fair and objective press corps in action! What a joke. Media needs to stop acting like they are 'impartial'".
"Record. Levels. Of. Journalisming," said the conservative commentator Ben Shapiro, criticizing Bade's tweet.
The Hill media reporter Joe Concha reacted saying, "Washington Post reporter and CNN political analyst Rachel Bade celebrates Impeachmas, which isn't a horrible look for both news organizations or anything."