The owner of "Libs of TikTok," a popular Twitter account that shares social media clips of leftists talking about their values, had her name and private work details shared by Washington Post reporter Taylor Lorenz.
The account owner has been operating pseudonymously under the Libs of TikTok brand which has grown to over 600,000 followers on Twitter and has been mentioned by several big names, including Fox News host Tucker Carlson and podcaster Joe Rogan.
But in a Washington Post article that accused Libs of TikTok of "secretly fueling the right's outrage machine" and "spreading anti-LGBTQ+ sentiment," Lorenz published the name of the Libs of TikTok account owner and shared details about where she works.
The original version of the article also contained a link to the account owners' workplace address which was subsequently removed. According to Timcast, this workplace address is also the home address of the Libs of TikTok account owner. In a statement to Timcast, Lorenz said "I did not publish her home address" and suggested contacting the Washington Post's public relations department.
Not only did Lorenz publicly reveal private details about the owner of the pseudonymous Libs of TikTok account but Lorenz also showed up at the homes of several of the account owner's family members.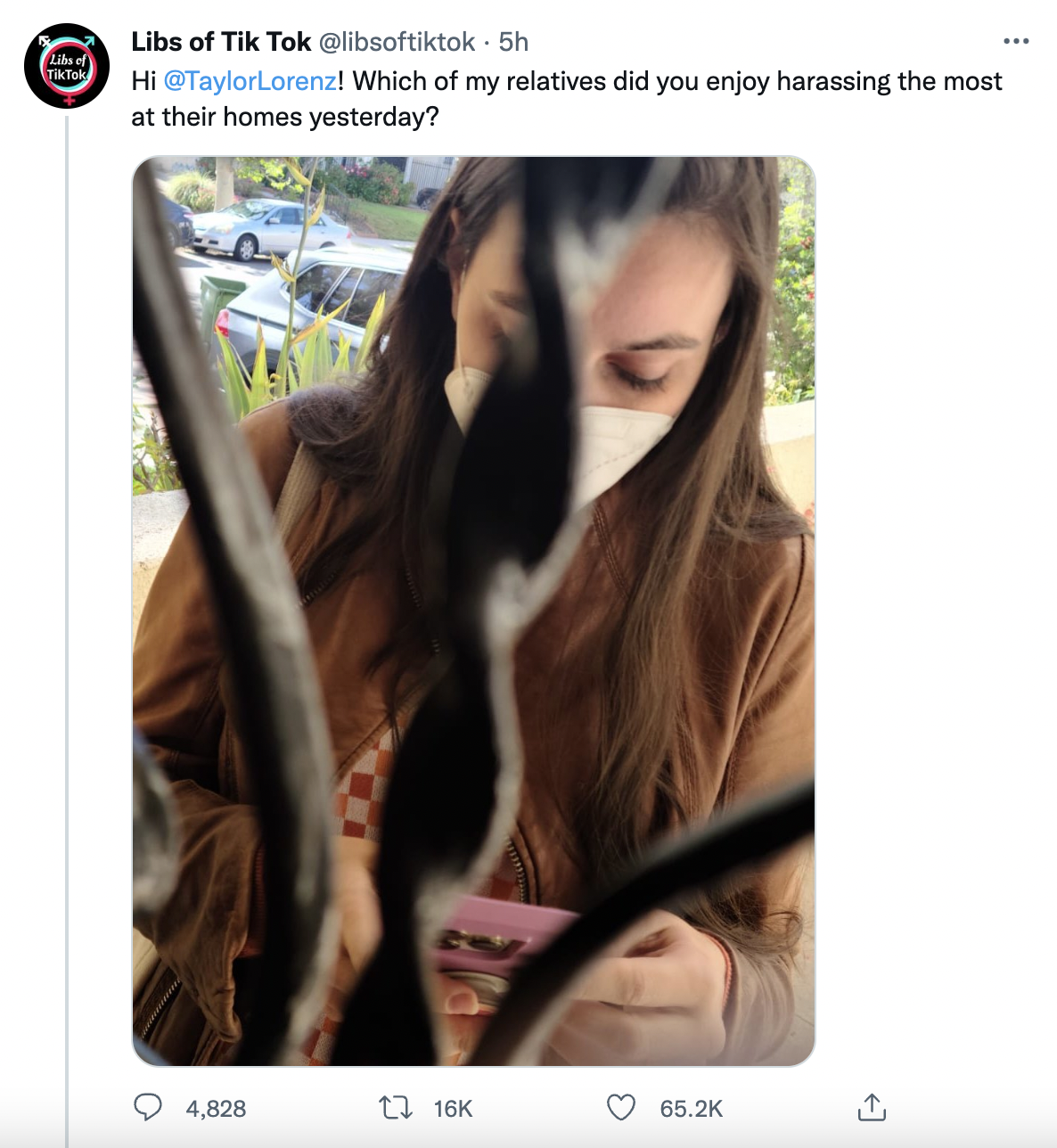 Lorenz responded to criticism of her publishing Libs of TikTok's private information by sharing a meme that framed her actions as "the most basic reporting practices."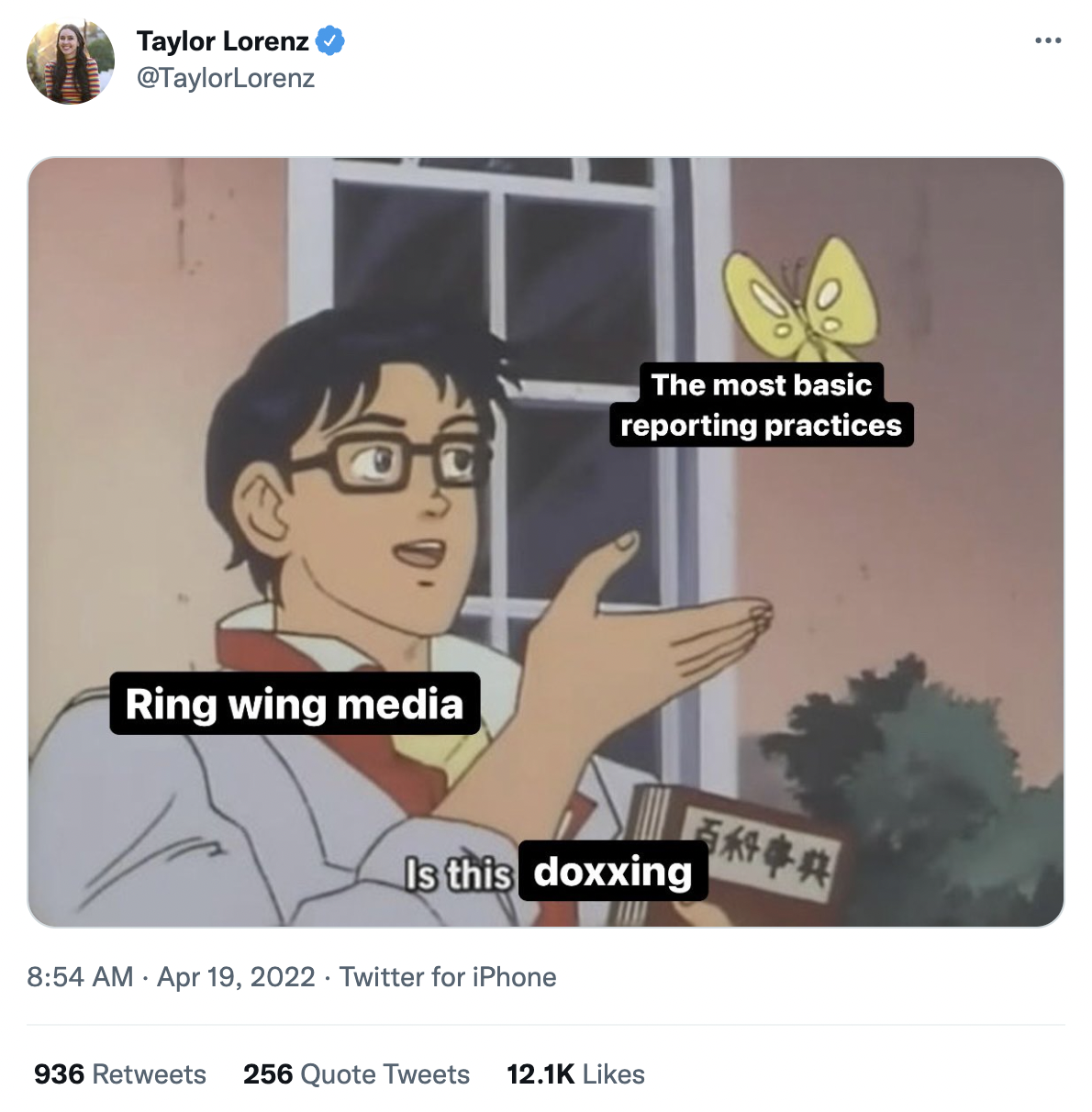 While Lorenz frames the publication of people's private information as "basic reporting" when she publishes it, Lorenz has previously claimed that it's "horrifying," "terrifying," and "invasive" when others publish her personal information.
During an appearance on MSNBC earlier this month, Lorenz discussed her fear of personal information being used to destroy her life.
"You feel like any little piece of information that gets out on you will be used by the worst people on the Internet to destroy your life," Lorenz said. "And it's so isolating. It's horrifying."
And during a March appearance on the "Offline With Jon Favreau" podcast, Lorenz described the publication of her personal information as "terrifying and invasive."
Earlier this month, Lorenz also tweeted that "doxxing, stalking, trying to hurt and smear ppl's loves ones, threatening them, it's not ok in any situation" and criticized those who publish stories that lead to "online harassment for your subjects."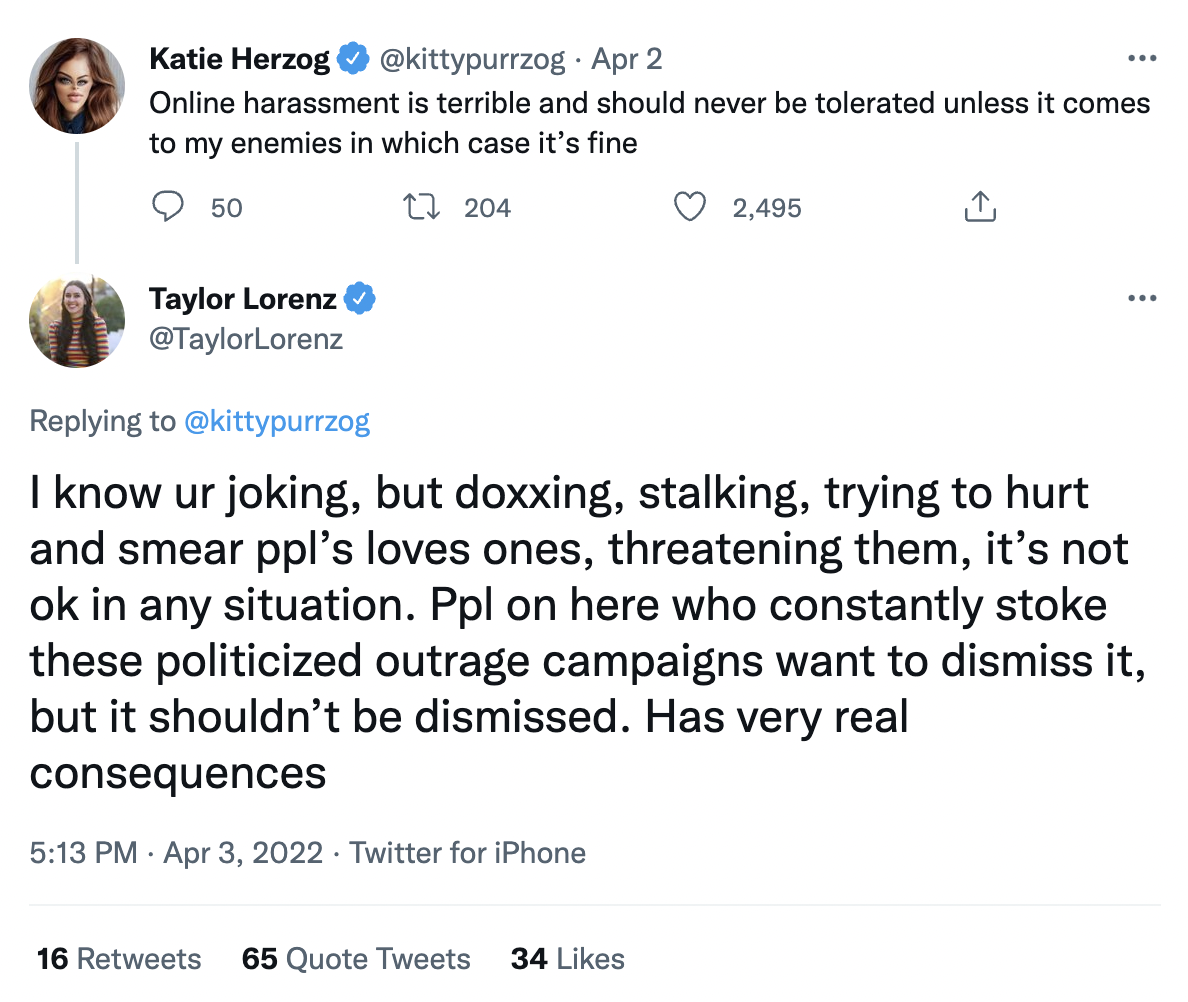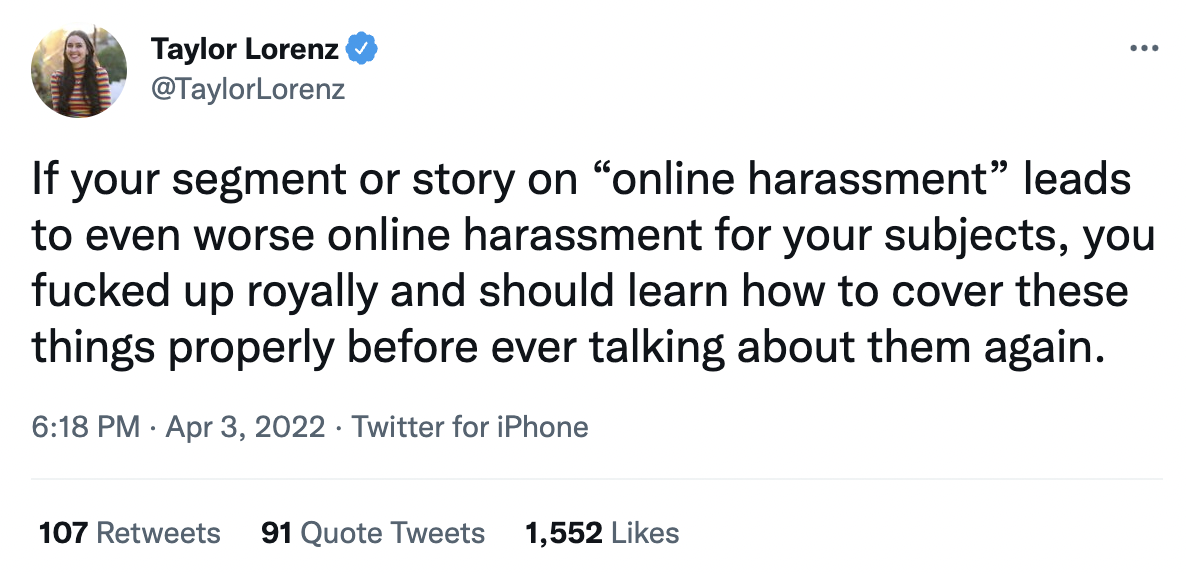 Journalist Glenn Greenwald responded to claims that "showing up at people's homes is standard journalism" by noting that "perhaps there's a small difference between investigating crimes by powerful US officials and doxing anonymous Twitter users."
Greenwald added: "One could concoct an argument that investigating, exposing and doxing any anonymous social media is journalistically justifiable because they wield influence. Nonetheless, using Jeff Bezos' wealth to expose private citizens, not powerful actors, is creepy and disturbing."
This isn't journalism," Jack Posobiec, host of the "Human Events Daily" podcast, tweeted. "This is doxxing and smearing of @libsoftiktok by the billionaire-controlled Bezos Post."