Dr. Simone Gold, a participant in the White Coat Summit organized by America's Frontline Doctors, has come out with a serious accusation against YouTube and Vimeo for censoring content from the second event organized by the group.
The censorship here is based on what she called "fraudulent and manufactured pretenses."
In a tweet Dr. Gold explained that YouTube went and flagged content from the White Coat Summit as "spam, deceptive practices and scams." This is very much in line with the Google-owned video giant's policy enforced since the start of the epidemic, imposing strict, even unprecedented censorship of any officially unapproved information regarding the Covid epidemic.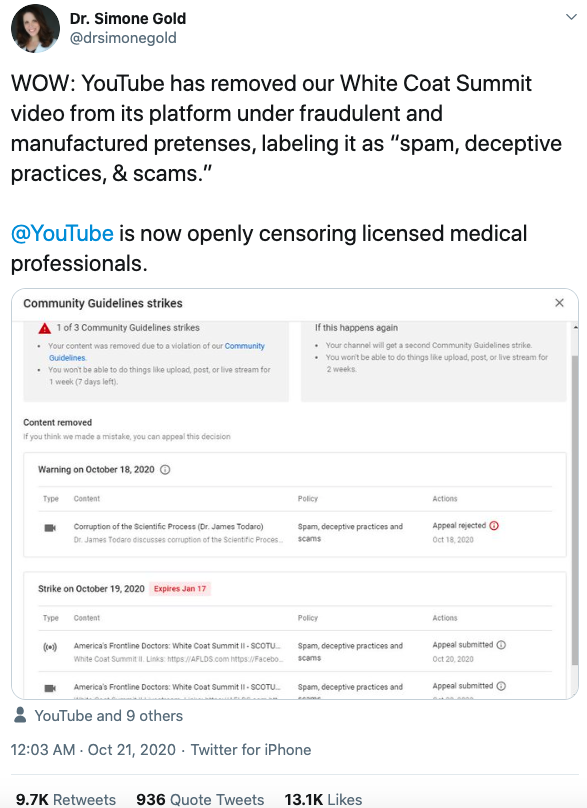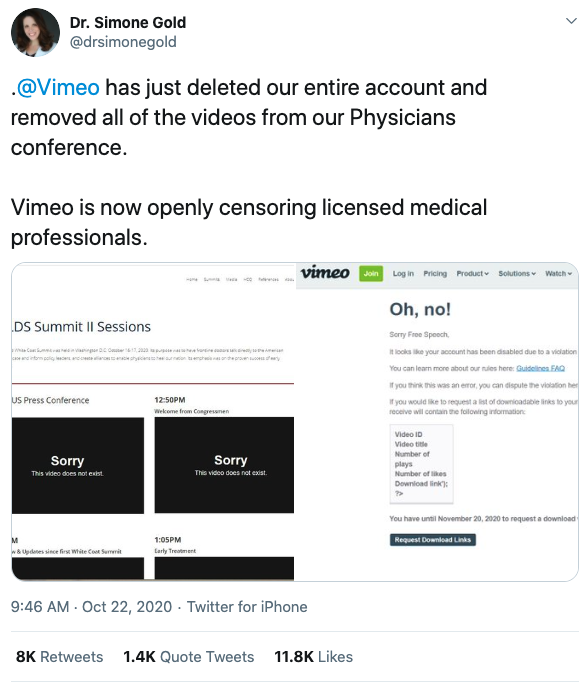 This repressive, blanket policy doesn't care if (dis)information is coming from barely rational, or simply trolling conspiracy theorists – or, as in the case Dr. Gold highlighted here – from licensed medical professionals.
The only rule that seems to apply is that if content is not strictly in line with WHO's (ironically, ever-changing) recommendations, that sometimes read like little more than opinion – it will get removed by Google.
The hard line that Google has taken here is almost as curious as the virus itself, and no doubt both will be properly studied and "dissected" by scientists and researchers in the years to come.
For now, we have instances like the one Dr. Gold is drawing attention to here, where a video entitled, "Corruption of the Scientific Process (by Dr. James Todaro)" was labeled and removed from YouTube as "spam" – with the channel receiving the first strike, while two more will mean that it, too, will be gone.
America's Frontline Doctors is a group of professionals, doctors and nurses, that came together to counter what they see as the real coronavirus disinformation, in order to shed light on frontline experience in treating Covid patients, as well as adverse effects of lockdowns.
Meanwhile, Dr. Gold announced a way to bypass the YouTube ban and allow people to learn about the content as the White Coat Summit – as it would be re-streamed via Twitter's Periscope.
(When it comes to stifling free speech, though, that might be just a temporary solution until another ban hits; so perhaps it's time to consider alternative platforms, help them grow as they help content creators reach audiences currently increasingly cut off from information by centralized gatekeepers.)