After days of closure, web services company Wix has restored the "2021 Hong Kong Charter" website which is home to a letter calling for the Hong Kong's "democratic transformation, to realize the freedom, autonomy and democracy that were promised to Hong Kong."
The letter details how China has been "tightening its totalitarian grip on Hong Kong" and calls for the Chinese Communist Party (CCP) to "stop all political oppression," "stop with its digital totalitarianism" (through its mass digital surveillance systems), "stop the cultural cleansing and genocide in Inner Mongolia, Tibet, Xinjiang and against other ethnic minorities," and "stop its military intimidation against Taiwan."
It has been signed by over 50 pro-democracy Hong Kong organizations and hundreds of individuals.
But on March 31, the 2021 Hong Kong Charter site was suddenly shut down by Wix after Hong Kong police told the company that the site's materials violated its controversial "National Security Law" – a far-reaching law that criminalizes "secession," "subversion," and "collusion with foreign forces" and has been used to punish those who support democracy in Hong Kong.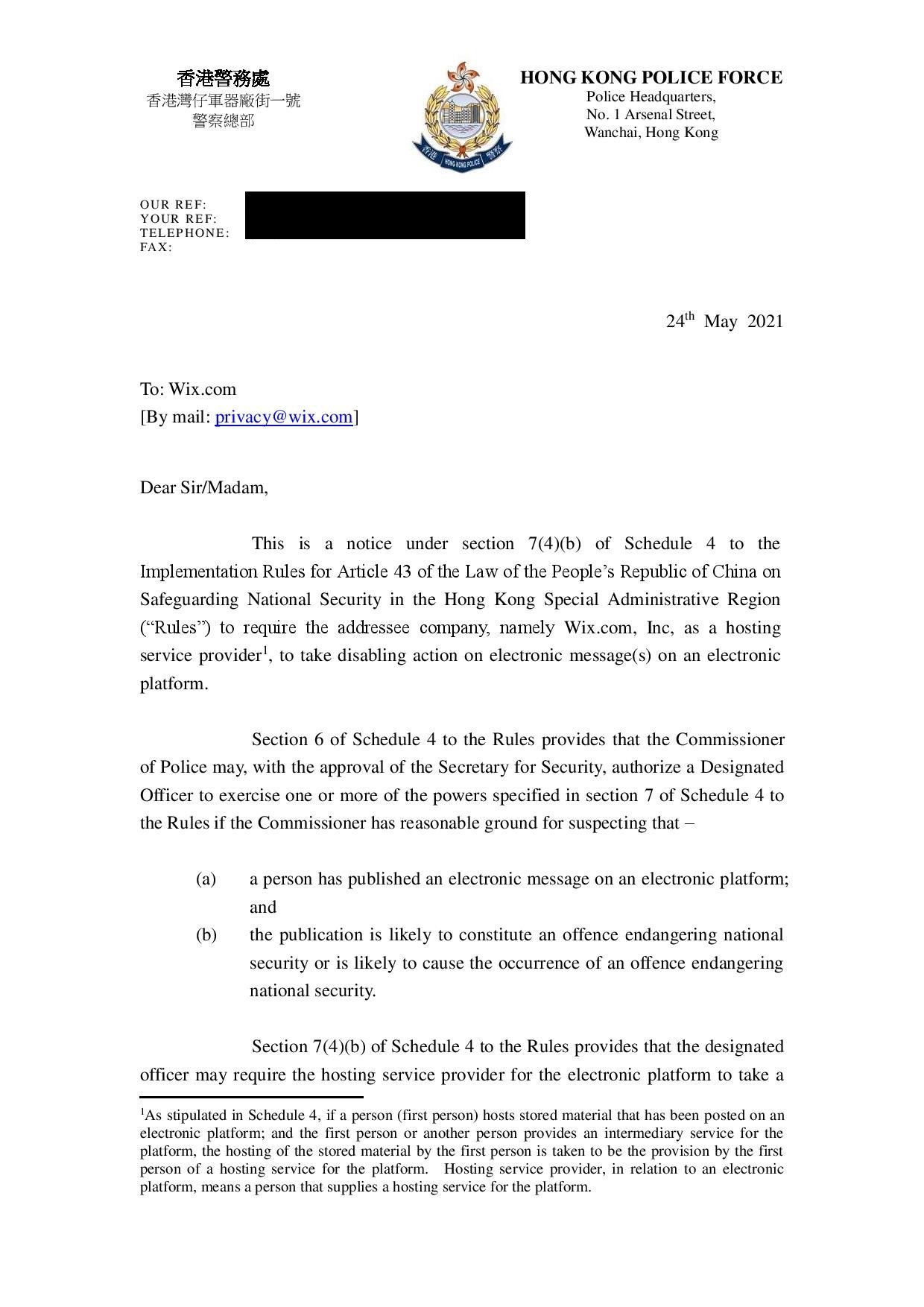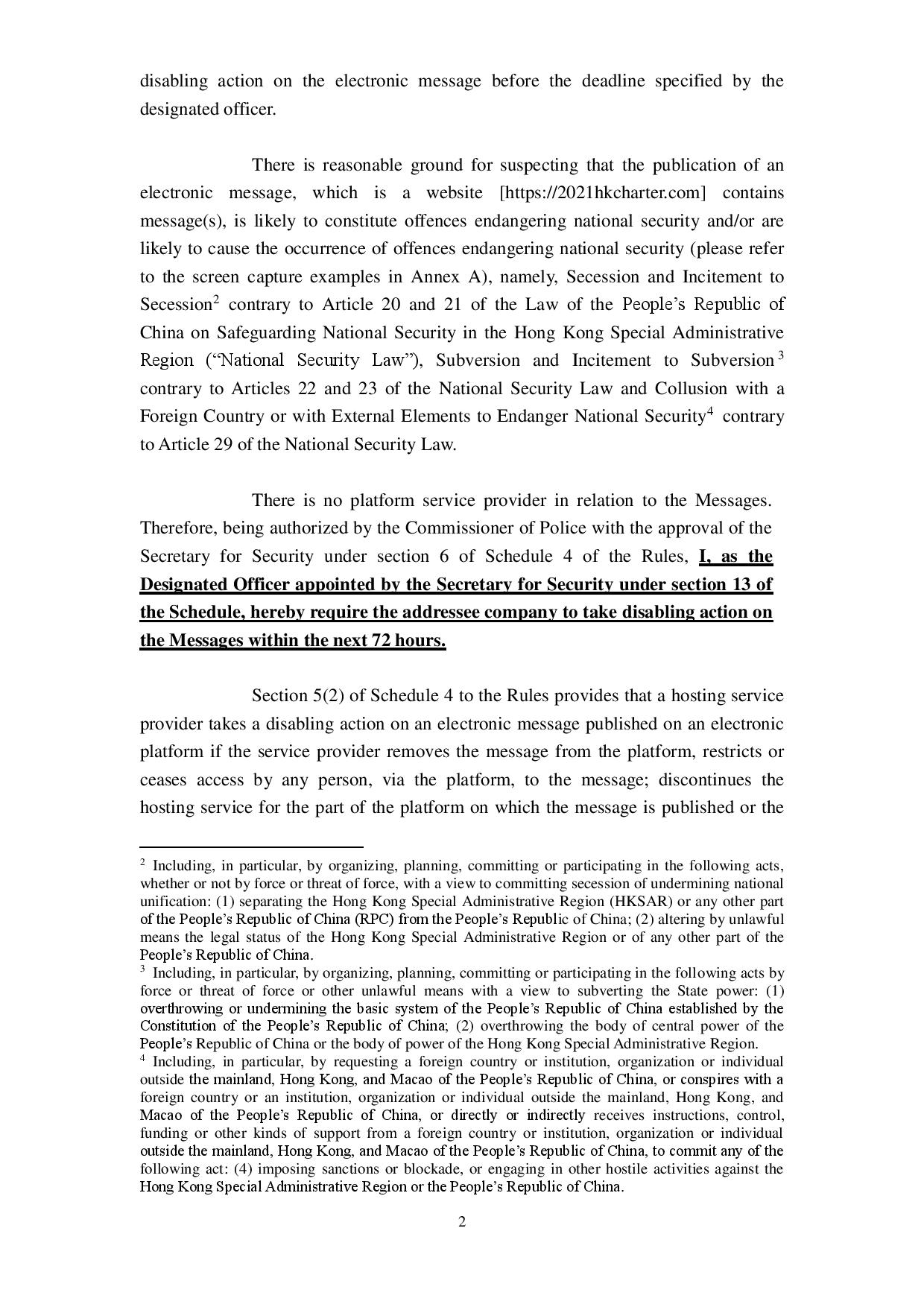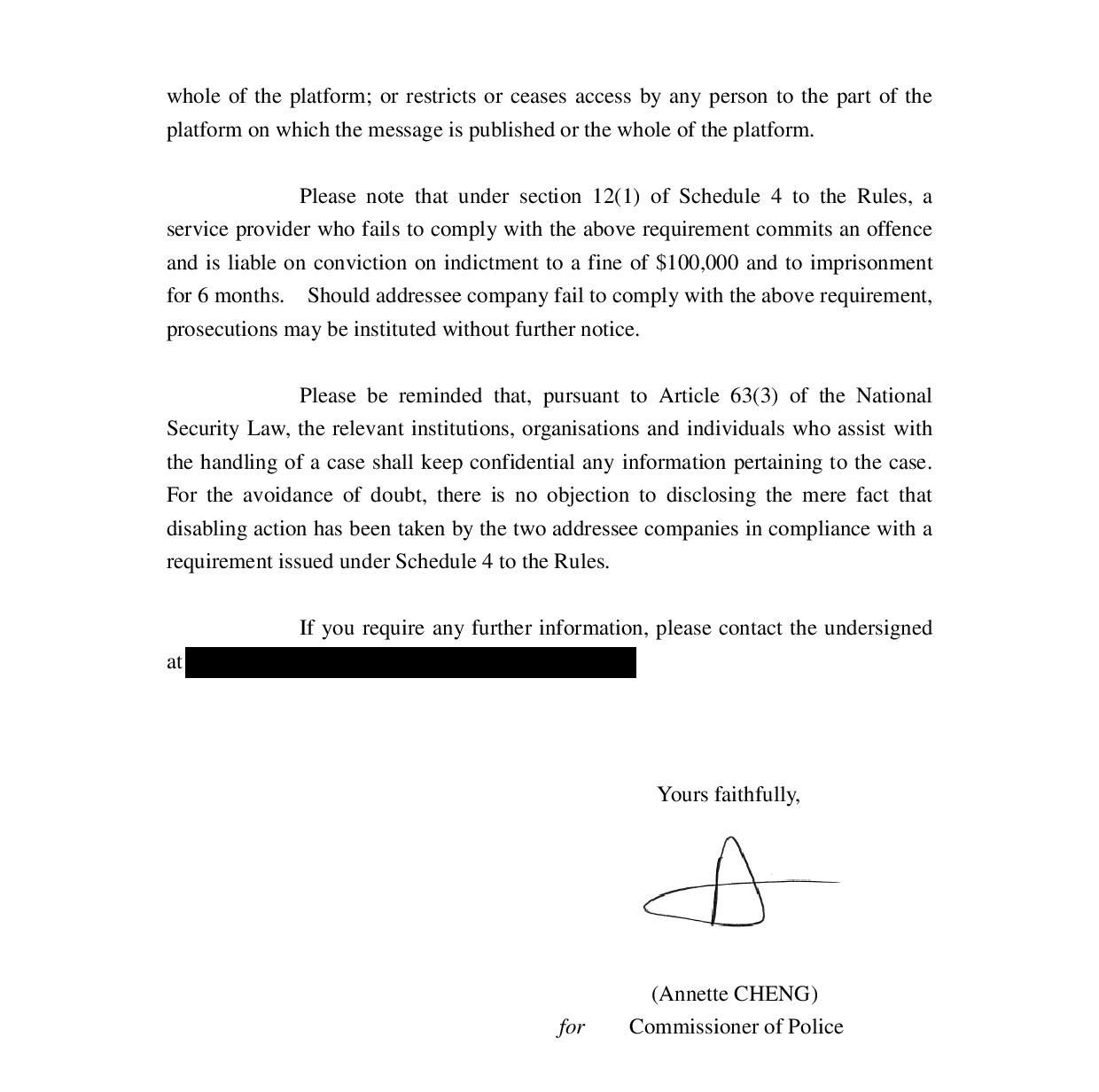 After the site was taken, one of the letter's signatories, pro-democracy activist Nathan Law, blasted Wix for complying with these censorship demands.
"It is outrageous that a website advocating democracy, even though it is located outside of China, might be blocked just because China considers it subversive," Law wrote. "The Great Firewall of China is now at the doorstep of the world's democracies, threatening the international community's freedoms of speech and expression."
He also called for world leaders to "put in place robust safeguards to defend online freedom of expression from Beijing's new form of overseas censorship" and online platform providers to "preserve their users' cyber liberty and stand against Beijing's political influence."
Additionally, Law noted that the takedown occurred just a few days before the June 4 Tiananmen Square vigil which commemorates the victims of the 1989 massacre where China's People's Liberation Army killed thousands of pro-democracy protestors.
Law said that when he first asked Wix why the site had been taken down, he was told: "We have received a report from a Law Agency. As such, your account was blocked due to Wix Terms of Use violation."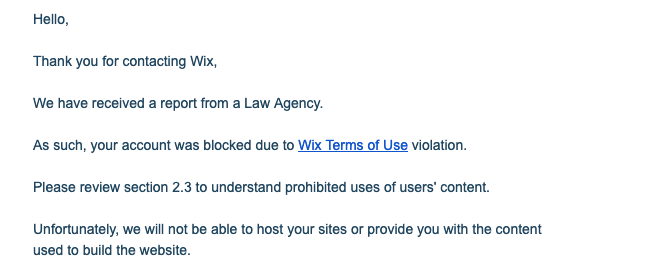 However, after Law posted about Wix complying with the demands of Hong Kong police, the web hosting company was met with strong pushback for censoring the pro-democracy website.
Southeast Asia and Hong Kong bureau chief for The Washington Post, Shibani Mahtani, tweeted: "To be clear: the Hong Kong police requested a foreign company to take down a website, involving people * outside of Hong Kong* and they complied. When they said the NSL [National Security Law] applies to anyone, everywhere, it was hard to imagine global companies complying — but here they are."
Journalist Juen Chan noted that the takedown of the site "sets a chilling precedent."
As the pushback escalated, Wix reinstated the website, apologized, and said the site was "removed by mistake."
"We have reviewed our initial screening and have realized that the website never should have been removed and we would like to apologize," Wix added in a statement.
This is the latest of several examples of companies that are based outside of China censoring Hong Kong citizens and activists that criticize or protest the CCP.
Last year, the US video conferencing app Zoom shut down the account of US-based Chinese activists after they held an event to commemorate the 31st anniversary of the Tiananmen Square massacre. The event's attendees included organizers of Hong Kong's Tiananmen candlelight vigil.
US tech company Apple has also removed several apps from its Hong Kong App Store after pressure from China while allowing China's WeChat app to skirt its rules.