Poland's Andrzej Duda this week met with YouTube's CEO Susan Wojcicki in Belweder and talked about reducing "misinformation," on the YouTube platform – particularly when it comes to the Russian invasion of Ukraine.
"​​Great to meet with President @AndrzejDuda and discuss how we're working at YouTube to fight against misinformation and connect people with high-quality information about the war in Ukraine," the YouTube CEO tweeted.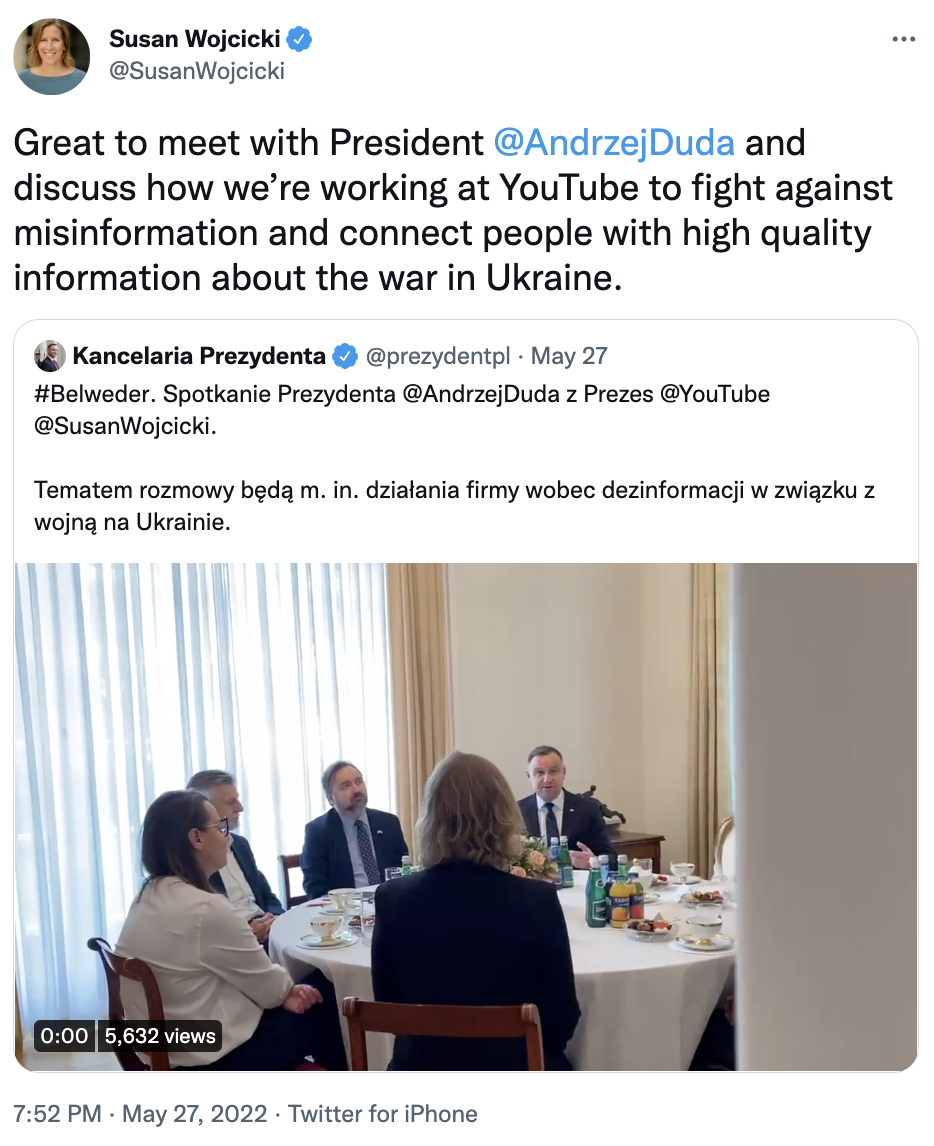 "At Belweder Palace, President Andrzej Duda received the President of the YouTube platform, Susan Wojcicki. The talks were about the company's actions against disinformation in connection with the war in Ukraine," the Office of the President announced in a statement.
The topics ranged from YouTube's company operations in Poland to the war in Ukraine. President Duda spoke about the importance of preventing the spreading of misinformation on the platform.
The president had met with Meta's president of global affairs Nick Clegg a few days ago. According to the Polska Times, the two discussed the company's activities in Poland and neighboring countries in relation to Russia's invasion of Ukraine. The Polish president wanted to know what the company was doing to prevent the spread of misinformation and disinformation about the war.
Duda and Clegg also discussed helping refugees in Poland and other Ukraine neighbors and how tech companies can help domestic and international nonprofits and humanitarian organizations.
During the World Economic Forum 2022 event in Davos, YouTube's CEO Susan Wojcicki discussed misinformation related to Russia's invasion of Ukraine.
Unlike other major social media platforms, YouTube has not been blocked in Russia. Wojcicki said: "As soon as the war broke out, we realized this was an incredibly important time for us to get it right with regard to our responsibility, and we made a number of really, really tough decisions."
Russia has an alternative to YouTube called RUTUBE. While Wojcicki is not particularly concerned about RUTUBE, she admitted that "video is a very competitive emerging market right now and I expect us to continue to see more players," especially from Asia.
Admitting the success of short-form video platform TikTok, Wojcicki said: "We definitely are seeing really strong competition coming out of China, particularly with TikTok."