Update – February 28, 2019: YouTube has announced that it will be expanding its efforts to mass disable comment.
Original Article: Shortly after announcing that viewer comments could lead to creators having their videos demonetized, the video streaming giant YouTube has said that it's also going to be mass disabling comments on the platform.
In its announcement, YouTube said it's already disabled comments on tens of millions of videos and told creators that if they do re-enable comments, they should hold and carefully review all new comments for approval. For creators that upload regularly and have a large audience, this would mean sifting through and reviewing thousands of comments every time they post a new video.
These recent policy changes around comments are part of YouTube's heavy-handed response to the wave of criticism it's been facing from mainstream media outlets after it was discovered that some videos on YouTube were attracting predatory comments.
While YouTube certainly needs to take action against these comments and it does acknowledge that it's taking these additional measures "out of an abundance of caution," the measures place an unfair burden on creators. Not only could creators lose monetization despite doing nothing wrong but they could also have their engagement levels tanked because of other people's actions that are completely outside of their control.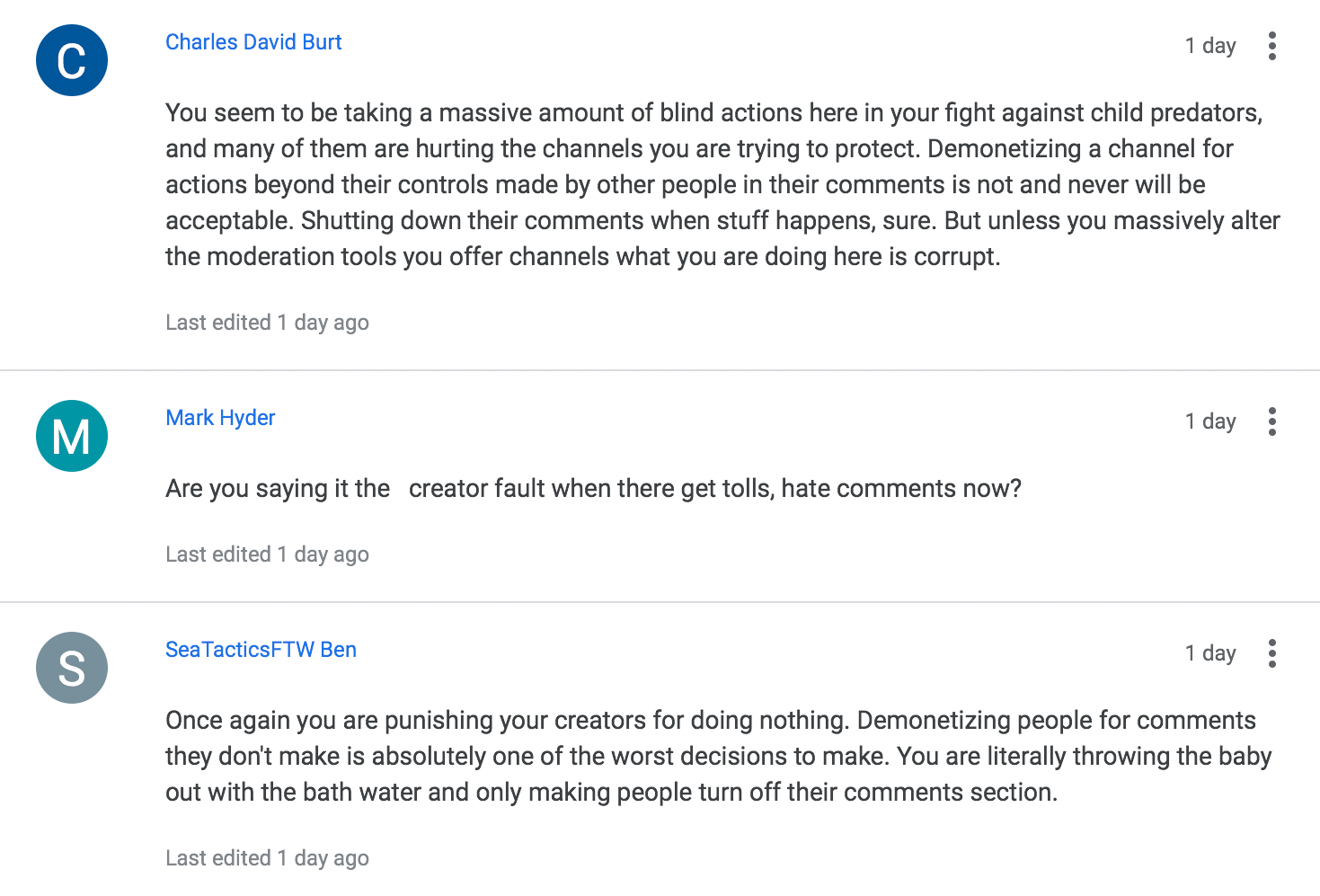 Comments are one of the main engagement metrics that help a video get recommended in YouTube's algorithm. If a video's comments are disabled, the video is likely to generate fewer views on YouTube because of the lack of comments and engagement. The end result means that not only are creators being punished financially by these decisions but they're also going to lose a lot of views and reach on YouTube.
Unfortunately, this is yet another of the almost daily reminders that large social media platforms like YouTube are no longer places where creators can build an audience and interact with them freely. YouTube has already prohibited reporting on hate crime hoaxes, changed its algorithm to stop the recommendation of what it calls "borderline content," and considered killing the dislike button this year.
If you want to succeed as a content creator in 2019, you need to have your own website, build a community around that site, and monetize in a way that's not beholden to advertisers or the mainstream media. Relying solely on sites like YouTube is no longer a sustainable strategy.