Memology 101, a popular YouTube channel that posts short, meme-style commentary videos, is being threatened with permanent termination again after receiving false copyright strikes on some of its videos.
On August 3, YouTube told Memology 101 that the channel has received three copyright strikes within 90 days and will be terminated in seven days unless these strikes are resolved via a retraction or successful counter-notification.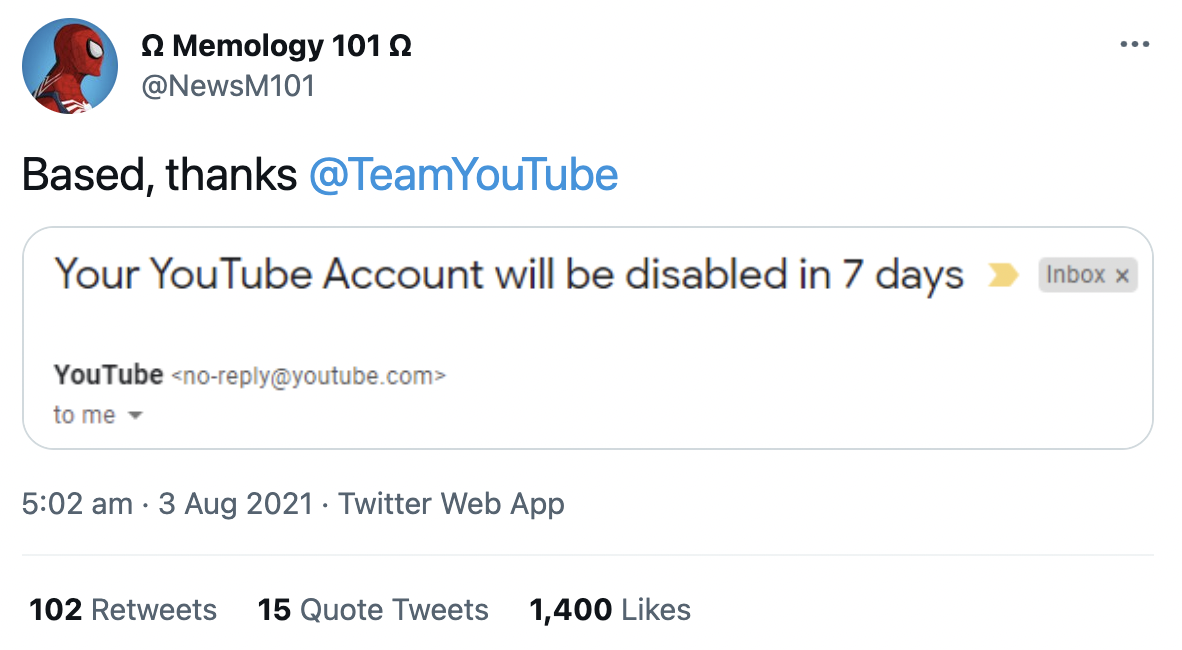 YouTube's threat to delete Memology 101's channel follows it being hit with two false copyright strikes in May. At the time, Memology 101 provided evidence of the strikes coming from a false flagger who didn't own the rights to the material that was being struck and showed screenshots of the same false flagger attempting to extort multiple YouTubers.
However, YouTube upheld the strikes and one of these false strikes now appears to be contributing to the three strikes that triggered this channel termination threat.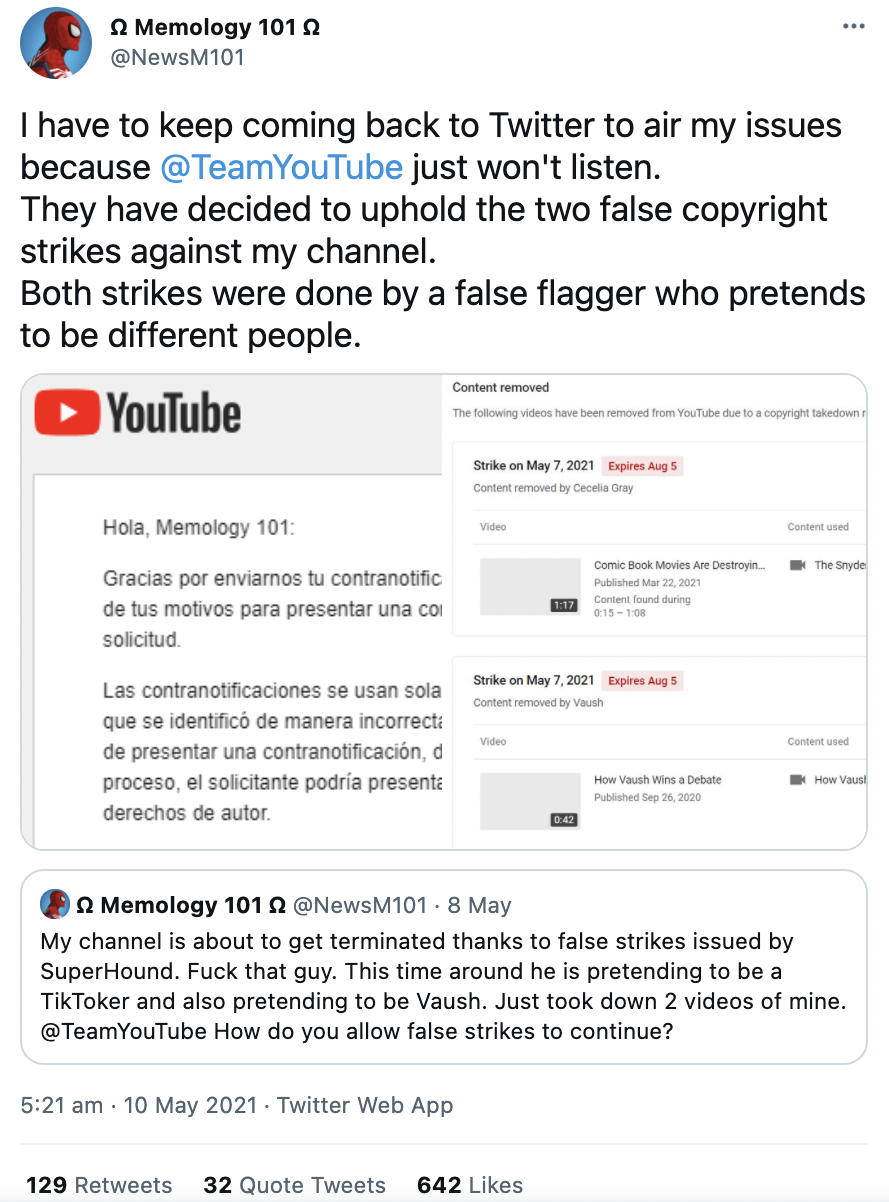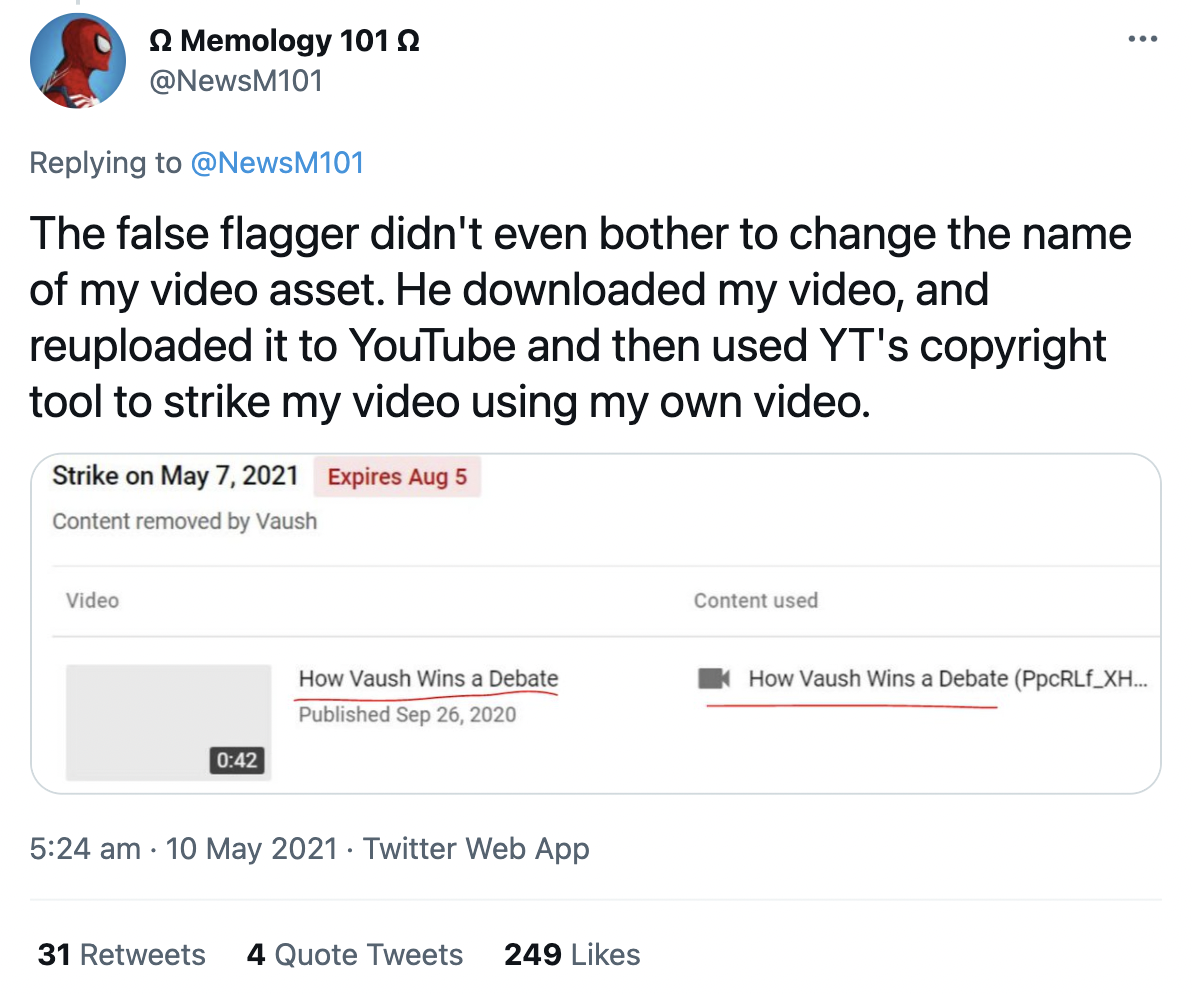 After YouTube threatened the channel with termination, Memology 101 also posted a message from a false flagger who admitted to attacking the channel last year and hoping that the channel would shut down and "go broke."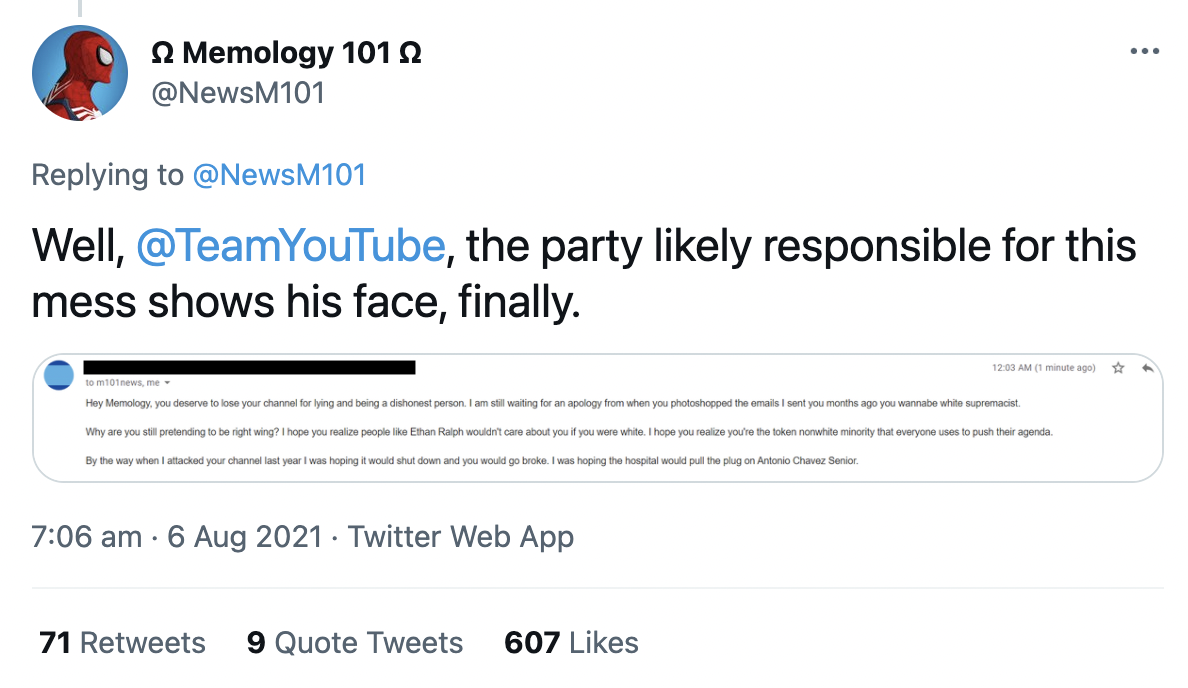 This admission is a reference to Memology 101 and several other YouTubers being targeted by a false flagger last May. These false copyright strikes also resulted in YouTube threatening to terminate Memology 101's channel.
Initially, YouTube insisted that these May 2020 strikes had to be resolved for the channel to be reinstated, even after Memology 101 had provided lots of evidence that the May 2020 copyright strikes were false and part of an extortion attempt. However, the channel was ultimately saved.
This time around, YouTube has responded in a similar way and told Memology 101 to seek a retraction or submit a counter-notification, even though these measures will likely be fruitless against false strikes.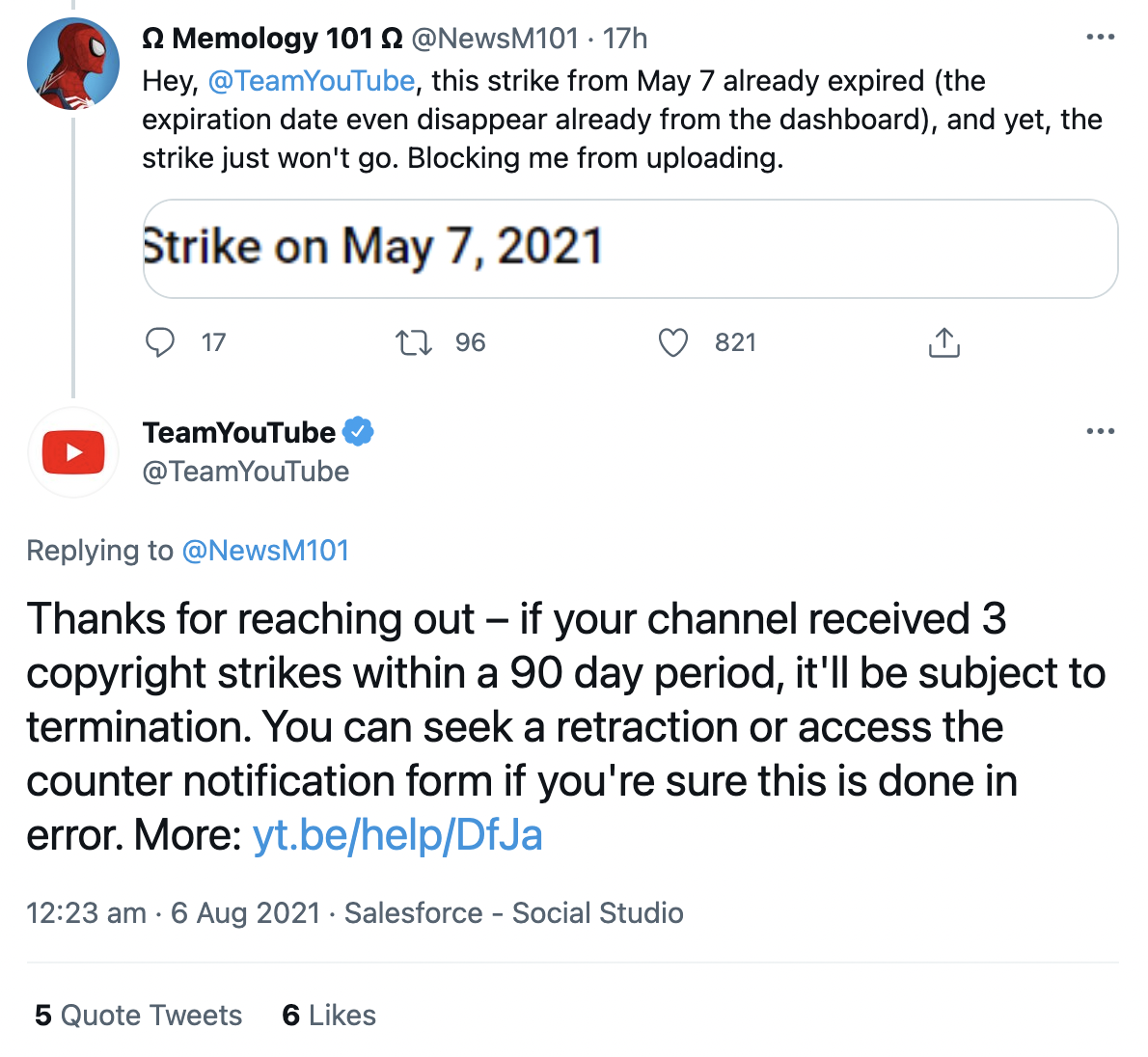 In addition to the issue of the false strike, Memology 101 noted that one of the other copyright strikes occurred on a video containing a short clip of Senator Sheldon Whitehouse that's available on Twitter and multiple news channels on YouTube.
The 50-second clip is included in a Memology 101 video that uses the "How It Started vs. How It's Going" meme to highlight how Whitehouse had tweeted support for Black Lives Matter (BLM) protestors in June 2020 but was subsequently criticized by the media for his membership of an "all-white" beach club.
Since the purpose of the original clip is news coverage and the purpose of Memology 101's use of the clip is to highlight the irony of Whitehouse facing this criticism after publicly supporting BLM protestors, it may qualify as fair use – a principle in copyright law that allows people to use copyrighted material without permission from the copyright holder based on several factors which include whether the original work has been transformed by adding new expression or meaning.
But overturning a false copyright strike on fair use grounds is difficult because fair use has to be decided in court and a long, costly legal battle is often the only way to get these types of copyright strikes overturned.
If YouTube proceeds with its threat to terminate Memology 101 this time, the channel and its 422,000+ subscribers will be deleted on August 10.
Related: ? How the DMCA has become one of the biggest threats to online speech
Regardless of what happens, Memology 101 has vowed to continue posting on his backup YouTube channel Memology 102 and will continue uploading Memology 101 videos to the free speech friendly video sharing platforms BitChute and Odysee.
The incident is one of many examples highlighting how flaws in the current copyright systems that have been built by the tech giants to comply with the Digital Millennium Copyright Act (DMCA) can be easily abused and used as a censorship tool.
These flaws are regularly used to censor leaks, on-the-ground reporting, news articles, and more. Despite the DMCA being frequently weaponized as a censorship tool, lawmakers often push for even more draconian measures, such as cutting off alleged infringers' internet access.