For YouTube creators, it's bad enough to have their channels receive strikes or videos removed and being informed about it with a few generic sentences that don't offer any useful explanation or justification. But what about being told that they can appeal the decision, be provided a link to do that – only to find out that "appealing this violation is not available"?
YouTuber Ben Burgis had this happen to him when a thumbnail to one of the videos published on his channel was removed for "sex and nudity" policy violation.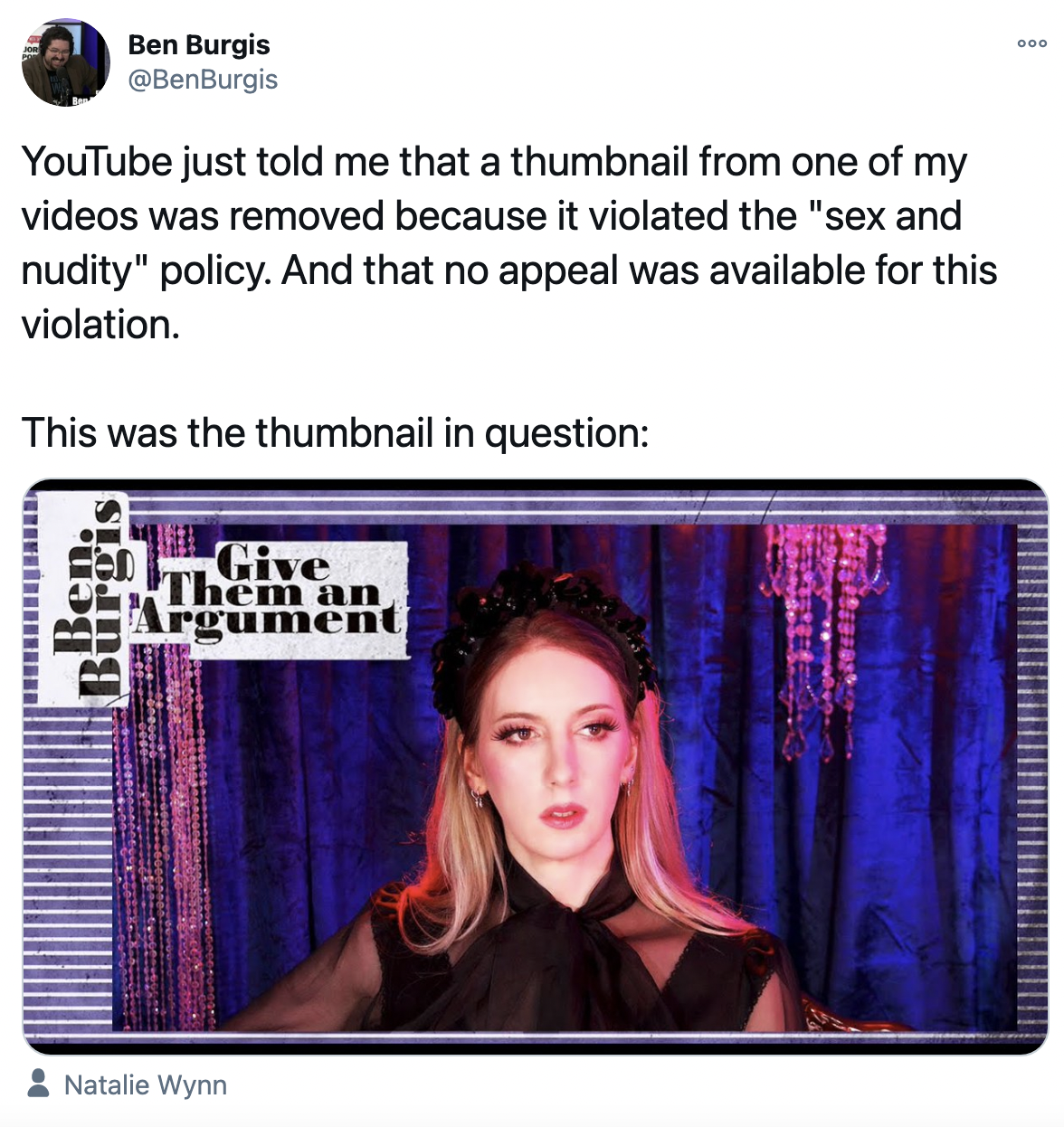 Since the video shows a fully-clothed woman (with, as some commenters on Twitter noted, one collarbone visible under her blouse, thus perhaps qualifying for Saudi-style censorship, but surely not YouTube's) – Burgis wanted to appeal the removal. However, clicking the link to the appeals page produced nothing. Instead of being able to submit one, he was informed that "appealing this violation is not available."
Burgis is not alone in this situation, as similar bans of content or even entire channels and inability to fight this has happened to other creators in the past.
Internet censorship is often likened to Orwell's dystopian vision of the future, but this one looks more like one of Kafka's themes, where people are "prosecuted by a remote, inaccessible authority" as the nature of their crime remains unknown.
Few things could describe Google – a trillion-dollar global giant famously having no customer service – better than a remote, inaccessible authority. And even in cases when censorship is not intentional, things continue to get worse as the automated process of content flagging on which YouTube heavily relies time and time again proves itself as inadequate.
Even if the nature of these "content crimes" is often not known, podcaster and writer Branko Marcetic thinks that the nature of censorship may be what's behind the incidents: "The things you like, care about, and happen to agree with will be swept up too, whether by accident or on purpose," he writes on Twitter, using the Burgis case as an example.
Marcetic mentions others, too, like YouTube's decision to remove a video about Holocaust denial as content promoting rather than exploring the subject, as he links to a 2018 article published by a former Googler under the headline, "The latest in Big Tech: Censorship."