YouTube is in the process of activating a new system that would automatically age-restrict videos if it finds what it decides is controversial content in them. And, in some cases, viewers will need to hand over ID to be able to watch the videos.
It is not the first time that YouTube has used artificial intelligence for video analysis. Since 2017, the platform has been using systems that rely on machine learning to help human operators detect videos that could contain so-called "hate speech" and "misinformation."
In time for the election, YouTube will implement an AI update that will automatically flag the videos that it considers needs an age restriction block, a move that will likely significantly reduce the virality of those videos and is likely to cut a creator's ability to earn revenue.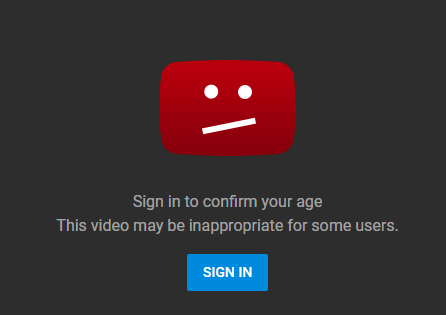 Age-gated videos will require users to log-in to watch a video, which impacts virality as users often can't be bothered to login to watch the video, don't want to have to create an account to hand extra data over to Google, and will be less likely to share a video.
It should be clarified that YouTube is a service that, in theory, should not be used by children under 13 years of age; for this, there is a safer alternative called YouTube Kids – meaning that YouTube's move to age-gate more content on the surface appears needless.
However, age-gating is not so simple in some parts of the world, such as in Europe, where there is a possibility that beyond the creation of the account, the platform will ask users to offer some ID to verify the actual age of the person who created the account. This move will likely devastate the number of views some creators get.
What's more troubling for creators is that YouTube's AI is often haywire and the company has admitted that its AI has been falsely rating, flagging, and demonetizing videos this year – the rate of errors being at an all-time high. This will likely mean that many creators get wrongly age-gated.
It also often takes days for a user to hear back from YouTube after an appeal (if, at all) making the process even more likely to cause disruption for those creators who are commenting on current events, as the algorithm will favor videos that are gaining more early views.
In light of recent political events, YouTube making the move to age-gate more content could be seen as a form of censorship of political commentary, as has happened in the past.