In many ways, the imageboard phenomenon is where the rubber well and truly meets the road when it comes to the open internet – in terms of online freedom of expression, and even the technical viability and sustainability of these sites.
How far does the concept of freedom of speech really extend, how is it protected, to whom does it apply – beyond the platforms that are "too big to fail" – and what does it take to derail it?
In the case of 8chan, the concept met its end in October when the site was, after the El Paso shooting, branded by the media as, to all intents and purposes, a safe haven for mass shooters. That produced an environment where it was extremely difficult to keep the site online.
As our reports at the time noted this extremely negative image was painted based on a strong media campaign that effectively portrayed 8chan as the enabler of a number of mass shootings, because their perpetrators chose to post their manifestos there – even if some of these claims were subsequently proven to be false, and even if the shooters would wind up streaming their crimes live on platforms like Facebook.
Be that as it may, it was 8chan, not Facebook, who got chased off the web. The site's owner, Jim Watkins, then came up with an effort to relaunch the project under the name "8kun," citing First Amendment protections, to eventually announce that the site would be kept offline until he had made his case to Congress.
But there is more to this story that simply a struggle with the outside world – there's also the "in-fighting" of sorts – between the site's founder, Fredrick Brennan, who is no longer associated with the site, and Watkins.
And it's been a curious and fascinating campaign on the part of Brennan and other 8chan/8kun detractors – something of an "unholy alliance." It combined mainstream media committed both to outlawing the site as an alleged platform for mass shooters – and to promoting a strongly anti-China sentiment in the context of the Hong Kong protests; with Brennan, who, from his end of the effort to deplatform 8kun, went as far as to appeal to China's tech giants like Alibaba and Tencent and to the country's authorities not to allow any attempt to resurrect 8chan using their service providers.
"8chan also hosted a board supportive of the Hong Kong protesters, and which many Hong Kong people used in their campaign against the Chinese government," Brennan said in an open letter, that also accused 8chan of publishing "terrorist manifestos."
Personal vendetta?
In light of all this, Watkins has decided to file a criminal complaint against Brennan, citing libel.
Brennan's campaign against Watkins and his site is being conducted from the Philippines – and the claimant is citing local law in his criminal complaint, alleging that damage had been done to his reputation.
"To have that destroyed may be eminently of more damage to him personally than the destruction of his physical wealth or health," the lawsuit said.
The criminal complaint alleges that Fredrick Brennan used the El Paso shooting spree to attack Jim Watkins' reputation and defame his character. The complaint argues that Jim Watkins was "humiliated and anguished" after Brennan "maligned his good name to the community."
According to a number of tweets cited in the filing, Brennan has repeatedly referred to Watkins as "senile," and at one point even shed some light on his own motivation against 8chan, effectively calling it a personal vendetta.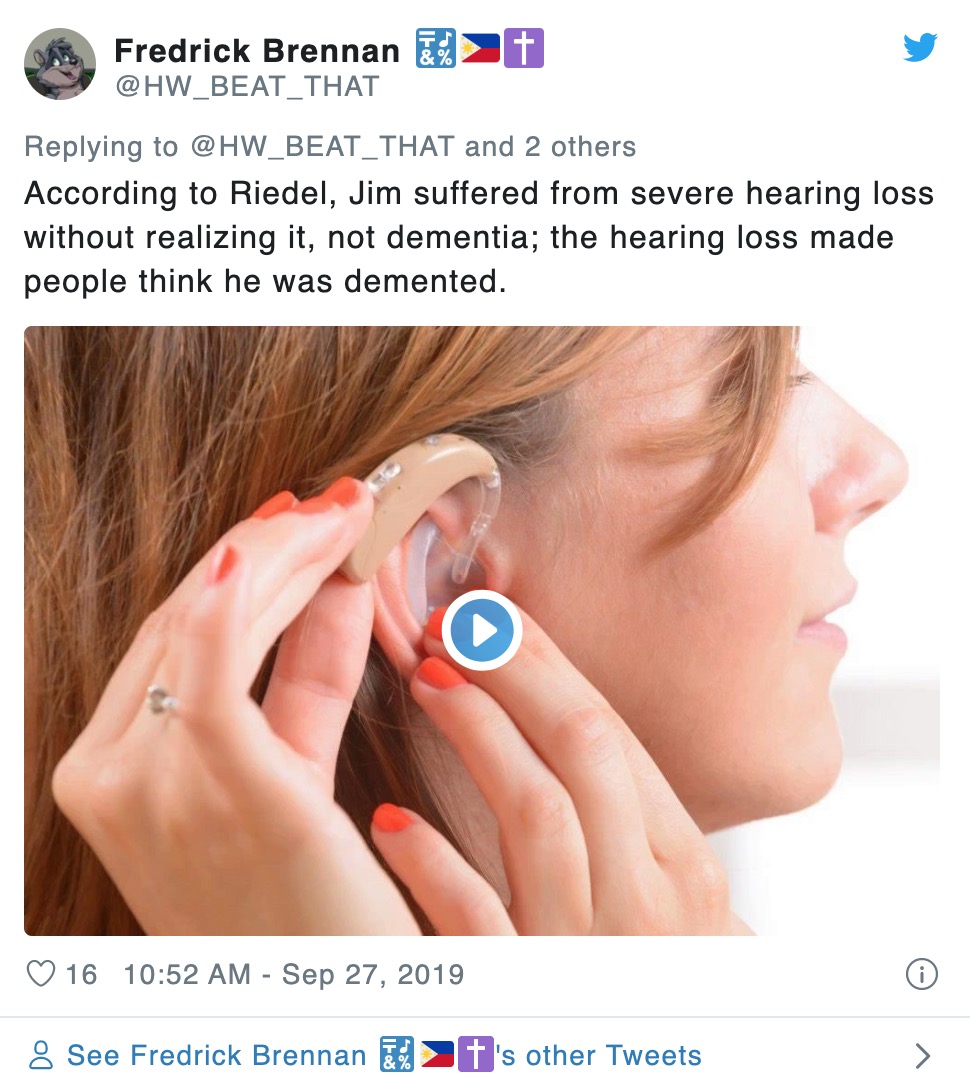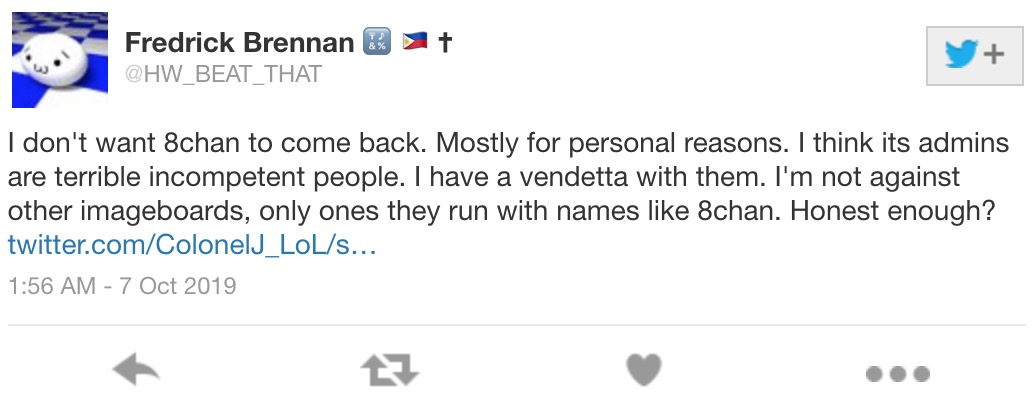 In addition to the tweets that Watkins hopes the court in the Philippines will find incriminating, Brennan's "vendetta" was apparently evident in other public statements, and seems to focus on attempting to discredit the mental health of his nemesis. For example, the suit alleges that during an interview with the "QAnon Anonymous" podcast, Brennan said Watkins had "admitted" to suffering from dementia – to then contradict himself in a video on Twitter posted two months later.
According to Brennan's tweet, it turned out that Watkins has severe hearing loss "without realizing" it – and apparently, this is what made others think he was "demented."
In a YouTube video posted on October 14, 2019 Fredrick Brennan revealed how he was trying to get Jim Watkins' Philippines citizenship petition rejected and prevent him from becoming naturalized in the country.
As for the reasons behind this intense "personal vendetta" – the filing doesn't particularly speculate whether it's the love of attention or the love of money – and at this point, it remains entirely unclear.