HBO has teamed up with CNN reporter Brian Stelter and filmmaker Andrew Rossi to announce a documentary called "After Truth: Disinformation and the Cost of Fake News" for March.
According to HBO, the film deals with the way disinformation, conspiracies, and fake news affects "the average citizen" in creating what is referred to as "post-truth culture."
Stelter tweeted about this, citing in his post some of HBO's blurb, and attaching a screenshot to the whole thing that also says the documentary focuses on "several high-profile made-up news stories in recent years with real world consequences" – such as "Pizzagate" that – apparently – influenced the 2016 presidential election.
But CNN has been widely perceived as pushing an openly anti-Trump agenda that's not shy of crossing from mere bias into the territory of precisely the thing Stelter wants to explore and condemn: disinformation and conspiracy.
The irony was not lost on Twitter users, who quickly chimed in with a series of responses to Stelter's announcement that essentially question his credibility to explore and explain fake news to the world as a CNN reporter – unless, as one commenter said, it was an "introspective" effort.
https://twitter.com/LarsRosen2/status/1217502857504542720
A series of tweets showcased various examples of his employer, CNN, engaging in reporting ranging from irresponsible to flat-out inaccurate. One tweet concerned three CNN journalists resigning after the network retracted and apologized for running an anti-Trump story involving his (former) ally Anthony Scaramucci's alleged ties with – the Russians, of course.
Another tweet reminded Stelter that CNN is keeping up without updating a story about actor Jussie Smollett coming under attack from racist, anti-gay, and pro-Trump supporters – while consensus is now that Smollett actually came up with some fake news of his own.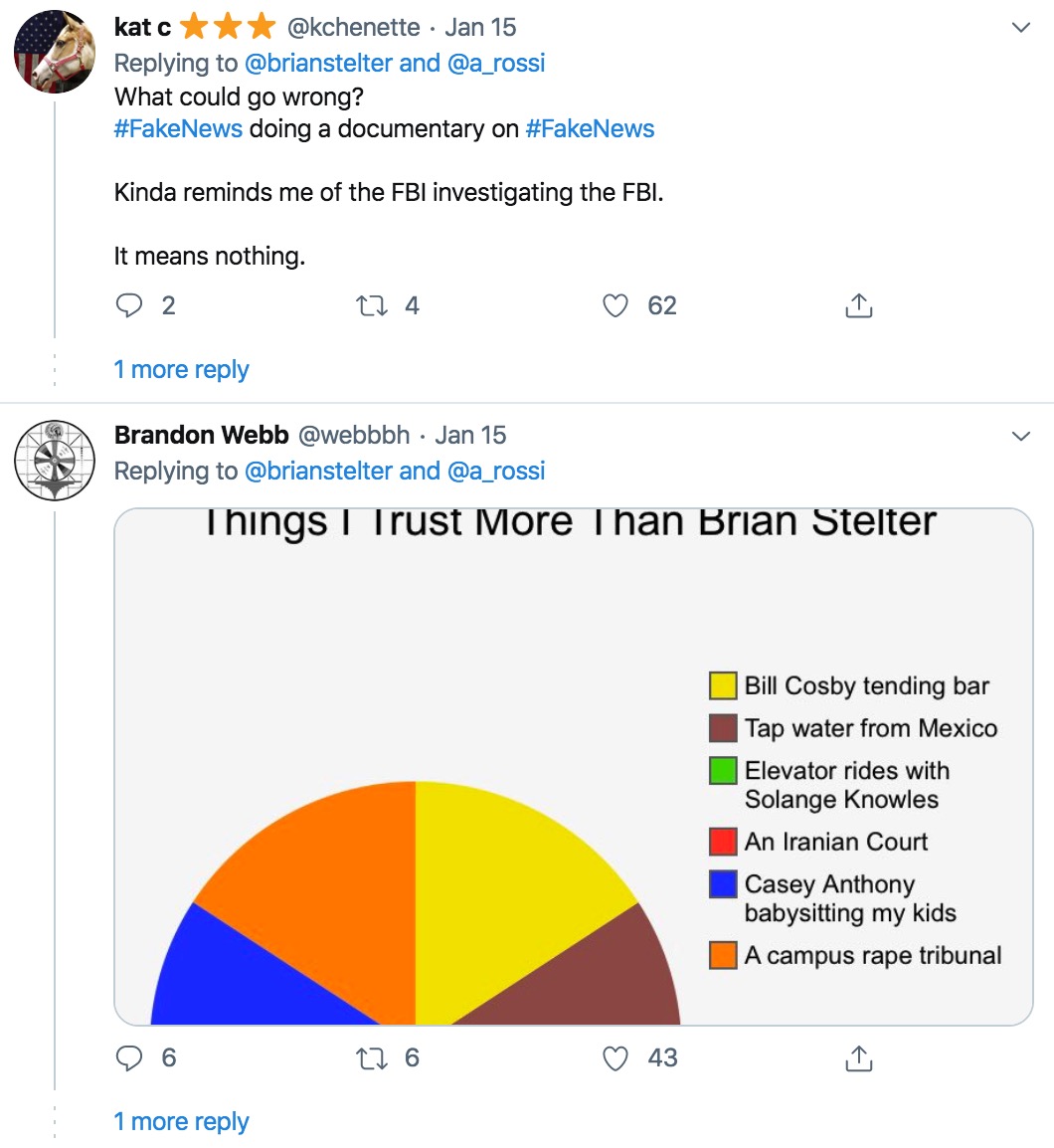 There have been other controversies involving CNN, such as agreeing to settle a lawsuit with US high school student Nicholas Sandmann, who said he was falsely labeled as racist by the network. Sandmann and his friends were seen wearing "Make America Great Again" hats in a video that was shown on CNN – apparently, the hats were all it took to interpret their conduct as "racist."
All in all, Stelter's and CNN's detractors on Twitter had a field day with the announcement of the documentary, with some predicting it might actually turn out to be pretty good – but only as an unintentional mockumentary.