The multi-year saga involving a social media feud that turned into a legal battle between YouTubers Carl Benjamin and Akilah Hughes seems to be drawing to a close.
Started shortly after the 2016 US presidential election, the case developed from Hughes suing Benjamin for using parts of her video made during Hillary Clinton's election defeat night, to poke fun at Hughes' pro-Clinton stance and her lack of self-awareness.
Benjamin has now been awarded legal fees in his claim against Hughes – the funds reclaim motion was filed after the lawsuit Hughes brought against him on copyright violation grounds had been dismissed.
Benjamin, who goes on YouTube by Sargon of Akkad, asked the US District Court for the Southern District of New York to award him $38,911 in attorneys' fees and costs, which the court has now done.
Read the full opinion here.
The circuit Judge had a clear understanding that Hughes was misusing copyright law as a form of retaliation:
"Throughout the course of this litigation, Hughes prominently referenced Benjamin and the ongoing suit on Twitter. For instance, on December 8, 2016, Hughes tweeted that she had "a [C]hristmas present on the way" for Benjamin, referring to the lawsuit. (Doc. No. 43 at 5.)

On October 28, 2018, Hughes tweeted that she was "currently suing [Benjamin's] white supremacist ass for stealing [her] content." (Id. at 6.) Two months later, Hughes referred to Benjamin in a tweet as a "carnival barker" and expressed a desire to convince the crowdfunding platform GoFundMe to terminate Benjamin's campaign to fund his legal costs for this action and to "bankrupt" Benjamin with a libel suit. (Id. at 2.) And on February 12, 2019, Hughes replied to a tweet predicting that she would lose her copyright lawsuit by declaring that she was "gonna take hundreds of thousands of dollars USD" from Benjamin."
Benjamin's attorney, whose work in this case is praised, previously reacted during the procedure to reclaim legal fees incurred in the original ruling.
Hughes' accusation against Benjamin's video – "SJW Levels of Awareness" – that sparked nearly four years of litigation was found to be a false DMCA claim, possibly motivated by political and ideological animosity, given her liberal and Benjamin's more classical liberal persuasions, rather than any real concern about copyright infringement.
"It was therefore unmistakable that the edited video was designed to highlight and critique Hughes's alleged lack of self-awareness, not to pass off her work as Benjamin's," the ruling opinion reads.
But according to Benjamin's attorney Wesley M. Mullen, misuse of the legal system didn't stop there, as became evident during the legal fees case as well.
In a letter to the judge prior to the ruling in favor of his client, Mullen said that Hughes was essentially abusing the case to gain publicity as an internet personality.
The attorney pointed to several tweets posted by Hughes as proof that she was using the copyright lawsuit as a weapon against a political opponent and for ideological reasons.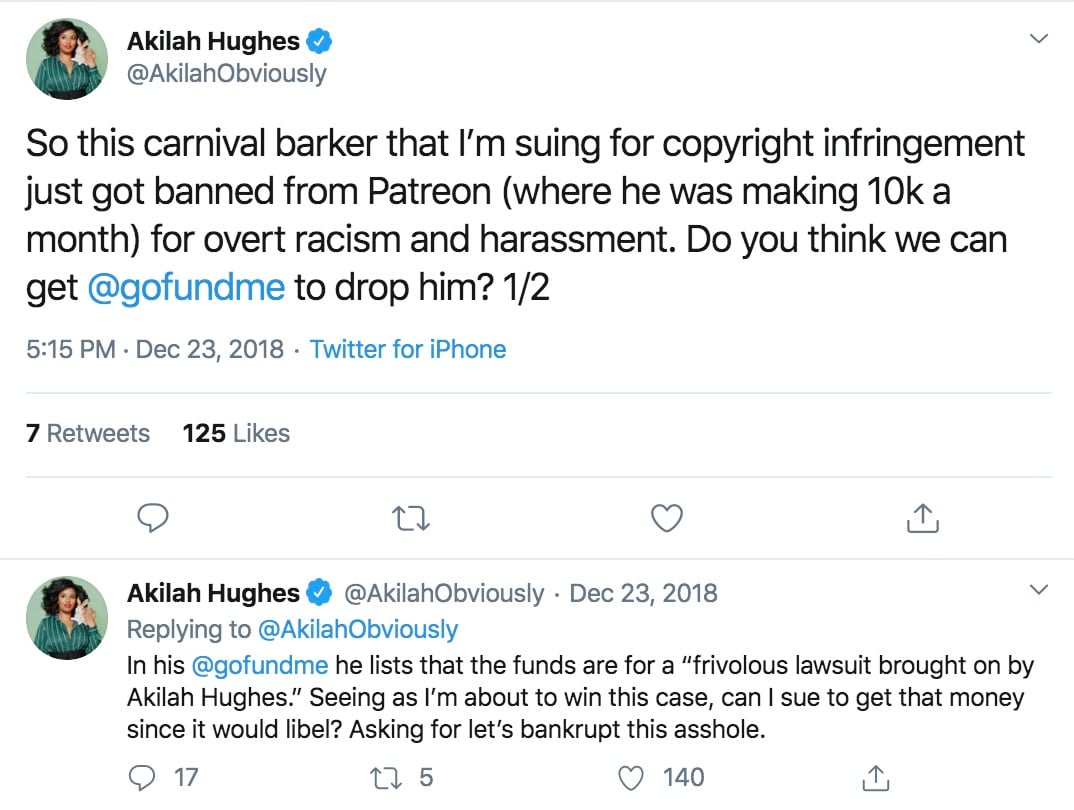 Judging by the tweets, Hughes was attempting to bring YouTube into the kerfuffle by shaming it for not being willing to "take a stand" in her favor and ban Benjamin for his allegedly offensive and threatening content.
Hughes has denied that she was abusing the legal system with false claims, or using the legal process to promote herself online, and also opposed Benjamin's claim to reclaim his legal fees. Today Hughes directed criticism of the ruling at the judge: