It's a critical and sensitive time in Brazil, as the two presidential hopefuls, right-leaning incumbent Jair Bolsonaro and former president, leftist Luiz Inacio Lula, prepare to square off in the runoff of the vote on October 30.
In the mix are also other figures who have a history of political and even judicial clashes, including the country's Supreme Federal Court (STF) Justice Alexandre de Moraes, a staunch rival of Bolsonaro – and Allan dos Santos, the sitting president's supporter now in exile thanks to decisions and orders made by Moraes.
Dos Santos, a journalist, has been in the United States for a while now, and on October 7 woke up to some bad news: the social platform GETTR had blocked him.
Posting on Locals, Dos Santos said that GETTR (a conservative social network founded by Jason Miller, a former Donald Trump aide, and therefore described as "pro-Trump" in media) said that the reason he was banned was that he was saying the truth about the Brazil election getting rigged.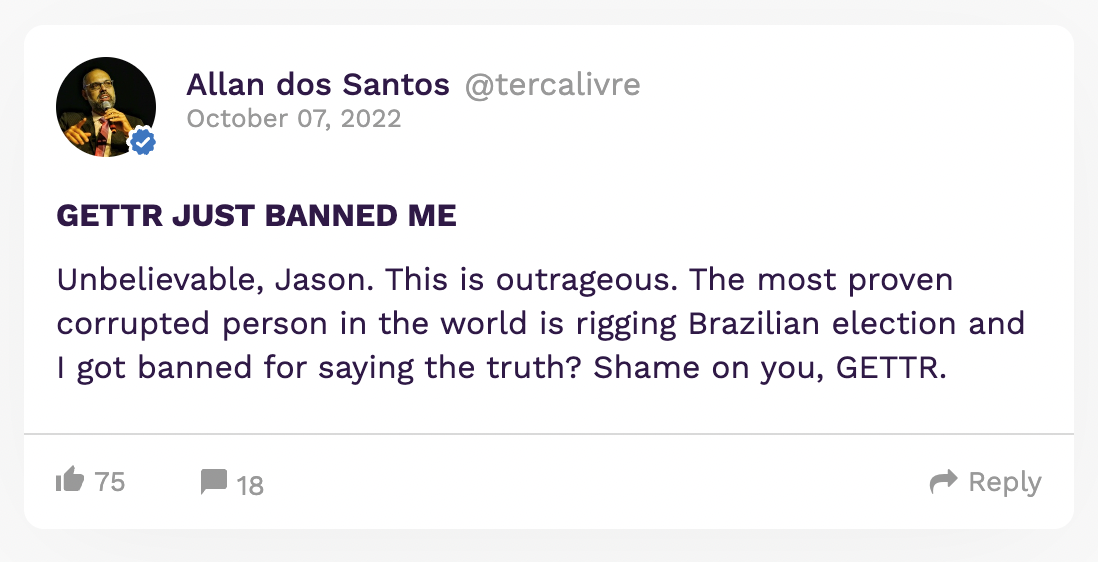 At the same time, he appeared to address his message directly to the social network's founder, referencing "the most proven corrupted person in the world" as being behind the election fraud – ostensibly a reference to Moraes. Dos Santos ended the post by saying, "Shame on you, GETTR."
Elsewhere, outlets like CNN's Brazil edition are speaking about GETTR as a platform that's trying to balance between right-wing politics in the US personified by Trump, and those in Brazil, whose face is Bolsonaro – and mention that it was Bolsonaro's political enemy Moraes who sent an order to close the account of the journalist, and of Judge Ludmila Lins Grilo.
Dos Santos is one of those Moraes has been targeted by the highest judicial institution for allegedly spreading "fake news" and committing other "undemocratic acts." This has to do with Bolsonaro and his supporters expressing fears that the country's electronic voting system can be rigged.
Those who shared these opinions publicly, like Dos Santos and his now-shut-down popular blog Terça Livre, became the subject of Moraes' investigations and arrest and extradition warrants.
CNN Brazil also said it received a statement from GETTR that said the legal decision that compelled it to act in the US was an act of Moraes stifling freedom of expression.
"These decisions, signed by Minister Alexandre de Moraes, must be seen for exactly what they are: an attempt to stifle freedom of expression and silence two potent voices in Brazil in the crucial weeks before the second round," announced GETTR.