After being outed as the real culprit in the infamous domestic violence scandal with her ex-spouse Johnny Depp, Amber Heard is now at the receiving end of widespread criticism from online users.
Heard's recent Instagram post featuring her selfie was flooded with comments where several fans requested "justice" for Depp's pleas.
"When I hear a bottle of wine being opened…" wrote Heard in the caption of the aforementioned Instagram post.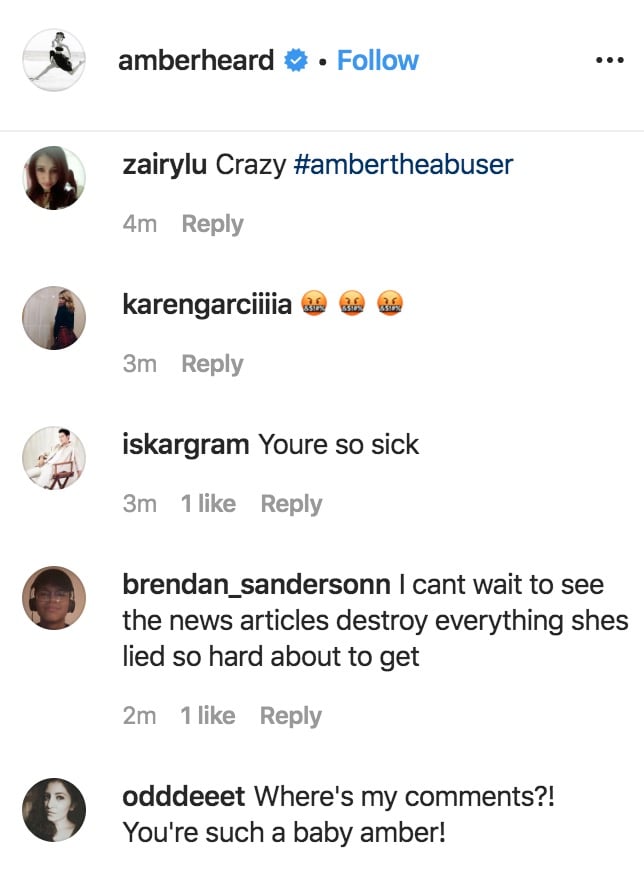 Several Instagram users took to the comment section and criticized her misconduct.
As many users flooded her latest post with harsh comments while using the hashtag #JusticeForJohnnyDepp, Heard ended up deleting several comments altogether.
This move too, attracted negative attention from users as some of them commented back saying:
"Stop deleting comments in English. I'm enjoying to read them. You can't stop it, it will be more and more. Nothing will help you, people will never believe you. And all companies and organizations should stop dealing with you."
"Literally commented on her first ever post and it got deleted," wrote a user.
Under the assumption that Heard was the primary reason behind Depp's suspension from the "Pirates of the Caribbean" franchise, several internet users demanded that the productions that have currently hired Heard must let her go.
In a span of fourteen years, five Pirates of the Caribbean movies featured Depp in the lead role.
However, in 2018, Disney's executives confirmed that the star would no longer reprise his widely popular role as Jack Sparrow.
Back when Depp appeared in films such as the "Fantastic Beasts: The Crimes of Grindelwald", he received intense backlash from several fans due to the ongoing domestic violence allegations against him.
However, Depp held ground and was supported by the novelist JK Rowling and filmmaker David Yates who defended the actor.
"JK has seen the evidence and therefore knows I was falsely accused, and that's why she has publicly supported me. She would not stand up if she didn't know the truth," said Depp.
After a prolonged period of intense hatred and public humiliation against Depp, tables have finally turned as the video evidence and Heard's confession of abusing Depp became public.
The actress is now at the receiving end of intense public backlash.