A petition on Change.org started by Jeanne Larson calls for the removal of actress Amber Heard from Aquaman 2.
The petition has already exceeded 100,000 signatures after recordings were released where Heard admits to abusing her ex-husband, fellow-actor, Johnny Deep.
The petition against Amber Heard
Although the petition was published in March 2019, it remained under a low profile until a few days ago.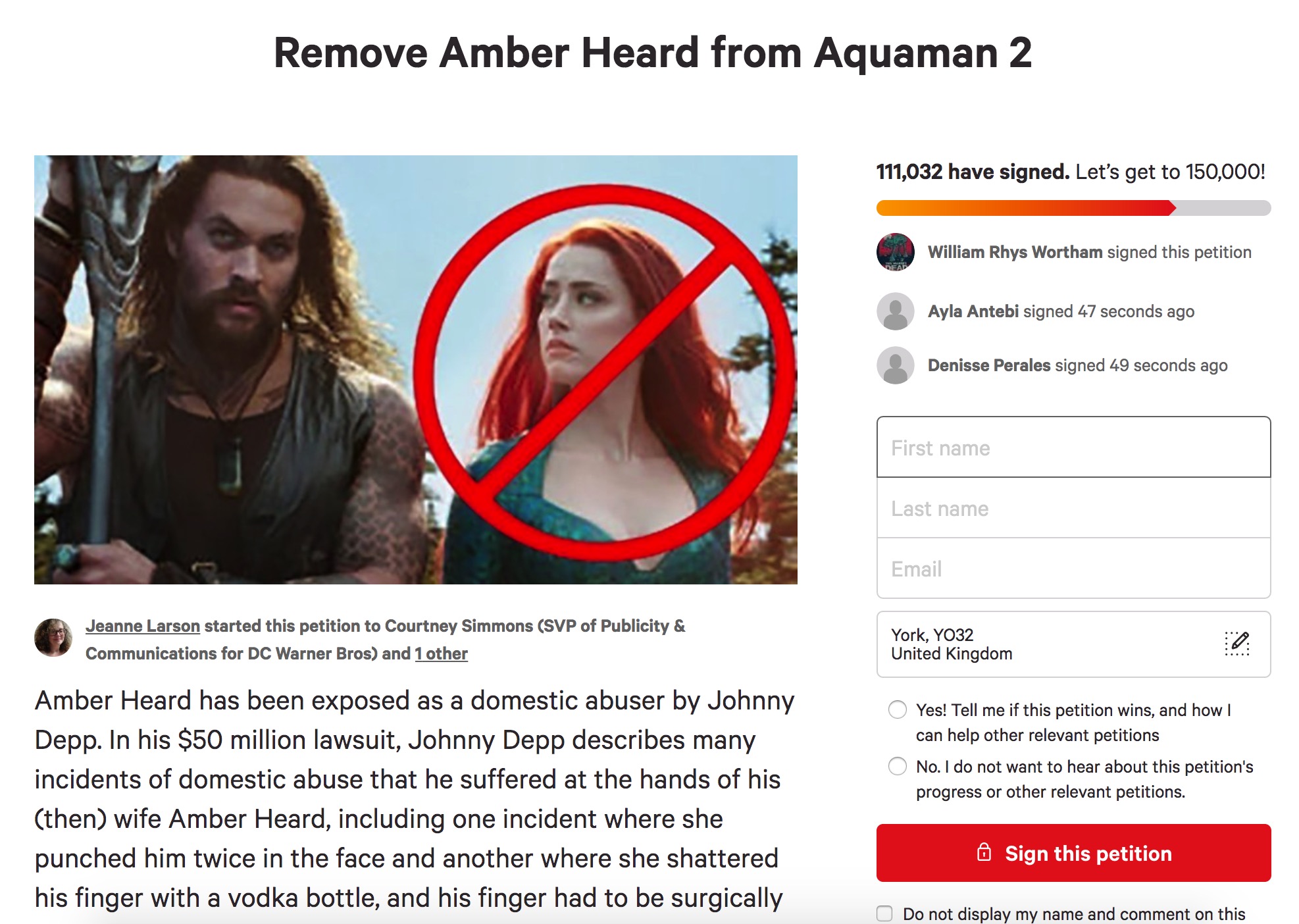 Thanks to the audio released by The Daily Mail, the onslaught against Heard gained strength again, and now the campaign has exceeded 100,000 signatures, setting an upcoming goal at 150,000 signatures.
The publication highlights some of the charges for which her former husband, Johnny Depp, is suing her.
Among the atrocities Depp suffered by Amber Heard is the amputation of his finger (recovered through surgery), multiple blows to his face, hiding his medication, a burn with a cigarette on his cheek, and even an occasion where Heard defecated on Depp's bed.
https://twitter.com/fantasticleak16/status/1223744444777816066
The petition also discusses another series of abuses committed by Ms. Heard, including one that occurred in 2009 with another partner where the actress was also accused of domestic abuse, which resulted in her momentary arrest and the opening of a file for at least 2 years with the charges.
A history of abuse and conflict
The petition addressed to Paul McGuire (Corporate Communications of DC Entertainment) and Courtney Simmons (Senior Vice President of Publicity & Communications for DC Warner Bros) has not affected, for the moment, the decisions of the executives (including movie director James Wan).
However, there may still be changes in the cast, since Aquaman 2 production is scheduled for 2021.
Johnny Depp and Amber Heard have been in constant legal conflicts since their separation in 2017. The most recent case (before the audios were released) originated from an article written by Heard in The Washington Post where she allegedly defamed the actor.
However, the audio of the discussion between the then spouses seems to confirm Amber Heard's aggressive behavior. At certain points in the conversation, we can hear how the actress expected Depp to return the blows, statements that contradict the accusations of domestic abuse that she has made publicly against the actor on multiple occasions.