Telegram is a platform that is enabling free means of communication on the web, just as censorship seems to be hitting the web from just about every other corner, regardless of ideology or (geo) politics involved.
The product's emphasis is on keeping the conversations confidential by using encryption, which means it should be free and allow people to exchange documents, videos, messages, and pictures privately, without outside snooping.
But in the real world, with so many moving targets and variables – can Telegram actually live up to its haughty promise of remaining a platform that would never be "censored by itself?" Especially when it has to partner with censorship-prone companies to get the app into your hands – if you're an iPhone user, that is.
Telegram is a cloud-based instant messaging and voice over IP service, whose client apps are available for Android, iOS, Windows Phone, Linux, Windows NT, and macOS. Its client-side code is open-source software – but the source code for recent versions is not always immediately published. And the product's server-side is closed-source and proprietary – both of these being massive red flags that the founders need to credibly address at some point in the future, to the self-respecting crowd of users. That's surely very problematic in an of itself for a product peddled among a privacy and freedom-loving audience.
Be that as it may, the strife to achieve and control free speech seems to be the order of the day across the planet. It's uniting the unlikeliest of allies, at least on that one issue – and not caring if the platform they target is 100 percent free and open, like we may do.
No wonder then, that a platform like Telegram has somebody like Pavel Durov standing behind it, the founder of Russia's Facebook clone, VK, who has since left the country in favor of a self-imposed exile, and challenged it's, and many others' censorship policies.
And Durov is the one who now wants to build his own platform as that desirable place for many looking to escape arbitrary political or merely ideological censorship.
In 2018, Slate looked at the emerging technologies, public policy, and society to discover that the season's protest movement in Iran at the time produced a temporary ban on both (Facebook's) Instagram and Telegram.
"Although it only lasted two weeks, the ban had big implications in Iran, where the IP-based messaging app is immensely popular," said the report.
Durov confirmed this Wednesday that his company suffered a "powerful" DDoS attack which hindered the platform's services for roughly one hour.
Telegram said that the attack affected users in the Americas as well as in other countries.
This attack reportedly came as activists in Hong Kong were using Telegram to coordinate protests over China's plan to allow extradition, Reclaim The Net reported at the time.
Telegram is undoubtedly acutely aware of the current climate in mainstream social media and among the most popular chat apps that either have to, for dear (financial) life – or choose to, for 'heart'-felt political reasons – step up and control and police their content – and survive, as credible apps.
That is – on people's cross-platform desktops, and on Android. But if you'd like to run Telegram via the Apple Store on an Apple device, you may come up with such hurdles in your path as Apple blocking you from channels and informing you that your content is tantamount to "Hate Speech":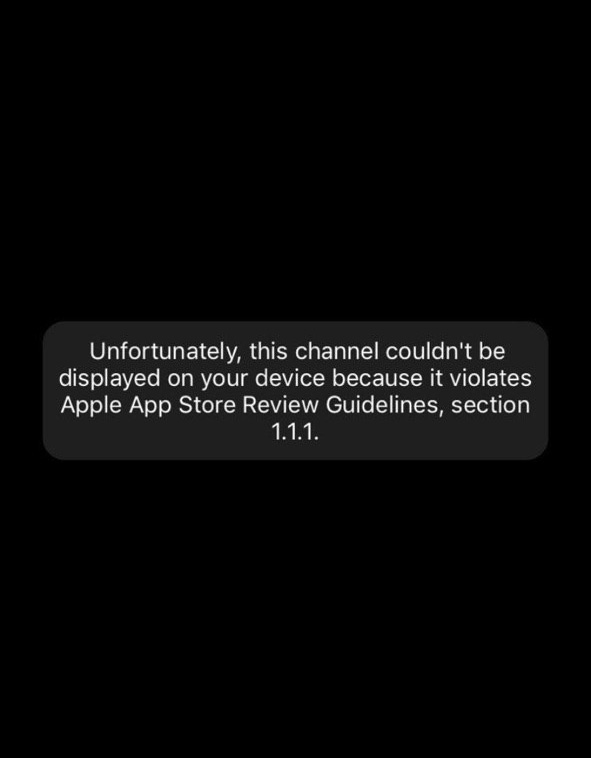 …or indeed, pornography: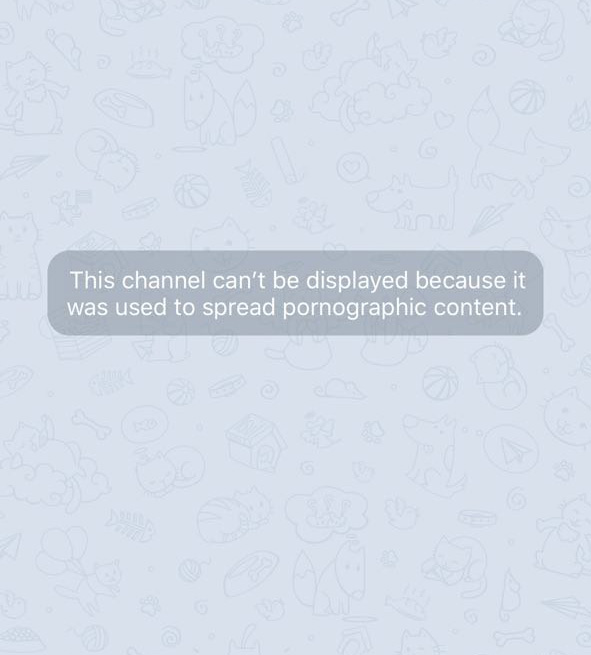 Note, that it's only when you use an Apple device that you'll be blocked from accessing content from a channel of your choosing on Telegram. If you download the app direct from Telegram on a desktop computer, you're allowed to access what you want without Telegram having to bend the knee to Apple's censors. This means that it's impossible to get an uncensored version of Telegram on Apple's iOS or iPadOS operating system.
This comes down to the good old, all-controlling Apple disliking any content that's "offensive, insensitive, upsetting, intended to disgust, in exceptionally poor taste, or just plain creepy." (Yes, that's a direct quote from Apple's Guidelines.)
This includes negative references about religion, race, sexual orientation, gender, national/ethnic origin, or other "targeted groups." But that's not always the case, Apple explains – the platform will act above all if any of the groups "targeted" by the app are "likely to humiliate, intimidate, or place a targeted individual or group in harm's way."
Then comes the sigh of relief we've all been waiting for because, according to the Apple custodian of all things pure, fair, reasonable, protective, permitted, and fair onto their bit of the web – "Professional political satirists and humorists are generally exempt from this requirement."
Generally? OK, that's not as big a sign of relief as we may have hoped for. But it's something, in this day and age.
… but what if "our" satirists tell all the truth, funnily – but Apple just doesn't think they're very funny?
But enough with making light of a giant, global company like Apple, controlling every last fiber of its App Store, and doing it unchallenged by anyone.
Does it mean it might act at any point to fulfill any censorship request bigger than Apple itself? Say, that of a government?
Now – Big Tech platforms like Apple and YouTube (Google) seem to be going after each other, with YouTube first coming under intense scrutiny for not removing and instead only "demonetizing" anything from educational history channels, those maintained by independent reporters – all the way to Google CEO Sundar Pichai trying to sound a note of calm and caution recently amid a raging storm, with his interview for Axios on HBO.
What if all that was only to be drowned in the verbal assault against a competitor, voiced by Apple CEO Tim Cook. To be completely clear: Apple is at this time that member of Big Tech that is collecting and retaining just as much private data as any other Big Tech.
It's just that at this time, Apple doesn't seem to have to seal and deliver that data to third parties like other Big Tech companies do – but might be perfectly willing to make a big deal of that tenable situation.
Apple's recent "hate speech acceptance" speech saw the tech giant admit that its users were as flawed as any others on the web – say, like users of Google or Facebook – but it's just that at this time, Apple's financial structure was comfortable enough not to be selling that data on for money, as others do.
But boy are they making the most of that in the meantime, as Apple's "privacy selling marketing point" – in a privacy starved world. Great job, Apple – as long as you can, and want to sustain it. As long as the US government doesn't ask you to surrender all they need and you know – and you either refuse or accept because you knew somebody else would do it if you didn't – like the last time.
Thinking about a bigger issue now: does Apple's dominance over the App Store as the only way to get apps on iPhones means that Apple has absolute censorship power – and if so, has it in this ways become an easy target for governments to target who want to impose "quiet, behind the lines" censorship of anything?