At least two Amazon employees have quit over the online retailer's refusal to remove a book that documents people who regretted "transitioning" to the opposite gender as a child. In the age of digital book burning, the resignations come amid an employee-led petition demanding the removal of the book.
In April, employee's posted a complaint in the company's internal messaging board about Abigail Shrier's "Irreversible Damage: The Transgender Craze Seducing Our Daughters." According to NBC News, the complaint calling on the removal of the book attracted the support of more than 467 Amazon corporate staff.
Currently, the book, which explores what the author describes as the "trans epidemic" in young girls, is listed among the top three bestsellers in the "LGBTQ+ Demographic Studies" category.
Related: Target temporarily banned Abigail Shrier book after complaint from Twitter user
According to Shrier, the book does not classify transgenderism as a mental illness, as she is often accused of doing. However, the employees pointed to a paragraph that they say suggests she does. The passage reads: "Many of the adolescent girls suddenly identifying as transgender seemed to be caught in a 'craze' — a cultural enthusiasm that spreads like a virus."
One of the employees who quit, Selene Xenia, who identifies as "trans" had worked as a software engineer at Amazon for about seven years. Xenia quit in June, after the book monopoly company's decision to not ban the book.
"The book literally has [craze] in the title and considers being transgender a mental illness in many senses throughout the book," Xenia said.
Referencing a decision the company made earlier this year to stop selling a similar book called "When Harry Became Sally: Responding to the Transgender Movement," Xenia said: "I found it extremely hypocritical for Amazon to say that it would stock this book and not another similar one. It looks like Amazon had to remove that particular book for PR reasons, not because they felt morally obligated to."
In a statement, Amazon said it will continue to sell the book because it believes "providing access to written speech and a variety of viewpoints is one of the most important things" regardless of whether "those viewpoints differ from" its stated positions.
Shrier said in a statement: "This issue won't go away just because some disgruntled Amazon employees wish it would. And banning the book won't help these girls or anyone else."
"My book goes out of its way to honor the experiences of transgender adults, never disparages them, and never implies that the trans identity is a mental illness," she added.
Following reports that Amazon employees were having issues with the listing of her book in May, Shrier tweeted that "anyone who thinks my book 'advances a narrative of transgender identity as a disease' hasn't read it, or is a bona fide idiot."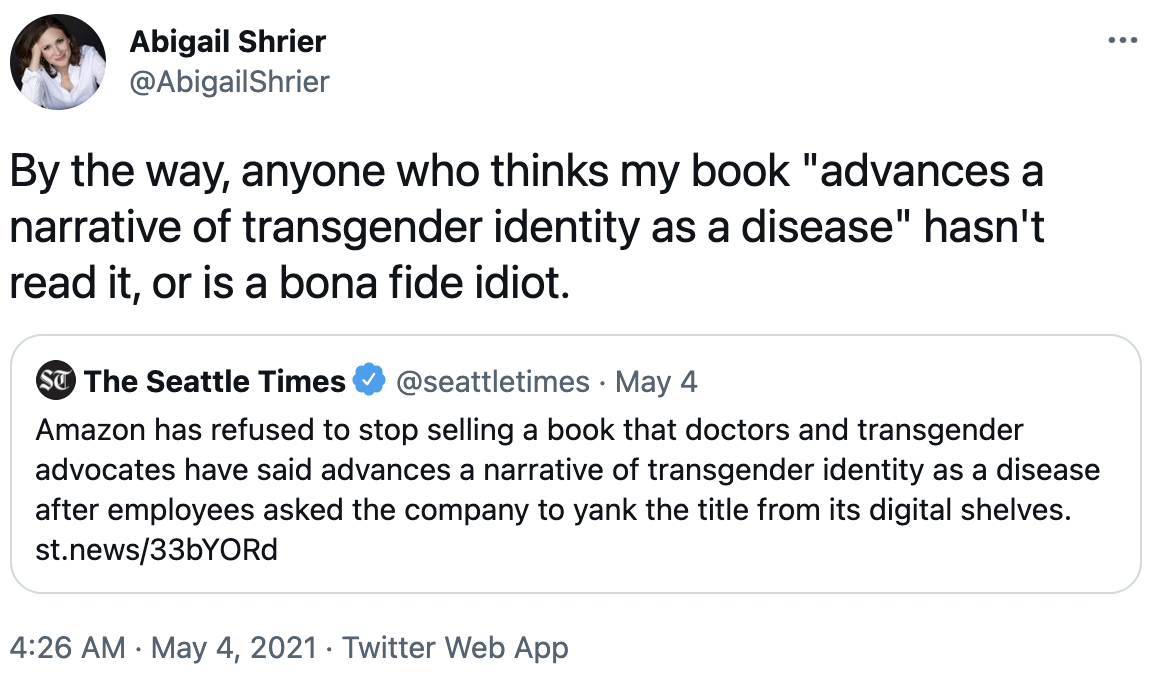 Amazon's decision to continue selling the book is a win for free speech. However, it highlights the increasing challenges that companies are facing from employees who want the world to conform to a narrower window of thought.