Social media continues to be a dangerous place for some users hoping to take civil action or even express their opinions, as it can lead to real life consequences at the hands of the authorities.
And we're not talking about China this time, either. Instead, it was in Ballarat, Australia that the police got into the apartment of 28-year-old Zoe Buhler to handcuff and arrest her over a Facebook post.
The charge against the woman – who is pregnant and was arrested on Wednesday in front of her infant child and partner – was "incitement." Namely, Buhler tried to organize an online event and invite others to attend an anti-lockdown protest on September 5.
The message on Facebook announcing "Freedom Day Ballarat," urged anyone attending to wear masks and respect social distancing measures, but also turn out to support "fight for freedom and human rights" in the face of extreme lockdown measures in the Australian state of Victoria.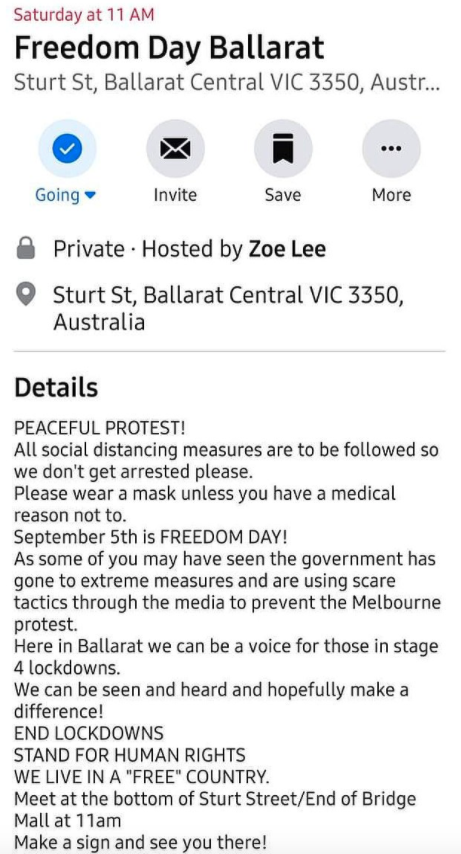 Buhler, who is seen crying and distressed in a video that has been circulated since, managed to ask the arresting officers who told her she was guilty of incitement the key question: incitement to what?
Her offer to delete the post also fell on deaf ears since the police told her she had "already committed the offense."
The woman was later formally charged and released on bail. The local police doubled down in their comments for the media, saying dissenters who actually attend the protest, instead of merely posting on Facebook about it, will also be dealt with "swiftly and firmly," arrested, and/or made to pay a $1,652 fine.
It's not at all unusual for social networks to be used to organize protests around the world, and it's also not unusual for governments in authoritarian countries to go to extreme lengths to stop that, including measures like internet shutdowns.
For now, in places like Australia, the authorities seem satisfied with arresting people in their living rooms.